José Arriola: Orchestral Music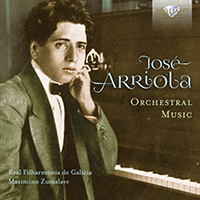 Download booklet
Composer
José Arriola
Artist
Real Filharmonía de Galicia
Maximino Zumalave conductor
Format
2 CD
Cat. number
95797
EAN code
5028421957975
Release
October 2018
About this release
These are the first-ever recordings of music composed by José (Pepito) Arriola, whose works are virtually unknown. Born in Betanzos in the northern Spanish region of Galicia in 1895, Arriola was a celebrated child prodigy known at the time as a 'Galician Mozart', who dazzled audiences across Europe and American with his piano-playing.

Most of Arriola's work was lost when his home in Berlin was destroyed during the Second World War. The manuscripts for the three concertos and two song-cycles presented here were discovered just a few years ago, and mysteriously vanished almost as soon as they had been photocopied for dissemination. They were composed in the final decade of Arriola's life: in 1946 he settled in Barcelona, where he lived quietly until his death in 1954.

Arriola's music belongs to the second golden age of Spanish music, that of Albéniz, Granados, Turina and Falla (and, a little later, Joaquín Rodrigo), flavoured by nationalism and the rich Spanish folk tradition, along with a verismo that concerned itself with the ordinary people of Spain and their suffering (as mirrored in Carmen, or Candela in El amor brujo). Yet in common with other post-Romantic composers, Arriola sought out a world of vanished beauty, experimenting with colour, texture, unusual tonal combinations and harmony full of colour, sensuality and emotion.

As a student in Leipzig, Arriola had been taught by Richard Strauss, and his teacher's influence may be heard to positive effect in both the soaring vocal lines of the Tres textos cervantinos and the transplanted Classical idiom of the Horn Concerto. The piano-writing in the Concertino and Divertimento concertante is more compact and Stravinskian, while two songs from the cycle of Seis poesías de Antonio Machado disclose yet another, more impassioned facet of Arriola's style.

This is the first recording of works by José Arriola, Spanish composer, who lived from 1895 till 1954.
José "Pepita" Arriola was an extraordinary child prodigy on the piano, he was called the "Galician Mozart', Arthur Nikisch brought him to Leipzig and Berlin, and soon he played the most important venues of the world, performing for Kaiser Wilhelm II with the Berliner Philharmoniker, Cargenie Hall, Metropolitan, and many others. This new recording presents Arriola's Concertino for piano & orchestra, the horn concerto, divertimento for 2 pianos and orchestra, and two song cycles for voice and orchestra.
Arriola's style is firmly rooted in the 19th century, seeking for beauty, experimenting with colour, texture, chromaticism, unusual tonal combinations, harsh dissonances: a world of sensuality and emotion, lyrical and melancholy.
Performed by 100% Spanish forces: the Real Filharmonia de Galicia conducted by Maximino Zumalave and excellent Spanish soloists.
The booklet contains extensive liner notes in English and Spanish.
Listening
Track list
Disk 1
José Arriola: Concertino: I. Allegro ma non troppo

José Arriola: Concertino: II. Largo

José Arriola: Concertino: III. Allegretto

José Arriola: Divertimento concertante: I. Allegro ritmico – Vivo e scherzando – Moderato appassionato

José Arriola: Divertimento concertante: II. Lento

José Arriola: Divertimento concertante: III. Presto
Disk 2
José Arriola: Seis poesías de Antonio Machado: VII. La aurora asomaba

José Arriola: Seis poesías de Antonio Machado: VIII. La primavera besaba

José Arriola: Seis poesías de Antonio Machado: IX. Epílogo

José Arriola: Tres textos cervantinos: I. Aquí lloró Don Quijote

José Arriola: Tres textos cervantinos: II. Mal me guardareis

José Arriola: Tres textos cervantinos: III. Marinero soy de amor

José Arriola: Concerto for Horn and Orchestra: I. Deciso

José Arriola: Concerto for Horn and Orchestra: II. Andante calmo

José Arriola: Concerto for Horn and Orchestra: III. Allegro ma non troppo