Joseph Bodin de Boismortier: 6 Flute Sonatas Op. 91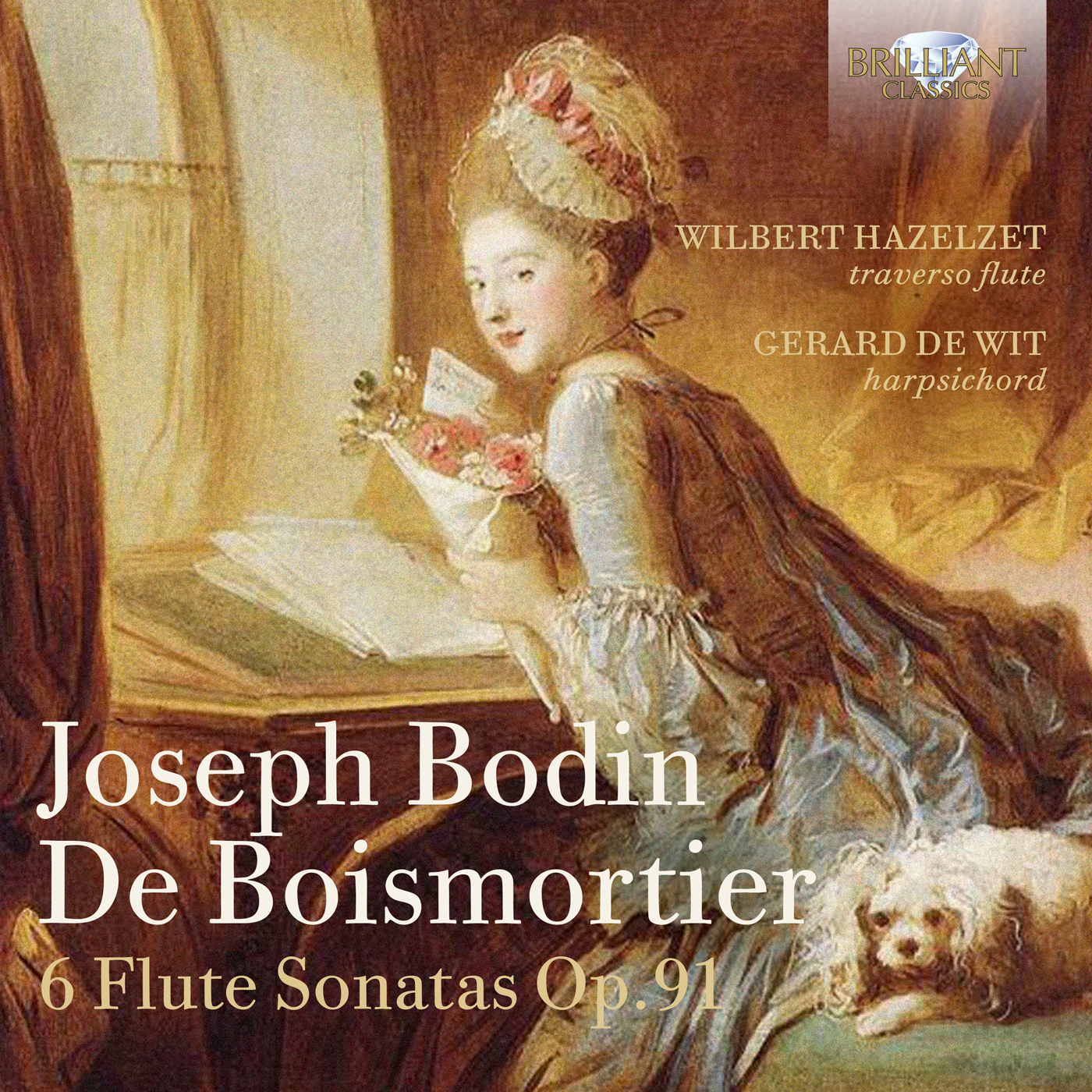 Composer
Joseph Bodin de Boismortier
Artist
Wilbert Hazelzet flute
Gerard de Wit harpsichord
Format
1 CD
Cat. number
95086
EAN code
5028421950860
Release
December 2015
About this release
Here's another superb disc of Baroque/galant‐style flute sonatas to join the impressive library of such music on
Brilliant Classics, most recently enlarged by a release of Johan Helmich Roman, a close contemporary of Boismortier (1689-1755). Whereas Roman worked in the then-distant royal court of Sweden, and had only one collection of music published during his lifetime, Boismortier was known across Europe as both a supreme virtuoso on the flute/recorder family, and a composer for the instrument of a facility and refinement rivalled only by Bach. Whereas Bach's chamber music is intricately
worked to display the contrapuntal skill of its creator, Boismortier's sonatas are lighter on their feet, tripping along to the gentle rhythms of French dance‐metres, seeking
not after profundity but the best kind of entertainment. His Op.91 collection dates from 1742 and expresses an advanced
fusion of Italian and French national styles, though tending always towards the French ideal of pleasing the ear rather than striving towards the Italian aim overwhelm, astonish and shock the public with extreme effects. Soothing sweetness, amusing
liveliness and caressing tenderness characterize this mixed style, providing good moods and wellbeing to an easy
listening audience, then and now.

Such distinctions can be appreciated by Wilbert Hazelzet as by few others, for he has worked in the vanguard of historically
informed performance movement for many decades alongside such distinguished colleagues as Reinhard Goebel, Ton
Koopman and Jaap ter Linden. A new Hazelzet is always to be anticipated, for its technical assurance and enlightened,
enlivening musicianship of impeccable taste.

Joseph Bodin de Boismortier (1789‐1755) was a highly successful French composer of instrumental and vocal music, the first independent composer without patron, publisher of his own works (which made him extremely wealthy).
Boismortier's flute sonatas are a harmonious blend of the French and Italian style, pleasing to the ear, light‐footed and tuneful, aimed to entertain.
Excellent performance by Dutch flutist Wilbert Hazelzet, an artist who won his spurs in his collaboration with pioneers Ton Koopman, Reinhard Goebel and Franz Brüggen. He is seconded by Gerard de Wit, one of Holland's excellent harpsichord players.
Track list
Disk 1
Flute Sonata No. 3 in G Major, Op. 91: I. Rondement

Flute Sonata No. 3 in G Major, Op. 91: II. Gayement

Flute Sonata No. 3 in G Major, Op. 91: III. Air. Gracieusement

Flute Sonata No. 3 in G Major, Op. 91: IV. Gayement

Flute Sonata No. 2 in G Minor, Op. 91: I. Gayement

Flute Sonata No. 2 in G Minor, Op. 91: II. Gracieusement

Flute Sonata No. 2 in G Minor, Op. 91: III. Gayement

Flute Sonata No. 1 in D Major, Op. 91: I. Sicilienne

Flute Sonata No. 1 in D Major, Op. 91: II. Gayement

Flute Sonata No. 1 in D Major, Op. 91: III. Gracieusement

Flute Sonata No. 1 in D Major, Op. 91: IV. Gayement

Flute Sonata No. 5 in A Major, Op. 91: I. Legerement

Flute Sonata No. 5 in A Major, Op. 91: II. Gracieusement

Flute Sonata No. 5 in A Major, Op. 91: III. Gayement

Flute Sonata No. 4 in E Minor, Op. 91: I. Gayement

Flute Sonata No. 4 in E Minor, Op. 91: II. Gracieusement

Flute Sonata No. 4 in E Minor, Op. 91: III. Gayement

Flute Sonata No. 6 in C Minor, Op. 91: I. Gayement

Flute Sonata No. 6 in C Minor, Op. 91: II. Gracieusement

Flute Sonata No. 6 in C Minor, Op. 91: III. Menuets I et II