J.S. Bach: 6 Suites for Cello Solo BWV 1007-1012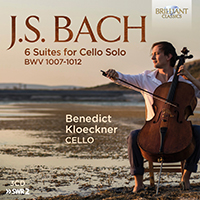 | | |
| --- | --- |
| Composer | Johann Sebastian Bach |
| Artist | Benedict Kloeckner cello |
| Format | 3 CD |
| Cat. number | 96403 |
| EAN code | 5028421964034 |
| Release | October 2021 |
About this release
A highly regarded representative of the new generation of cellists, Benedict Kloeckner has been championed by such maestros as Daniel Barenboim and Sir Simon Rattle. With a discography including an acclaimed recording of the Schumann Cello Concerto nominated for the German Record Critics prize, Kloeckner also demonstrates a great interest in new music. He plays an Italian Cello by Francesco Rugeri (Cremona 1690), formerly played by Maurice Gendron.

In this three-disc set he tackles the sacred summit of the solo cello repertoire, rightly pointing out that the lack of original manuscripts for the Six Suites leaves them especially open to individual interpretation. Yet he takes a further step in making this recording his own, interpolating between each of the suites miniature compositions for solo cello that he commissioned from composers on six different continents under the motto "Sounds of Light", thereby placing Bach's Western European masterworks in dialogue with music from across the globe in our own time:

Other information:
· Recorded in the Autumn of 2020 at the SWR Studio in Kaiserslautern, Germany.
· Booklet contains a liner note on the Suites by musicologist Clemens Romijn, as well as the artist's own message and biography.
· Bach's iconic "Suites for Cello Solo" form the pinnacle of the entire cello repertoire, the ultimate challenge and a Mount Everest every young and aspiring cellist has to climb, no matter how often that has already been done.
· This performance of the "Six Cello Suites" are in alternation with 6 pieces for cello solo written during the Pandemic for the artist by Geoffrey Gordon, Éric Tanguy, Dai Fujikura, José Elizondo, Bongani Ndodana-Breen and Elena Kats-Chernin, creating a dialogue between the old and new, bridging 3 centuries and 6 continents.
· Benedict Kloeckner is a highly regarded representative of the new generation of cellists. He performed with renowned orchestras such as the Royal Philharmonic, German Radio Philharmonic Orchestra, the Mozarteum Orchestra Salzburg, the NDR and Leipzig Radio Symphony Orchestras, the Kremerata Baltica and the Munich Chamber Orchestra, and worked with conductors such as Christoph Eschenbach, Howard Griffiths, Ingo Metzmacher, Michael Sanderling and Heinrich Schiff. A keen chamber musician, Benedict performed with artists such as Sir András Schiff, Anne Sophie Mutter, Gidon Kremer, Christoph Eschenbach, Antoine Tamestit, Emmanuel Ax, Fazil Say, Lisa Batiashvili, Yuri Bashmet, Benjamin Grosvenor, Lars Vogt and Christian Tetzlaff.
Listening
Track list
Disk 1
Johann Sebastian Bach: Suite No. 1 in G Major, BWV 1007: I. Prélude

Johann Sebastian Bach: Suite No. 1 in G Major, BWV 1007: II. Allemande

Johann Sebastian Bach: Suite No. 1 in G Major, BWV 1007: III. Courante

Johann Sebastian Bach: Suite No. 1 in G Major, BWV 1007: IV. Sarabande

Johann Sebastian Bach: Suite No. 1 in G Major, BWV 1007: V. Menuet

Johann Sebastian Bach: Suite No. 1 in G Major, BWV 1007: VI. Gigue

José L. Elizondo: Unter dem Sternenhimmel des Rheins

Johann Sebastian Bach: Suite No. 2 in D Minor, BWV 1008: I. Prélude

Johann Sebastian Bach: Suite No. 2 in D Minor, BWV 1008: II. Allemande

Johann Sebastian Bach: Suite No. 2 in D Minor, BWV 1008: III. Courante

Johann Sebastian Bach: Suite No. 2 in D Minor, BWV 1008: IV. Sarabande

Johann Sebastian Bach: Suite No. 2 in D Minor, BWV 1008: V. Menuet

Johann Sebastian Bach: Suite No. 2 in D Minor, BWV 1008: VI. Gigue

Elena Kats-Cherin: I am Cello

Johann Sebastian Bach: Suite No. 3 in C Major, BWV 1009: I. Prélude

Johann Sebastian Bach: Suite No. 3 in C Major, BWV 1009: II. Allemande

Johann Sebastian Bach: Suite No. 3 in C Major, BWV 1009: III. Courante

Johann Sebastian Bach: Suite No. 3 in C Major, BWV 1009: IV. Sarabande

Johann Sebastian Bach: Suite No. 3 in C Major, BWV 1009: V. Bourée

Johann Sebastian Bach: Suite No. 3 in C Major, BWV 1009: VI. Gigue

Bongani Ndodana-Breen: Soweto Cello Riffs
Disk 2
Johann Sebastian Bach: Suite No. 4 in E-Flat Major, BWV 1010: I. Prélude

Johann Sebastian Bach: Suite No. 4 in E-Flat Major, BWV 1010: II. Allemande

Johann Sebastian Bach: Suite No. 4 in E-Flat Major, BWV 1010: III. Courante

Johann Sebastian Bach: Suite No. 4 in E-Flat Major, BWV 1010: IV. Sarabande

Johann Sebastian Bach: Suite No. 4 in E-Flat Major, BWV 1010: V. Bourée

Johann Sebastian Bach: Suite No. 4 in E-Flat Major, BWV 1010: VI. Gigue

Eric Tanguy: In Between

Johann Sebastian Bach: Suite No. 5 in C Minor, BWV 1011: I. Prélude

Johann Sebastian Bach: Suite No. 5 in C Minor, BWV 1011: II. Allemande

Johann Sebastian Bach: Suite No. 5 in C Minor, BWV 1011: III. Courante

Johann Sebastian Bach: Suite No. 5 in C Minor, BWV 1011: IV. Sarabande

Johann Sebastian Bach: Suite No. 5 in C Minor, BWV 1011: V. Gavotte

Johann Sebastian Bach: Suite No. 5 in C Minor, BWV 1011: VI. Gigue

Geoffrey Gordon: Nes qu'on porroit
Disk 3
Johann Sebastian Bach: Suite No. 6 in D Major, BWV 1012: I. Prélude

Johann Sebastian Bach: Suite No. 6 in D Major, BWV 1012: II. Allemande

Johann Sebastian Bach: Suite No. 6 in D Major, BWV 1012: III. Courante

Johann Sebastian Bach: Suite No. 6 in D Major, BWV 1012: IV. Sarabande

Johann Sebastian Bach: Suite No. 6 in D Major, BWV 1012: V. Gavotte

Johann Sebastian Bach: Suite No. 6 in D Major, BWV 1012: VI. Gigue

Dai Fujikura: Sweet Sweets