J.S. Bach: 6 Suites for Cello Solo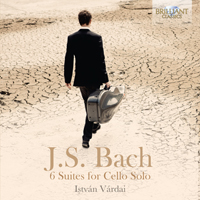 | | |
| --- | --- |
| Composer | Johann Sebastian Bach |
| Artist | István Várdai cello |
| Format | 2 CD |
| Cat. number | 95392 |
| EAN code | 5028421953922 |
| Release | January 2017 |
About this release
In May 2014 the Hungarian cellist István Várdai performed three Bach Suites at an unusual venue in New York: not the storied glamour of Carnegie Hall or the hip 92st St Y, but the Board of Officers Room in the recently renovated Armory on Park Avenue, a room no less redolent of distinguished history: to which he made his own distinguished contribution according to the New York Times, with a recital which concluded with a 'superb' performance of the Sixth Suite.

Having just turned 30, Várdai has accumulated a string of impressive competition successes including first prize at the Geneva International competition and the prestigious ARD cello competition in Munich, as well as special prize at the Kronberg Academy's annual competition. Now, therefore, is as good a time as any to put down his thoughts on every cellist's Old Testament with his superb 1720 Montagnana instrument, which he also uses for the Sixth Suite, originally conceived by Bach for a five-stringed instrument such as the viola da spalla or violoncello piccolo.

'Mr. Várdai's trills,' continued the New York Times review, 'unfolded with elegant grace in his soulful rendition of the Allemande, and the Courante flowed with a joyous energy. Throughout the evening, he imbued the suites with an essential pulse and rhythmic vigour that respected the dance origins of the movements.'

Just last November he returned to the city, and the more conventionally prestigious venue of the Weill Recital Hall (part of the Carnegie Hall complex) for a recital of mostly Romantic repertoire with his fellow Hungarian, the pianist Zoltán Fejérvári. This time the reviews were no less enthusiastic: 'István Várdai clearly can do many things so well,' reported the critic of Seen and Heard, 'and has a sensitivity, command and tonal lustre that are thoroughly distinctive. In some ways, he can seem to be a very tight, agile cellist yet he moves so compellingly into expressive and tonal breadth as well… It was all pretty special.'

Bach's iconic solo suites form the pinnacle of the entire cello repertoire, the ultimate challenge and a Mount Everest every young and aspiring cellist has to climb, no matter how often that has already been done.
Young Hungarian cellist István Várdai is winner of the Geneva Competition, 3rd prize Tchaikovsky Competition 2007 and first prize winner of the prestigious ARD competition in 2014. He embarked on a successful international career, having played with Mikhael Pletnev, Adám Fischer, Zoltán Kocsis, and chamber music partner of Gidon Kremer, Mischa Maisky, Elisabeth Leonskaja, Andras Schiff, Klára Würtz and many others. He is a regular guest at international music festivals, notably Verbier.
István Várdai already successfully recorded a Tchaikovsky album for Brilliant Classics (BC 94876): "superb…he marries a sumptuous and varied tonal palette to a flawless technical address.."(Gramophone).
Listening
Track list
Disk 1
Johann Sebastian Bach: Cello Suite No. 1 in G Major, BWV 1007: I. Prélude

Johann Sebastian Bach: Cello Suite No. 1 in G Major, BWV 1007: II. Allemande

Johann Sebastian Bach: Cello Suite No. 1 in G Major, BWV 1007: III. Courante

Johann Sebastian Bach: Cello Suite No. 1 in G Major, BWV 1007: IV. Sarabande

Johann Sebastian Bach: Cello Suite No. 1 in G Major, BWV 1007: V. Menuet I & II

Johann Sebastian Bach: Cello Suite No. 1 in G Major, BWV 1007: VI. Gigue 1

Johann Sebastian Bach: Cello Suite No. 3 in C Major, BWV 1009: I. Prelude

Johann Sebastian Bach: Cello Suite No. 3 in C Major, BWV 1009: II. Allemande

Johann Sebastian Bach: Cello Suite No. 3 in C Major, BWV 1009: III. Courante

Johann Sebastian Bach: Cello Suite No. 3 in C Major, BWV 1009: IV. Sarabande

Johann Sebastian Bach: Cello Suite No. 3 in C Major, BWV 1009: V. Bourrée I & II

Johann Sebastian Bach: Cello Suite No. 3 in C Major, BWV 1009: VI. Gigue

Johann Sebastian Bach: Cello Suite No. 5 in C Minor, BWV 1011: I. Prelude

Johann Sebastian Bach: Cello Suite No. 5 in C Minor, BWV 1011: II. Allemande

Johann Sebastian Bach: Cello Suite No. 5 in C Minor, BWV 1011: III. Courante

Johann Sebastian Bach: Cello Suite No. 5 in C Minor, BWV 1011: IV. Sarabande

Johann Sebastian Bach: Cello Suite No. 5 in C Minor, BWV 1011: V. Gavotte I & II

Johann Sebastian Bach: Cello Suite No. 5 in C Minor, BWV 1011: VI. Gigue
Disk 2
Johann Sebastian Bach: Cello Suite No. 2 in D Minor, BWV 1008: I. Prelude

Johann Sebastian Bach: Cello Suite No. 2 in D Minor, BWV 1008: II. Allemande

Johann Sebastian Bach: Cello Suite No. 2 in D Minor, BWV 1008: III. Courante

Johann Sebastian Bach: Cello Suite No. 2 in D Minor, BWV 1008: IV. Sarabande

Johann Sebastian Bach: Cello Suite No. 2 in D Minor, BWV 1008: V. Menuet I & II

Johann Sebastian Bach: Cello Suite No. 2 in D Minor, BWV 1008: VI. Gigue

Johann Sebastian Bach: Cello Suite No. 4 in E-Flat Major, BWV 1010: I. Prelude

Johann Sebastian Bach: Cello Suite No. 4 in E-Flat Major, BWV 1010: II. Allemande

Johann Sebastian Bach: Cello Suite No. 4 in E-Flat Major, BWV 1010: III. Courante

Johann Sebastian Bach: Cello Suite No. 4 in E-Flat Major, BWV 1010: IV. Sarabande

Johann Sebastian Bach: Cello Suite No. 4 in E-Flat Major, BWV 1010: V. Bourrée I & II

Johann Sebastian Bach: Cello Suite No. 4 in E-Flat Major, BWV 1010: VI. Gigue

Johann Sebastian Bach: Cello Suite No. 6 in D Major, BWV 1012: I. Prelude

Johann Sebastian Bach: Cello Suite No. 6 in D Major, BWV 1012: II. Allemande

Johann Sebastian Bach: Cello Suite No. 6 in D Major, BWV 1012: III. Courante

Johann Sebastian Bach: Cello Suite No. 6 in D Major, BWV 1012: IV. Sarabande

Johann Sebastian Bach: Cello Suite No. 6 in D Major, BWV 1012: V. Gavotte I & II

Johann Sebastian Bach: Cello Suite No. 6 in D Major, BWV 1012: VI. Gigue