J.S. Bach: Cello Solo Suites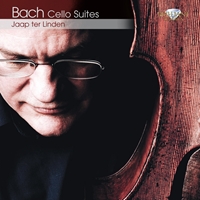 | | |
| --- | --- |
| Composer | Johann Sebastian Bach |
| Artist | Jaap ter Linden cello |
| Format | 2 CD |
| Cat. number | 93132 |
| EAN code | 5028421931326 |
| Release | April 2006 |
About this release
Bach's famous cello suites, recorded by cellist and early music specialist Jaap ter Linden. In addition to his increasing number of performances as a conductor, Ter Linden also remains active as an instrumentalist.

Ter Linden has worked together with the creamn of early music specialist such as Andrew Manze, Richard Eggarr, Emma Kirkby and Andreas Staier.

For any cellist the suites are an important touchstone. Some careers can even be measured by the recordings of these works. Until the present day they remain the ultimate challenge.

True to his reputation, Ter Linden gives profound interpretations which invite the listener to play these performances time after time again.
Track list
Disk 1
Suite No. 1 in G Major / G Dur BWV 1007 : Prelude

Suite No. 1 in G Major / G Dur BWV 1007 : Allemande

Suite No. 1 in G Major / G Dur BWV 1007 : Courante

Suite No. 1 in G Major / G Dur BWV 1007 : Sarabande

Suite No. 1 in G Major / G Dur BWV1007 : Minuet I & II

Suite No. 1 in G Major / G Dur BWV 1007 : Gigue

Suite No. 3 in C Major / C Dur BWV 1009 : Prelude

Suite No. 3 in C Major / C Dur BVW 1009 : Allemande

Suite No. 3 in C Major / C Dur BVW 1009 : Courante

Suite No. 3 in C Major / C Dur BWV 1009 : Sarabande

Suite No. 3 in C Major / C Dur BWV 1009 : Bourrée I & II

Suite No. 3 in C Major / C Dur BWV 1009 : Gigue

Suite No. 5 in C Minor / C Moll BWV 1011 : Prelude

Suite No. 5 In C Minor / C Moll BWV 1011 : Allemande

Suite No. 5 in C Minor / C Moll BWV 1011 : Courante

Suite No. 5 in C Minor / C Moll BWV 1011 : Sarabande

Suite No. 5 in C Minor / C Moll BWV 1011 : Gavotte I & II

Suite No. 5 in C Minor / C Moll BWV 1011 : Gigue
Disk 2
Suite No. 2 in D Minor / D Moll BWV 1008: Prelude

Suite No. 2 in D Minor / D Moll BWV 1008: Allemande

Suite No. 2 in D Minor / D Moll BWV 1008: Courante

Suite No. 2 in D Minor / D Moll BWV 1008: Sarabande

Suite No. 2 in D Minor / D Moll BWV 1008: Minuet I & II

Suite No. 2 in D Minor / D Moll BWV 1008: Gigue

Suite No. 4 in E flat major/Es Dur BWV1010: Prelude

Suite No. 4 in E flat major/Es Dur BWV1010: Allemande

Suite No. 4 in E flat major/Es Dur BWV1010: Courante

Suite No. 4 in E flat major/Es Dur BWV1010: Sarabande

Suite No. 4 in E flat major/Es Dur BWV1010: Bourrée I & II

Suite No. 4 in E flat major/Es Dur BWV1010: Gigue

Suite No. 6 in D Major / D Dur BWV 1012: Prelude

Suite No. 6 in D Major / D Dur BWV 1012: Allemande

Suite No. 6 in D Major / D Dur BWV 1012: Courante

Suite No. 6 in D Major / D Dur BWV 1012: Sarabande

Suite No. 6 in D Major / D Dur BWV 1012: Gavotte I & II

Suite No. 6 in D Major / D Dur BWV 1012: Gigue