J.S. Bach: Complete Concertos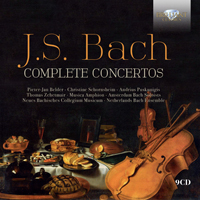 Composer
Johann Sebastian Bach
Artist
Pieter-Jan Belder harpsichord
Christine Schornsheim harpsichord
Musica Amphion
Neues Bachisches Collegium Musicum
Netherlands Bach Ensemble
Format
9 CD
Cat. number
95303
EAN code
5028421953038
Release
May 2016
About this release
Although J.S. Bach used the word 'concerto' to refer to many of his church cantatas (the ones that he did not call, simply, 'Stück', or 'piece'), the word's Italian etymology usually denotes an ensemble work in which a particular element comes to the fore. Bach familiarised himself with the early Italian instrumental concerto tradition, produced by composers such as Albinoni and Torelli, with his characteristic thoroughness even before producing the Brandenburg concertos which he wrote while Kapellmeister in Weimar, in vain hope of preferment to a more glamorous posting to the court of the eponymous Margrave in Berlin.

The concertos of Antonio Vivaldi swept across Europe from 1711 onwards with the publication of his Op.3 set, 'L'Estro Armonico'. Vivaldi set the standard for the shape, the style and the virtuosity of what we understand today as the concerto form, perfected in Bach's own output in the D minor harpsichord concerto, BWV1052. Bach himself transcribed several of Vivaldi's concertos, both for solo keyboard and for chamber groupings – most famously the B minor concerto, originally with four solo violin parts, which Bach thrillingly amplified for four harpsichords. All this music is contained within this indispensable 9CD set.

The performances here are all historically informed in style, if not all played on instruments either from or closely modelled on those used in Bach's time. 'Modern'-instrument performances include the concertos which survive in versions for solo violin – though Bach probably wrote them originally with the harpsichord in mind – in which Thomas Zehetmair is both soloist and director of the Amsterdam Bach Soloists with his characteristically bold and incisive sound and interpretative insight. The oboe concerto recordings are Lithuanian in origin, with Andrius Puskingis again soloist/ director with the St Christopher Chamber Orchestra, in sprightly and mellifluous readings.

This 9 CD set contains the complete solo concertos by Johann Sebastian Bach: the Brandenburg Concertos, violin concertos, keyboard concertos for one, two, three and four harpsichords and the triple concerto.
As an attractive "bonus" two CD's are included which contains concerto reconstructions, for oboe, oboe d'amore, oboe and violin and 3 violins. In some cases Bach wrote an arrangement for another solo instrument of an existing concerto of his (or by other composers, such as Vivaldi and Marcello). The original concertos are often lost, and these are reconstructed by present day musicologists and musicians.
Excellent performances on period instruments, by Musica Amphion/Pieter-Jan Belder, Thomas Zehetmair, Christine Schornsheim and oboist Andrius Puskunigis.
A bargain set of Baroque favourites!
Listening
Track list
Disk 1
Johann Sebastian Bach: Brandenburg Concerto No. 1 in F Major, BWV 1046: I. —

Johann Sebastian Bach: Brandenburg Concerto No. 1 in F Major, BWV 1046: II. Adagio

Johann Sebastian Bach: Brandenburg Concerto No. 1 in F Major, BWV 1046: III. Allegro

Johann Sebastian Bach: Brandenburg Concerto No. 1 in F Major, BWV 1046: IV. Menuet - Trio I - Polonaise - Trio II

Johann Sebastian Bach: Brandenburg Concerto No. 2 in F Major, BWV 1047: I. —

Johann Sebastian Bach: Brandenburg Concerto No. 2 in F Major, BWV 1047: II. Andante

Johann Sebastian Bach: Brandenburg Concerto No. 2 in F Major, BWV 1047: III. Allegro assai

Johann Sebastian Bach: Brandenburg Concerto No. 3 in G Major, BWV 1048: I. —

Johann Sebastian Bach: Brandenburg Concerto No. 3 in G Major, BWV 1048: II. Adagio

Johann Sebastian Bach: Brandenburg Concerto No. 3 in G Major, BWV 1048: III. Allegro
Disk 2
Johann Sebastian Bach: Brandenburg Concerto No. 4 in G Major, BWV 1049: I. Allegro

Johann Sebastian Bach: Brandenburg Concerto No. 4 in G Major, BWV 1049: II. Andante

Johann Sebastian Bach: Brandenburg Concerto No. 4 in G Major, BWV 1049: III. Presto

Johann Sebastian Bach: Brandenburg Concerto No. 5 in D Major, BWV 1050: I. Allegro

Johann Sebastian Bach: Brandenburg Concerto No. 5 in D Major, BWV 1050: II. Affettuoso

Johann Sebastian Bach: Brandenburg Concerto No. 5 in D Major, BWV 1050: III. Allegro

Johann Sebastian Bach: Brandenburg Concerto No. 6 in B-Flat Major, BWV 1051: —

Johann Sebastian Bach: Brandenburg Concerto No. 6 in B-Flat Major, BWV 1051: II. Adagio ma non tanto

Johann Sebastian Bach: Brandenburg Concerto No. 6 in B-Flat Major, BWV 1051: III. Allegro
Disk 3
Johann Sebastian Bach: Violin Concerto in E Major, BWV 1042: I. Allegro

Johann Sebastian Bach: Violin Concerto in E Major, BWV 1042: II. Adagio

Johann Sebastian Bach: Violin Concerto in E Major, BWV 1042: III. Allegro assai

Johann Sebastian Bach: Violin Concerto in A Minor, BWV 1041: I. —

Johann Sebastian Bach: Violin Concerto in A Minor, BWV 1041: II. Andante

Johann Sebastian Bach: Violin Concerto in A Minor, BWV 1041: III. Allegro assai

Johann Sebastian Bach: Violin Concerto in D Minor, BWV 1052: I. —

Johann Sebastian Bach: Violin Concerto in D Minor, BWV 1052: II. Adagio

Johann Sebastian Bach: Violin Concerto in D Minor, BWV 1052: III. Allegro

Johann Sebastian Bach: Violin Concerto in G Minor, BWV 1056: I. —

Johann Sebastian Bach: Violin Concerto in G Minor, BWV 1056: II. Largo

Johann Sebastian Bach: Violin Concerto in G Minor, BWV 1056: III. Presto

Johann Sebastian Bach: Concerto for Two Violins and Orchestra in E Major, BWV 1043: I. Vivace

Johann Sebastian Bach: Concerto for Two Violins and Orchestra in E Major, BWV 1043: II. Largo ma non tanto

Johann Sebastian Bach: Concerto for Two Violins and Orchestra in E Major, BWV 1043: III. Allegro
Disk 4
Johann Sebastian Bach: Harpsichord Concerto No. 1 in D Minor, BWV 1052: I. Allegro

Johann Sebastian Bach: Harpsichord Concerto No. 1 in D Minor, BWV 1052: II. Adagio

Johann Sebastian Bach: Harpsichord Concerto No. 1 in D Minor, BWV 1052: III. Allegro

Johann Sebastian Bach: Harpsichord Concerto No. 2 in E Major, BWV 1053: I. —

Johann Sebastian Bach: Harpsichord Concerto No. 2 in E Major, BWV 1053: II. Siciliano

Johann Sebastian Bach: Harpsichord Concerto No. 2 in E Major, BWV 1053: III. Allegro

Johann Sebastian Bach: Harpsichord Concerto No. 3 in D Major, BWV 1054: I. —

Johann Sebastian Bach: Harpsichord Concerto No. 3 in D Major, BWV 1054: II. Adagio e piano sempre

Johann Sebastian Bach: Harpsichord Concerto No. 3 in D Major, BWV 1054: III. Allegro

Johann Sebastian Bach: Harpsichord Concerto No. 4 in A Major, BWV 1055: I. Allegro

Johann Sebastian Bach: Harpsichord Concerto No. 4 in A Major, BWV 1055: II. Larghetto

Johann Sebastian Bach: Harpsichord Concerto No. 4 in A Major, BWV 1055: III. Allegro ma non tanto
Disk 5
Johann Sebastian Bach: Harpsichord Concerto No. 5 in F Minor, BWV 1056: I. —

Johann Sebastian Bach: Harpsichord Concerto No. 5 in F Minor, BWV 1056: II. Largo

Johann Sebastian Bach: Harpsichord Concerto No. 5 in F Minor, BWV 1056: III. Presto

Johann Sebastian Bach: Harpsichord Concerto No. 6. in F Major, BWV 1057: I. —

Johann Sebastian Bach: Harpsichord Concerto No. 6. in F Major, BWV 1057: II. Andante

Johann Sebastian Bach: Harpsichord Concerto No. 6. in F Major, BWV 1057: III. Allegro assai

Johann Sebastian Bach: Harpsichord Concerto No. 7 in G Minor, BWV 1058: I. —

Johann Sebastian Bach: Harpsichord Concerto No. 7 in G Minor, BWV 1058: II. Andante

Johann Sebastian Bach: Harpsichord Concerto No. 7 in G Minor, BWV 1058: III. Allegro assai

Johann Sebastian Bach: Concerto for 2 Harpsichords in C Minor, BWV 1060: I. Allegro

Johann Sebastian Bach: Concerto for 2 Harpsichords in C Minor, BWV 1060: II. Largo ovvero adagio

Johann Sebastian Bach: Concerto for 2 Harpsichords in C Minor, BWV 1060: III. Allegro

Johann Sebastian Bach: Concerto for 4 Harpsichords in A Minor, BWV 1065: I. —

Johann Sebastian Bach: Concerto for 4 Harpsichords in A Minor, BWV 1065: II. Largo

Johann Sebastian Bach: Concerto for 4 Harpsichords in A Minor, BWV 1065: III. Allegro
Disk 6
Johann Sebastian Bach: Concerto for 2 Harpsichords in C Major, BWV 1061: I. —

Johann Sebastian Bach: Concerto for 2 Harpsichords in C Major, BWV 1061: II. Adagio ovvero largo

Johann Sebastian Bach: Concerto for 2 Harpsichords in C Major, BWV 1061: III. Fugue

Johann Sebastian Bach: Concerto for 2 Harpsichords in C Minor, BWV 1062: I. —

Johann Sebastian Bach: Concerto for 2 Harpsichords in C Minor, BWV 1062: II. Andante

Johann Sebastian Bach: Concerto for 2 Harpsichords in C Minor, BWV 1062: III. Allegro assai

Johann Sebastian Bach: Concerto for 3 Harpsichords in D Minor, BWV 1063: I. —

Johann Sebastian Bach: Concerto for 3 Harpsichords in D Minor, BWV 1063: II. Alla siciliana

Johann Sebastian Bach: Concerto for 3 Harpsichords in D Minor, BWV 1063: III. Allegro

Johann Sebastian Bach: Concerto for 3 Harpsichords in C Major, BWV 1064: I. —

Johann Sebastian Bach: Concerto for 3 Harpsichords in C Major, BWV 1064: II. Adagio

Johann Sebastian Bach: Concerto for 3 Harpsichords in C Major, BWV 1064: III. Allegro
Disk 7
Johann Sebastian Bach: Concerto for Flute, Violin and Harpsichord in A Minor, BWV 1044: I. Allegro

Johann Sebastian Bach: Concerto for Flute, Violin and Harpsichord in A Minor, BWV 1044: II. Adagio

Johann Sebastian Bach: Concerto for Flute, Violin and Harpsichord in A Minor, BWV 1044: III. Alla breve

Johann Sebastian Bach: Oboe Concerto in A Major, BWV 1055: I. Allegro

Johann Sebastian Bach: Oboe Concerto in A Major, BWV 1055: II. Larghetto

Johann Sebastian Bach: Oboe Concerto in A Major, BWV 1055: III. Allegro ma non tanto

Johann Sebastian Bach: Concerto for 3 Violins in D Major, BWV 1064: I. Allegro

Johann Sebastian Bach: Concerto for 3 Violins in D Major, BWV 1064: II. Adagio

Johann Sebastian Bach: Concerto for 3 Violins in D Major, BWV 1064: III. Allegro
Disk 8
Johann Sebastian Bach: Oboe Concerto in F Major, BWV 1053: I. Allegro

Johann Sebastian Bach: Oboe Concerto in F Major, BWV 1053: II. Siciliano

Johann Sebastian Bach: Oboe Concerto in F Major, BWV 1053: III. Allegro

Johann Sebastian Bach: Oboe d'amore Concerto in A Major, BWV 1055R: I. Allegro

Johann Sebastian Bach: Oboe d'amore Concerto in A Major, BWV 1055R: II. Larghetto

Johann Sebastian Bach: Oboe d'amore Concerto in A Major, BWV 1055R: III. Allegro ma non tanto

Johann Sebastian Bach: Oboe Concerto in G Minor, BWV 1056R: I. Allegro

Johann Sebastian Bach: Oboe Concerto in G Minor, BWV 1056R: II. Largo

Johann Sebastian Bach: Oboe Concerto in G Minor, BWV 1056R: III. Presto

Johann Sebastian Bach: Concerto for Oboe d'amore in G Major: I. [Bass aria] (from BWV 100)

Johann Sebastian Bach: Concerto for Oboe d'amore in G Major: II. [Alto aria] (from BWV 170)

Johann Sebastian Bach: Concerto for Oboe d'amore in G Major: III. [Bass aria] (from BWV 30)

Johann Sebastian Bach: Concerto for Oboe and Violin in C Minor, BWV 1060R: I. Allegro

Johann Sebastian Bach: Concerto for Oboe and Violin in C Minor, BWV 1060R: II. Adagio

Johann Sebastian Bach: Concerto for Oboe and Violin in C Minor, BWV 1060R: III. Allegro
Disk 9
Johann Sebastian Bach: Harpichord Concerto in D Minor, BWV 1052: I. Allegro

Johann Sebastian Bach: Harpichord Concerto in D Minor, BWV 1052: II. Adagio

Johann Sebastian Bach: Harpichord Concerto in D Minor, BWV 1052: III. Allegro

Johann Sebastian Bach: Harpsichord Concerto in D Minor, BWV 1059: I. —

Johann Sebastian Bach: Harpsichord Concerto in D Minor, BWV 1059: II. [Without tempo indication]

Johann Sebastian Bach: Harpsichord Concerto in D Minor, BWV 1059: III. Presto

Johann Sebastian Bach: Concerto for viola da braccio in G Major, BWV 1055: I. Allegro

Johann Sebastian Bach: Concerto for viola da braccio in G Major, BWV 1055: II. Larghetto

Johann Sebastian Bach: Concerto for viola da braccio in G Major, BWV 1055: III. Allegro ma non tanto

Johann Sebastian Bach: Concerto for Three Violins in D Major, BWV 1064R: I. Allegro

Johann Sebastian Bach: Concerto for Three Violins in D Major, BWV 1064R: II. Adagio

Johann Sebastian Bach: Concerto for Three Violins in D Major, BWV 1064R: III. Allegro