J.S. Bach: Complete Harpsichord Concertos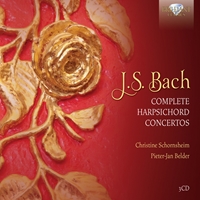 Composer
Johann Sebastian Bach
Artist
Christine Schornsheim harpsichord
Neues Bachisches Collegium Musicum
Burkhard Glaetzner conductor
Musica Amphion
Pieter-Jan Belder harpsichord & concert master
Format
3 CD
Cat. number
94421
EAN code
5028421944210
Release
October 2012
About this release
In 1717 Johann Sebastian Bach entered the service of the Prince of Anhalt-Cöthen. It was an appointment that was to prove highly fruitful, as, free from ecclesiastical duties and with an instrumental ensemble of about 17 players to hand; Bach took the opportunity to expand his instrumental output – writing, among others, a collection of violin concertos.

Also dating from this period are the Harpsichord Concertos, products of the composer's association with the Telemann Musical Society. Indeed, just as Handel is credited with the birth of the organ concerto, the harpsichord concerto owes its origins to J.S. Bach – whose weekly appearances at the Society were an ideal forum in which to transcribe extant concerto movements for solo and multiple harpsichords. From the sunny disposition of BWV1053 to the dramatic interplay between solo parts in BWV1062, Bach effectively cultivated a new, heightened form of expression in all these works – the majority of which are probably transcriptions of earlier (including lost) violin concertos by himself and others.

Dedicated to the composer's complete works in the medium, this release celebrates the birth of one of the most important genres in music history. Christine Schornsheim, Pieter-Jan Belder and their harpsichord colleagues provide commanding readings, and are deftly supported by the Neues Bachisches Collegium Musicum and Musica Amphion; spanning 3 CDs and over three hours of performances, this recording represents compulsive listening for the harpsichord connoisseur and Baroque enthusiast alike.

Other information:
- Recordings made 1990 (CD1) & 1992 (CD2), Paul-Gerhardt-Kirche, Leipzig; May & June 2006, Schiedam/Leiden (CD3).
- This release contains the solo concertos and the concertos for 2, 3 and 4 harpsichords.
- Booklet notes included.
Track list
Disk 1
Concerto in D Minor, BWV 1052: I. Allegro

Concerto in D Minor, BWV 1052: II. Adagio

Concerto in D Minor, BWV 1052: III. Allegro

Concerto in E, BWV 1053: I. [Without tempo indication]

Concerto in E, BWV 1053: II. Siciliano

Concerto in E, BWV 1053: III. Allegro

Concerto in D, BWV 1054: I. [Without tempo indication]

Concerto in D, BWV 1054: II. Adagio e piano sempre

Concerto in D, BWV 1054: III. Allegro

Concerto in A, BWV 1055: I. Allegro

Concerto in A, BWV 1055: II. Larghetto

Concerto in A, BWV 1055: III. Allegro ma non tanto
Disk 2
Concerto in F Minor, BWV 1056: I. [Without tempo indication

Concerto in F Minor, BWV 1056: II. Largo

Concerto in F Minor, BWV 1056: III. Presto

Concerto in F for harpsichord, two flutes, strings and basso continuo, BWV 1057: I. [Without tempo indication]

Concerto in F for harpsichord, two flutes, strings and basso continuo, BWV 1057: II. Andante

Concerto in F for harpsichord, two flutes, strings and basso continuo, BWV 1057: III. Allegro assai

Concerto in G Minor, BWV 1058: I. [Without tempo indication]

Concerto in G Minor, BWV 1058: II. Andante

Concerto in G Minor, BWV 1058: III. Allegro assai

Concerto in C Minor for two harpsichords, strings and basso continuo, BWV 1060: I. Allegro

Concerto in C Minor for two harpsichords, strings and basso continuo, BWV 1060: II. Largo ovvero adagio

Concerto in C Minor for two harpsichords, strings and basso continuo, BWV 1060: III. Allegro

Concerto in A Minor for four harpsichords, strings and basso continuo, BWV 1065: I. [Without tempo indication]

Concerto in A Minor for four harpsichords, strings and basso continuo, BWV 1065: II. Largo

Concerto in A Minor for four harpsichords, strings and basso continuo, BWV 1065: III. Allegro
Disk 3
Concerto in C for two harpsichords and strings, BWV 1061: I. [Without tempo indication]

Concerto in C for two harpsichords and strings, BWV 1061: II. Adagio ovvero largo

Concerto in C for two harpsichords and strings, BWV 1061: III. Fuga

Concerto in C Minor for two harpsichords and strings, BWV 1062: I. [Without tempo indication]

Concerto in C Minor for two harpsichords and strings, BWV 1062: II. Andante

Concerto in C Minor for two harpsichords and strings, BWV 1062: III. Allegro assai

Concerto in D Minor for three harpsichords and strings, BWV 1063: I. [Without tempo indication]

Concerto in D Minor for three harpsichords and strings, BWV 1063: II. Alla siciliana

Concerto in D Minor for three harpsichords and strings, BWV 1063: III. Allegro

Concerto in C for three harpsichords and strings, BWV 1064: I. [Without tempo indication]

Concerto in C for three harpsichords and strings, BWV 1064: II. Adagio

Concerto in C for three harpsichords and strings, BWV 1064: III. Allegro