J.S. Bach: Complete Music for Lute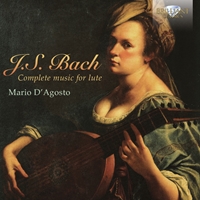 | | |
| --- | --- |
| Composer | Johann Sebastian Bach |
| Artist | Mario D'Agosto lute |
| Format | 2 CD |
| Cat. number | 94408 |
| EAN code | 5028421944081 |
| Release | November 2013 |
About this release
No more than a handful of pieces represent the entire musical heritage for baroque lute by Johann Sebastian Bach – not a lot when we consider the enormity of the composer's total output. Although it is not known whether Bach himself played the instrument, the seven works which are ascribable to it continue to enjoy extraordinary attention on the part of musicians due to their exceptional quality, and indeed the majority originate from the areas of Germany that were home to the lute's greatest exponents – musicians who we can be almost certain the composer came into contact with.

This recording thus presents four compositions in suite form and three pieces of a different nature, all belonging to the florid repertoire of the courtly Salonmusik that was in vogue among the German upper classes at the time. Performing them is acclaimed Italian lutenist Mario D'Agosto, whose changes in tonality aim to better serve the capacities of the instrument (BWV 996 and 997, for instance, were written for the 'Lautenwerk', a sort of lute-harpsichord favoured by Bach) and whose embellishments are testament to the high level of ornamentation which played such an intrinsic role in baroque performance practice.

Other information:
- Recorded January – April 2012, TVA Studio, Ascea, Salerno, Italy.
- Although the lute was an enormously popular instrument in his time, Johann Sebastian Bach wrote only a handful of works specifically for it: 4 suites and 3 separate works. These works however explore the instruments possibilities to the full, and became master works in their genre.
- This new recording by Italian lutenist Mario d'Agosto uses a 13-course Baroque lute. The skilful embellishments of his playing reflect the Baroque period's advanced art of ornamentation.
- Booklet contains notes on the composer and music, as well as a biography of the artist.