J.S. Bach: Concerto Reconstructions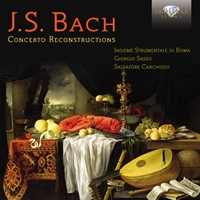 Composer
Johann Sebastian Bach
Artist
Insieme Strumentale di Roma
Giorgio Sasso violin & concert master
Format
1 CD
Cat. number
94340
EAN code
5028421943404
Release
July 2012
About this release
Like many musicians of his era, practical demands and obligations were placed on J.S. Bach on a daily basis, and on a number of occasions this resulted in the German composer reworking existing compositions for use in new contexts. However, although listeners may have encountered pairs of 'double' works that use the same musical material (often an instrumental version and a vocal version), there are a number of cases where it seems reasonable to assume that one version of the work has not survived.

For this new recording, Giorgio Sasso and Salvatore Carchiolo have taken this premise as their starting point. Based on the hypothesis that many of Bach's extant harpsichord concertos are transcriptions of earlier violin concertos (which have been lost), they have 'reconstructed' four concertos, using an array of different sources and approaches. The artists' superlative understanding of Bach's instrumental music is apparent in the sensitive decisions that they have made. Following a practice of Bach's own, Sasso and Carchiolo drew on musical material from his cantatas in the two Concertos in D minor. Likewise, the Concerto in G features solo instruments from different instrumental families, an unusual practice but one validated by their sources.

For each concerto, Sasso and Carchiolo have made individual choices in the face of numerous interpretative possibilities; the end result is a unique, exciting recording, which reveals fully the artists' thorough research, careful study of the original scores, and sound knowledge of Bach's compositional procedures.

Other information:
- Original concerto reconstructions made by Giorgio Sasso and Salvatore Carchiolo, a fascinating way to explore another facet of Bach's music. This disc presents some familiar music in new and surprising instrumentations, arranged with taste and a thorough knowledge of Bach's style and technique.
- Like many composers in his time Bach re-used material from his earlier compositions to create a new work, for a new and different instrumental setting. For instance it is generally assumed that his harpsichord concertos are reworkings of violin concertos, which are lost.
- Giorgio Sasso and Salvatore Carchioli did an extensive research into authentic sources and have made several fascinating reconstructions of concertos "which could have existed".
- The booklet notes are written by the artists, explaining in detail their approach and argumentation of their choices in reconstructing these concertos.
Track list
Disk 1
Johann Sebastian Bach: Concerto in D Minor for organ, oboes, strings and continuo, BWV 1052, 146 & 188: I. Allegro

Johann Sebastian Bach: Concerto in D Minor for organ, oboes, strings and continuo, BWV 1052, 146 & 188: II. Adagio

Johann Sebastian Bach: Concerto in D Minor for organ, oboes, strings and continuo, BWV 1052, 146 & 188: III. Allegro

Johann Sebastian Bach: Concerto in D minor for harpsichord, oboe, strings and continuo, BWV 35 & 1059: I. [Without tempo indication]

Johann Sebastian Bach: Concerto in D minor for harpsichord, oboe, strings and continuo, BWV 35 & 1059: II. [Without tempo indication]

Johann Sebastian Bach: Concerto in D minor for harpsichord, oboe, strings and continuo, BWV 35 & 1059: III. Presto

Johann Sebastian Bach: Concerto in G for viola da braccio, strings and continuo, BWV1055: I. Allegro

Johann Sebastian Bach: Concerto in G for viola da braccio, strings and continuo, BWV1055: II. Larghetto

Johann Sebastian Bach: Concerto in G for viola da braccio, strings and continuo, BWV1055: III. Allegro ma non tanto

Johann Sebastian Bach: Concerto in D for three violins, two oboes, bassoon, strings and continuo, BWV1064: I. Allegro

Johann Sebastian Bach: Concerto in D for three violins, two oboes, bassoon, strings and continuo, BWV1064: II. Adagio

Johann Sebastian Bach: Concerto in D for three violins, two oboes, bassoon, strings and continuo, BWV1064: III. Allegro