J.S. Bach: Concertos for Recorder (1)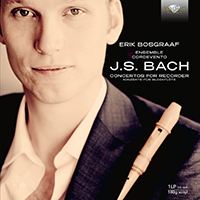 Composer
Johann Sebastian Bach
Artist
Erik Bosgraaf recorders
Ensemble Cordevento
Format
1 LP
Cat. number
90012
EAN code
5028421900124
Release
November 2023
About this release
A high-grade LP transfer for a superbly engineered album of Bach at his most life-enhancing.

JS Bach may not have composed any concertos specifically for recorder – none have survived, at any rate – but he scored for the instrument elsewhere in his output, most unforgettably so in his earliest surviving cantata, the 'Actus tragicus'. In any case the uniquely adaptable nature of his inspiration lends itself to the kind of sympathetic adaptation undertaken here by Erik Bosgraaf in partnership with the musicologist and art historian Thiemo Wind.

Three of the concertos here have beenadapted from pieces which survive in a scoring for solo harpsichord and string orchestra: BWV 1053, 1055 and 1059. A fourth concerto has been constructed by Wind from transcriptions of cantata arias, adapted from the secular cantata Preise dein Glücke, gesegnetes Sachsen BWV215 and Liebster Jesu, mein Verlangen BWV32. The idea is humble but ingenious, answering the question: what might Bach have done, or could he have done, if he had written concertos for the recorder?

In doing so, Bosgraaf and his colleagues are following good precedents: after all, Bach himself created and performed many such transcriptions. His oeuvre demonstrates that a composition wasnot regarded as an unchanging work of art, and during his lifetime it was standard procedure to make quite radical adaptations according to the relevant circumstances.

In any case, Bosgraaf and the one-per-part musicians of Cordevento perform these concertos with an unfailing sensitivity to the momentum and poetry of Bach's originals. Now, on 180-gram vinyl, these recordings gain a special warmth and depth while losing none of their pin-point clarity. 'Erik Bosgraaf's recorder-playing is fluent and lively in fast music, and his five colleagues provide accompaniments that are lean, stylish and precise.' (Gramophone)

- The LP issue of a favourite Brilliant Classics recording: Recorder Concertos by J.S. Bach played by Erik Bosgraaf and Ensemble Cordevento.
- Although Bach clearly felt at home composing for the recorder, featuring it in major works including the Brandenburg Concertos and several cantatas, he never composed a concerto for solo recorder – in fact, he only wrote original solo concertos for harpsichord and violin. However, an examination of Bach's compositional practices reveals that it was customary during his era to adapt or reuse musical material in new compositions. Taking this into consideration, the creators of this recording have drawn on a range of sources to answer the question of how a solo recorder concerto by Bach might have sounded.
- Presented here are the four full recorder concertos, based on material taken from existing harpsichord concertos and cantata movements, which Bach himself often reused or transcribed for different instrumentation.
- Played by Erik Bosgraaf and Ensemble Cordevento, performed on a range of recorders and period instruments. Gramophone writes about this recording: "Erik Bosgraaf's recorder-playing is fluent and lively in fast music, and his five colleagues (single strings and harpsichord) provide accompaniments that are lean, stylish and precise. His rapid passagework is impressive and Ensemble Cordevento's playing of fast music is joyful and accomplished." The recording is still available in CD format (BC 94296).
Listening
Track list
Disk 1
Johann Sebastian Bach: Concerto in G Major, Arias from Cantatas BWV 215 and 32, Transcribed by Thiemo Wind: I. [Allegro]

Johann Sebastian Bach: Concerto in G Major, Arias from Cantatas BWV 215 and 32, Transcribed by Thiemo Wind: II. Adagio

Johann Sebastian Bach: Concerto in G Major, Arias from Cantatas BWV 215 and 32, Transcribed by Thiemo Wind: III. Presto

Johann Sebastian Bach: Concerto in B-Flat Major, BWV 1055: I. Allegro

Johann Sebastian Bach: Concerto in B-Flat Major, BWV 1055: II. Larghetto

Johann Sebastian Bach: Concerto in B-Flat Major, BWV 1055: III. Allegro ma non tanto
Disk 2
Johann Sebastian Bach: Concerto in D Major, BWV 1053: I. [Allegro]

Johann Sebastian Bach: Concerto in D Major, BWV 1053: II. Siciliano

Johann Sebastian Bach: Concerto in D Major, BWV 1053: III. Allegro

Johann Sebastian Bach: Concerto in D Minor, BWV 1059: I. [Allegro]

Johann Sebastian Bach: Concerto in D Minor, BWV 1059: II. Adagio

Johann Sebastian Bach: Concerto in D Minor, BWV 1059: III. Presto

Johann Sebastian Bach: Liebster Jesu, wir sind hier, BWV 731