J.S. Bach: English Suites BWV806-811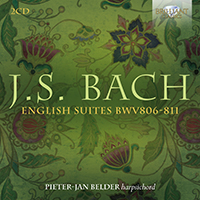 | | |
| --- | --- |
| Composer | Johann Sebastian Bach |
| Artist | Pieter-Jan Belder harpsichord |
| Format | 2 CD |
| Cat. number | 96060 |
| EAN code | 5028421960609 |
| Release | February 2021 |
About this release
The complete sonatas by Domenico Scarlatti and the first-ever complete recording of the Fitzwilliam Virginal Book are monuments old and new of the Brilliant Classics catalogue. Their author, harpsichordist Pieter-Jan Belder, has recently been adding to his considerable Bach catalogue with new recordings of canonical masterpieces such as the Goldberg Variations (95471), the Toccatas BWV 910-916 (96059) and the Art of Fugue (96035). These have attracted the enthusiasm of international critics: 'Excellently recorded and faultlessly played' (Goldbergs; Early Music Review).
Belder now turns his attention to the collection of six suites probably assembled by Bach in around 1725 from material he may have composed as early as a decade previously, while he had been in service to the Duke of Weimar. Despite their title, there is nothing especially English about these suites; they differ from the later French suites in their grander scale and more serious vein of expression, which reaches its height in the Sarabande of the Third Suite, which has become a profound meditation in the hands of artists as diverse as Maria Joõo Pires and Sviatoslav Richter.
However, in the English Suites we find not the Bach of the Goldbergs' solitary and introspective poet but the extrovert performer, especially in the ebullient concerto-style preludes of Nos. 2-6. The intricate counterpoint of the Allemandes is effectively contrasted with the spring in the step of the later dances such as the Minuets of No.4 and the Passepieds of No.5, while each suite ends with a flourish: a gigue of searching harmonies and whirling momentum to test the technique of the most accomplished performers. 'Without bringing anything provocative into his interpretations, [Belder] dependably makes the listener comfortable and attentive. He draws attention not to himself but to the music. His imagination serves the composer.' (American Record Guide).

- Pieter-Jan Belder continues his journey through the complete keyboard works by Bach with a recording of the 6 English Suites BWV 801-811
- There is little "English" about these suites. Their name might have been given as a tribute to Charles Diepart, whose 6 English Suites were very popular at the time. Bach's English Suites follow the traditional sequence of dance movements of the Suite. The writing is mature and technically demanding. The English Suites, along with the French Suites and Partitas, are part of the standard keyboard repertoire.
- Pieter-Jan Belder is one of the world's foremost keyboard players, with an astonishing number of CD's to his name: the complete Scarlatti Sonatas, Bach keyboard works, Rameau, Soler, Duphly, Marais, CPE Bach, Corelli, Purcell, Telemann, the complete Fitzwilliam Virginal Book..to be continued. Critics praise his versatility, his innate feeling for style, his impeccable technique: "Superb keyboard artistry and consummate technique"(Musicweb), "alive, fresh-sounding and thoroughly engaged.." (Fanfare), "The most vital Bach performances of the moment" (Volkskrant).
Listening
Track list
Disk 1
Johann Sebastian Bach: English Suite No. 1 in A Major, BWV 806: I. Prélude

Johann Sebastian Bach: English Suite No. 1 in A Major, BWV 806: II. Allemande

Johann Sebastian Bach: English Suite No. 1 in A Major, BWV 806: III. Courante I

Johann Sebastian Bach: English Suite No. 1 in A Major, BWV 806: IV. Courante II avec deux doubles

Johann Sebastian Bach: English Suite No. 1 in A Major, BWV 806: V. Sarabande

Johann Sebastian Bach: English Suite No. 1 in A Major, BWV 806: VI. Bourrée I & II

Johann Sebastian Bach: English Suite No. 1 in A Major, BWV 806: VII. Gigue

Johann Sebastian Bach: English Suite No. 2 in A Minor, BWV 807: I. Prélude

Johann Sebastian Bach: English Suite No. 2 in A Minor, BWV 807: II. Allemande

Johann Sebastian Bach: English Suite No. 2 in A Minor, BWV 807: III. Courante

Johann Sebastian Bach: English Suite No. 2 in A Minor, BWV 807: IV. Sarabande

Johann Sebastian Bach: English Suite No. 2 in A Minor, BWV 807: V. Bourrée I & 2

Johann Sebastian Bach: English Suite No. 2 in A Minor, BWV 807: VI. Gigue

Johann Sebastian Bach: English Suite No. 3 in G Minor, BWV 808: I. Prélude

Johann Sebastian Bach: English Suite No. 3 in G Minor, BWV 808: II. Allemande

Johann Sebastian Bach: English Suite No. 3 in G Minor, BWV 808: III. Courante

Johann Sebastian Bach: English Suite No. 3 in G Minor, BWV 808: IV. Sarabande

Johann Sebastian Bach: English Suite No. 3 in G Minor, BWV 808: V. Gavotte I & gavotte II ou la musette

Johann Sebastian Bach: English Suite No. 3 in G Minor, BWV 808: VI. Gigue
Disk 2
Johann Sebastian Bach: English Suite No. 4 in F Major, BWV 809: I. Prélude, vitement

Johann Sebastian Bach: English Suite No. 4 in F Major, BWV 809: II. Allemande

Johann Sebastian Bach: English Suite No. 4 in F Major, BWV 809: III. Courante

Johann Sebastian Bach: English Suite No. 4 in F Major, BWV 809: IV. Sarabande

Johann Sebastian Bach: English Suite No. 4 in F Major, BWV 809: V. Menuet I & II

Johann Sebastian Bach: English Suite No. 4 in F Major, BWV 809: VI. Gigue

Johann Sebastian Bach: English Suite No. 5 in E Minor, BWV 810: I. Prélude

Johann Sebastian Bach: English Suite No. 5 in E Minor, BWV 810: II. Allemande

Johann Sebastian Bach: English Suite No. 5 in E Minor, BWV 810: III. Courante

Johann Sebastian Bach: English Suite No. 5 in E Minor, BWV 810: IV. Sarabande

Johann Sebastian Bach: English Suite No. 5 in E Minor, BWV 810: V. Passepied I & II

Johann Sebastian Bach: English Suite No. 5 in E Minor, BWV 810: VI. Gigue

Johann Sebastian Bach: English Suite No. 6 in D Minor, BWV 811: I. Prélude

Johann Sebastian Bach: English Suite No. 6 in D Minor, BWV 811: II. Allemande

Johann Sebastian Bach: English Suite No. 6 in D Minor, BWV 811: III. Courante

Johann Sebastian Bach: English Suite No. 6 in D Minor, BWV 811: IV. Sarabande & double

Johann Sebastian Bach: English Suite No. 6 in D Minor, BWV 811: V. Gavotte I & II

Johann Sebastian Bach: English Suite No. 6 in D Minor, BWV 811: VI. Gigue