J.S. Bach: Guitar Transcriptions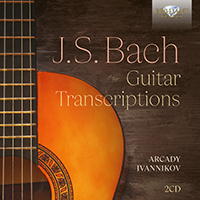 | | |
| --- | --- |
| Composer | Johann Sebastian Bach |
| Artist | Arcady Ivannikov guitar |
| Format | 2 CD |
| Cat. number | 96568 |
| EAN code | 5028421965680 |
| Release | July 2022 |
About this release
New recordings from a pioneering Russian classical guitarist: works for lute by Bach, plus Ivannikov's own transcriptions of the D minor Partita and A minor Sonata for solo violin.

Unlike the suites for unaccompanied cello or the sonatas and partitas for solo violin, Bach's works for solo lute do not seem to have been conceived as a group. They include a variety of compositions written in different styles and span a fairly long period of his creative life; the E minor Suite BWV996 dates from Bach's time in Weimar, while the Prelude, Fugue and Allegro BWV998 is believed to have been composed during the last years of his life. Although some pieces are more idiomatic than others, they all make taxing demands on the performer.

There is no evidence that Bach actually played the lute himself, but he was clearly interested in the sound of the instrument. This is further illustrated by his subtle use of it in the St John Passion and the Trauerode BWV 198. Of the four suites which appear to have been written specifically with the lute in mind, Arcady Ivannikov presents the E minor BWB996 and the C minor BWV997 (transposed here to A minor). BWV997 is probably a late work of Bach's and in the richness and complexity of its full five-movement form (especially the fugue) notably reminiscent of the Sonatas and Partitas for solo violin, which makes Ivannikov's coupling so inspired (but unusual).

As a transcriber and performer, Ivannikov has taken a path of minimal intervention, attempting only to make small editorial adjustments to ease the fit of the music from the four-string violin to the six-string guitar. Culminating in the sublime Chaconne which was probably composed as a tombeau to mark the sudden passing of his first wife Maria Barbara, the D minor Partita is Bach's most profound work for solo instrument besides the piano, and a fitting climax to this collection from one of Russia's master guitarists.

Bach's music is often described as indestructible, in the sense that no matter how it is performed, or in whichever arrangement, its essential spirit survives. Therefore transcriptions of the Master's works are common, today as they were in Bach's time (Bach (1685-1750) himself was an ardent transcriber!).
This new recording presents instrumental works by Bach transcribed for and played on the modern guitar. The selection includes works written originally for lute BWV 996, 997 and 998, and the Sonata BWV 1003 and Partita BWV 1004, originally written for solo violin.
Arcady Ivannikov is one of Russia's leading guitarists, a key figure in the popularization of his instrument in his home country, having organized numerous concerts and festivals.
Track list
Disk 1
Johann Sebastian Bach: Prelude, Fugue & Allegro in E-Flat Major, BWV 998: I. Prelude

Johann Sebastian Bach: Prelude, Fugue & Allegro in E-Flat Major, BWV 998: II. Fugue

Johann Sebastian Bach: Prelude, Fugue & Allegro in E-Flat Major, BWV 998: III. Allegro

Johann Sebastian Bach: Suite in E Minor, BWV 996: I. Prelude

Johann Sebastian Bach: Suite in E Minor, BWV 996: II. Allemande

Johann Sebastian Bach: Suite in E Minor, BWV 996: III. Courante

Johann Sebastian Bach: Suite in E Minor, BWV 996: IV. Sarabande

Johann Sebastian Bach: Suite in E Minor, BWV 996: V. Bourree

Johann Sebastian Bach: Suite in E Minor, BWV 996: VI. Gigue

Johann Sebastian Bach: Sonata in A Minor, BWV 1003: I. Grave

Johann Sebastian Bach: Sonata in A Minor, BWV 1003: II. Fuga

Johann Sebastian Bach: Sonata in A Minor, BWV 1003: III. Andante

Johann Sebastian Bach: Sonata in A Minor, BWV 1003: IV. Allegro
Disk 2
Johann Sebastian Bach: Suite No. 2 in A Minor, BWV 997: I. Prelude

Johann Sebastian Bach: Suite No. 2 in A Minor, BWV 997: II. Fuga

Johann Sebastian Bach: Suite No. 2 in A Minor, BWV 997: III. Sarabande

Johann Sebastian Bach: Suite No. 2 in A Minor, BWV 997: IV. Gigue

Johann Sebastian Bach: Suite No. 2 in A Minor, BWV 997: V. Double

Johann Sebastian Bach: Partita No. 2 in D Minor, BWV 1004: I. Allemande

Johann Sebastian Bach: Partita No. 2 in D Minor, BWV 1004: II. Corrente

Johann Sebastian Bach: Partita No. 2 in D Minor, BWV 1004: III. Sarabande

Johann Sebastian Bach: Partita No. 2 in D Minor, BWV 1004: IV. Giga

Johann Sebastian Bach: Partita No. 2 in D Minor, BWV 1004: V. Chaconne

Johann Sebastian Bach: Prelude in D Minor, BWV 999