J.S. Bach: Harmonic Seasons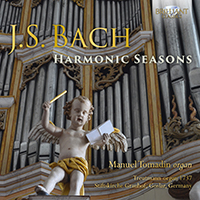 Download booklet
| | |
| --- | --- |
| Composer | Johann Sebastian Bach |
| Artist | Manuel Tomadin organ |
| Format | 1 CD |
| Cat. number | 95786 |
| EAN code | 5028421957869 |
| Release | November 2019 |
About this release
For this uniquely compiled new recording of Bach's organ works, the Italian organist Manuel Tomadin devised a concept of organising music by the four seasons. There are 12 pieces on the album, opening with the vaulting arpeggios of the G major Prelude BWV541. To each season is given its own prelude and fugue – all of them masterpieces from Bach's Leipzig period – as well as a pair of shorter works.

These include superb chorale preludes such as Christ unser Herr, zum Jordan kam BWV564 but also much lesser-known music such as the C minor Fantasia BW1121: a youthful piece of reverent serenity, and the Kleines Harmonisches Labyrinth BWV591. The authorship of this tripartite work has often been questioned – it came to light as part of the Neumeister Chorales within the last century – but the daring sequences at its close are highly redolent of the Chromatic Fantasia and Fugue that is one of Bach's undisputed masterpieces.

On this recording Manuel Tomadin plays the Christoph Treutmann organ of 1737 in the former Collegiate Church of St. George, Grauhof, Germany. The booklet includes photos and specification of the organ as well as Tomadin's own authoritative introduction to the music on the album. His extensive discography on Brilliant Classics has met with wide critical praise. 'For both completeness and budget price, Tomadin has no competition, and merits a cordial recommendation accordingly.' (Fanfare, January 2019, reviewing the organ works of Vincent Lübeck, BC95453).

'Tomadin performs with equal grace on all three instruments, demonstrating the interchangeability of the music. The phrasing is precise and convincing, and Tomadin has a positive knack for making the simplest of lines and lyrical themes interesting and listenable. He will have done a tremendous service to the world of music in this recording.' (Fanfare, July 2016, reviewing the keyboard music of Alberti, BC95161).

This highly original program concept presents 12 compositions, one for each month, grouped in 4 seasons, each consisting of 3 compositions: a Prelude & Fugue and 2 Choralvorspiele. The tonalities of C, E and G form the perfect triad, both in major and in minor mode. The different moods and characters of the pieces depict the journey through the seasons, the seasons of life: birth, joy, hardship, tragedy and salvation.
Organist Manuel Tomadin is one of the foremost Italian organists of today, a scholar and passionate musician, with an impressive discography to his name: Husumer Organ Book, Alberti Complete Keyboard Works, and other North German organ masters.
On this recording he plays the magnificent 1737 Treutmann organ of the Stiftskirche in Grauhof, one of the most impressive instruments of the German Baroque. The full specifications of the organ are included in the booklet.
Listening
Track list
Disk 1
Johann Sebastian Bach: Prelude and Fugue in G Major, BWV 541: I. Prelude

Johann Sebastian Bach: Prelude and Fugue in G Major, BWV 541: II. Fugue

Johann Sebastian Bach: Herr Jesu Christ, dich zu uns wend in G Major, BWV 709 a 2 Clav. e Ped.

Johann Sebastian Bach: Trio Herr Jesu Christ, dich zu uns wend in G Major, BWV 655 a 2 Clav. e Ped.

Johann Sebastian Bach: Prelude and Fugue in E Minor, BWV 548: I. Prelude

Johann Sebastian Bach: Prelude and Fugue in E Minor, BWV 548: II. Fugue

Johann Sebastian Bach: Vater unser im Himmelreich, BWV 682 a 2 Clav. et Ped.

Johann Sebastian Bach: Jesus Christus Unser Heiland in E Minor, BWV 666

Johann Sebastian Bach: Fantasia in C Minor, BWV 1121

Johann Sebastian Bach: Christ, unser Herr, zum Jordan kam, BWV 684 a 2 Clav. e C F in Pedale

Johann Sebastian Bach: Prelude and Fugue in C Minor, BWV 546: I. Prelude

Johann Sebastian Bach: Prelude and Fugue in C Minor, BWV 546: II. Fugue

Johann Sebastian Bach: Kleines Harmonisches Labyrinth in C Major, BWV 591

Johann Sebastian Bach: Gelobet seist du, Jesu Christ BWV 604 a 2 Clav. e Ped.

Johann Sebastian Bach: Prelude and Fugue in C Major, BWV 545: I. Prelude

Johann Sebastian Bach: Prelude and Fugue in C Major, BWV 545: II. Fugue