J.S. Bach: Kunst der Fuge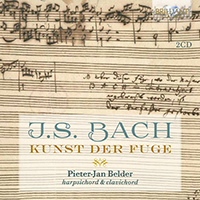 Download booklet
| | |
| --- | --- |
| Composer | Johann Sebastian Bach |
| Artist | Pieter-Jan Belder harpsichord & clavichord |
| Format | 2 CD |
| Cat. number | 96035 |
| EAN code | 5028421960357 |
| Release | August 2019 |
About this release
A new recording of Bach's final testament and love-letter to the art of counterpoint, performed in exemplary style by the Dutch harpsichordist with a catalogue of acclaimed recordings for Brilliant Classics.

When he died in July 1750, Bach left tantalisingly unfinished his final masterpiece, The Art of Fugue. He had been composing and compiling it during the last decade of his life, alongside several other compendious projects such as the Mass in B minor and The Musical Offering, whose fugal masterpieces are excerpted on this recording. However, The Art of Fugue remains an absorbing testimony to Bach's genius and to his life-long love and mastery of counterpoint. A single theme is elaborated with unprecedented variety over the course of 14 fugues and four canons. One of the fugues is composed for two harpsichords – where Belder is joined by Gerard de Wit – and composed in such a way that it can be performed backwards: an extraordinary feat of ingenuity.

Playing both a modern copy of a Blanchet harpsichord and a clavichord modelled on a Friederici original, Belder intersperses canons within the sequence of fugues at strategic intervals. His extensive catalogue of Bach recordings has won international praise: here, for example is Fanfare's verdict on his second recording of The Well-Tempered Clavier: 'Tempos dance in more sprightly ways in the faster-paced preludes, and air between voices in the fugues assists the ear in appreciating Bach's invention. Listen, for example to the sheer joyousness of the C♯-Major Prelude and Fugue with its ornamental twists and turns… a fantastic Book II.'
'Belder's Goldberg Variations is commendably humane and technically strongly competitive.' (MusicWeb International). 'Without bringing anything provocative into his interpretations, he dependably makes the listener comfortable and attentive. He draws attention not to himself but to the music. His imagination serves the composer. This new recording is quickly becoming one of my favorite interpretations of the Goldberg Variations.' (American Record Guide).

Belder's new account of The Art of Fugue sets the seal on a distinguished catalogue of Bach recordings made over the course of 20 years.

Pieter-Jan Belder continues his journey through the complete keyboard works by Bach with a recording of the Kunst der Fuge, Bach's last and unfinished masterwork, the summary of his genius and legacy of his unsurpassed art, the expression of the deepest human emotions in the abstract formal structures of the fugue.
Pieter-Jan Belder is one of the world's foremost keyboard players, with an astonishing number of CD's to his name: the complete Scarlatti Sonatas, Bach keyboard works, Rameau, Soler, Duphly, Marais, CPE Bach, Corelli, Purcell, Telemann, the complete Fitzwilliam Virginal Book..to be continued. Critics praise his versatility, his innate feeling for style, his impeccable technique: "Superb keyboard artistry and consummate technique"(Musicweb), "alive, fresh-sounding and thoroughly engaged.." (Fanfare), "The most vital Bach performances of the moment" (Volkskrant).
The 2CD set contains also the 4 Duetti BWV 802-805, and two Ricercares from the Musical Offering. Pieter-Jan Belder plays a harpsichord and clavichord.
Listening
Track list
Disk 1
Johann Sebastian Bach: Die Kunst der Fuge, BWV 1080: I. Contrapunctus 1

Johann Sebastian Bach: Die Kunst der Fuge, BWV 1080: II. Contrapunctus 2

Johann Sebastian Bach: Die Kunst der Fuge, BWV 1080: III. Contrapunctus 3

Johann Sebastian Bach: Die Kunst der Fuge, BWV 1080: IV. Contrapunctus 4

Johann Sebastian Bach: Die Kunst der Fuge, BWV 1080: V. Canon alla ottava

Johann Sebastian Bach: Die Kunst der Fuge, BWV 1080: VI. Contrapunctus 5

Johann Sebastian Bach: Die Kunst der Fuge, BWV 1080: VII. Contrapunctus 6. a 4 in Style Francese

Johann Sebastian Bach: Die Kunst der Fuge, BWV 1080: VIII. Contrapunctus 7. a 4 per augmentationem et diminutionem

Johann Sebastian Bach: Die Kunst der Fuge, BWV 1080: IX. Canon alla decima in contrapuncto alla terza

Johann Sebastian Bach: Die Kunst der Fuge, BWV 1080: X. Contrapunctus 8. a 3

Johann Sebastian Bach: Die Kunst der Fuge, BWV 1080: XI. Contrapunctus 9. a 4 alla duodecima

Johann Sebastian Bach: Die Kunst der Fuge, BWV 1080: XII. Contrapunctus 10. a 4 alla decima

Johann Sebastian Bach: Die Kunst der Fuge, BWV 1080: XIII. Contrapunctus 11. a 4
Disk 2
Johann Sebastian Bach: Die Kunst der Fuge, BWV 1080: XIV. Canon alla duodecima in contrapuncto alla quinta

Johann Sebastian Bach: Die Kunst der Fuge, BWV 1080: XV. Contrapunctus inversus 12(1) a 4

Johann Sebastian Bach: Die Kunst der Fuge, BWV 1080: XVI. Contrapunctus inversus 12(2) a 4

Johann Sebastian Bach: Die Kunst der Fuge, BWV 1080: XVII. Contrapunctus inversus 13(1) a 3

Johann Sebastian Bach: Die Kunst der Fuge, BWV 1080: XVIII. Contrapunctus 13 inversus 13(2) a3

Johann Sebastian Bach: Die Kunst der Fuge, BWV 1080: XIX. Canon per augmentationem in contrario motu

Johann Sebastian Bach: Die Kunst der Fuge, BWV 1080: XX. Contrapunctus 14 (fuga a 3 soggetti)

Johann Sebastian Bach: Die Kunst der Fuge, BWV 1080: XXI. Contrapunctus 13(1) a due cembali

Johann Sebastian Bach: Die Kunst der Fuge, BWV 1080: XXII. Contrapunctus 13(2) a due cembali

Johann Sebastian Bach: Duetto in E Minor, BWV 802

Johann Sebastian Bach: Duetto in F Major, BWV 803

Johann Sebastian Bach: Duetto in G Major, BWV 804

Johann Sebastian Bach: Duetto in A Minor, BWV 805

Johann Sebastian Bach: Musikalisches Opfer, BWV 1079: I. Ricercar a 3

Johann Sebastian Bach: Musikalisches Opfer, BWV 1079: II. Ricercar a 6