J.S. Bach: Motets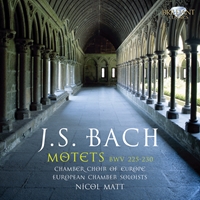 Composer
Johann Sebastian Bach
Artist
Chamber Choir of Europe
European Chamber Soloists
Nicol Matt conductor
Format
1 CD
Cat. number
94045
EAN code
5028421940458
Release
September 2010
About this release
These 7 works comprise J.S Bach's complete output of German motets – in stark contrast to his prolific cantata output of over 200 works.

German motets occupied a specific place in the canon of liturgical music in the 16 – 18 centuries. They were performed solely by the choir schools during services, the congregation remaining silent. Consequently, the writing is more complex than that found in works where the congregation could join in. It was customary for two motets to be sung at Sunday services, Vespers, weddings, funerals church induction ceremonies, inaugurations and university gatherings.

Bach's works date from his time cantor at St Thomas's church in Leipzig, where on of his duties was to provide music for minor ceremonies.

Other information:
- Period instrument performances, recordied in 2007.
- Booklet notes and sung texts included.
- Awarded with a Diapason d'Or in June 2011.
Track list
Disk 1
Singet dem Herrn ein neues Lied BWV 225

Singet dem Herrn ein neues Lied BWV 225

Singet dem Herrn ein neues Lied BWV 225

Der Geist hilft unser Schwachheit auf BWV 226

Der Geist hilft unser Schwachheit auf BWV 226

Der Geist hilft unser Schwachheit auf BWV 226

Jesu, meine Freude BWV 227

Jesu, meine Freude BWV 227

Jesu, meine Freude BWV 227

Jesu, meine Freude BWV 227

Jesu, meine Freude BWV 227

Jesu, meine Freude BWV 227

Jesu, meine Freude BWV 227

Jesu, meine Freude BWV 227

Jesu, meine Freude BWV 227

Jesu, meine Freude BWV 227

Jesu, meine Freude BWV 227

Fürchte dich nicht, ich bin bei dir BWV 228

Komm, Jesu, komm BWV 229

Lobet den Herrn, alle Heiden BWV 230