J.S. Bach: Music for Recorder & Harpsichord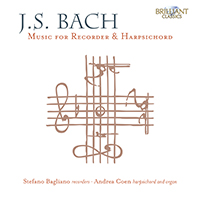 Download booklet
Composer
Johann Sebastian Bach
Artist
Stefano Bagliano recorders
Andrea Coen harpsichord and organ
Format
1 CD
Cat. number
95777
EAN code
5028421957777
Release
January 2021
About this release
Another Bach arrangements album? Stefano Bagliano and Andrea Coen present something a little different: sonatas, chorale preludes and fugues in a form of domestic music-making that Bach himself would have recognised and enjoyed.

The first half of the 18th century was a period of intense evolution for instruments belonging to the flute family, as materials (wood to metal), sizes and ranges all developed prior to the key-system devised in the 19th century. The recorder (or pair thereof) which plays the starring role in the poignant sinfonia to Bach's Actus Tragicus of 1708 is quite different to the lambent, creamy-toned flute played by Frederick the Great and for which he wrote the trio sonata belonging to the Musical Offering of 40 years later.

Whether composed by JS or his son CPE, the sonata BWV1020 has a sunny disposition belying its minor key even in the lovely central Adagio. This version of BWV1039 – originally designed as a sonata for viola da gamba, BWV1027, then transcribed for two flutes and continuo – features the dark and velvety tone of the tenor recorder in D. Unlike most other recordings of the Flute Sonata BWV1032, Stefano Bagliano and Andrea Coen have completed the first movement from the point where 46 bars are missing from Bach's manuscript, resulting in a more satisfying, musical experience.

The chorale 'O Mensch, bewein dein Sunde gross', as the meditative climax of the Orgelbuchlein collection, proves delightfully amenable to an arrangement where the chorale line is taken by the melody instrument, and the two instruments pick out the liveliest inner workings of the Canonic Fugue from the Musical Offering as well as a pair of Contrapuncti from The Art of Fugue (Nos. 6 & 9). Two trio works originally composed with organ in mind round out the collection, which finds Andrea Coen adroitly shuttling between harpsichord and a chamber organ. With wonderfully varied textures and a poetic sensibility to be expected from these two experienced Baroque-era specialists, it's a Bach album to treasure.

Although Bach (1685-1750) clearly felt at home composing for the recorder, featuring it in major works including the Brandenburg Concertos and several cantatas, he never composed solo works for the instrument. However, Bach was an indefatigable recycler of his own works (and of those by others..), and in this light it might be pardonable for modern musicians to adapt some of Bach's best works for their own instrument, especially when that instrument is the recorder, which was one of the most important melodic wind instruments up till Bach's time. Recorder player Stefano Bagliano chose several works by Bach which he considers suitable for transcription for recorder and continuo: flute and trio sonatas BWV 1020, 1032 and 1039, two 3-part Inventionen, organ Choralvorspiele, and several fugues from the Kunst der Fuge and Musikalisches Opfer. Stefano Bagliano and harpsichordist Andrea Coen show their love for these eternal masterworks in these utterly convincing performances.
Listening
Track list
Disk 1
Johann Sebastian Bach: Sonata in A Minor, BWV 1020: I. Allegro

Johann Sebastian Bach: Sonata in A Minor, BWV 1020: II. Adagio

Johann Sebastian Bach: Sonata in A Minor, BWV 1020: III. Allegro

Johann Sebastian Bach: O Mensch, bewein dein Suende gross in E-Flat Major, BWV 622

Johann Sebastian Bach: Sinfonia No. 8 in F Major, BWV 794

Johann Sebastian Bach: Sinfonia No. 13 in A Minor, BWV 799

Johann Sebastian Bach: Trio super Herr Jesu Christ, dich zu uns wend in G Major, BWV 655

Johann Sebastian Bach: Sonata in G Major, BWV 1039: I. Adagio

Johann Sebastian Bach: Sonata in G Major, BWV 1039: II. Allegro ma non presto

Johann Sebastian Bach: Sonata in G Major, BWV 1039: III. Adagio e piano

Johann Sebastian Bach: Sonata in G Major, BWV 1039: IV. Presto

Johann Sebastian Bach: Fuga canonica in epidiapente from Musikalisches Opfer, BWV 1079

Johann Sebastian Bach: Flute Sonata in C Major, BWV 1032: I. Vivace

Johann Sebastian Bach: Flute Sonata in C Major, BWV 1032: II. Largo e dolce

Johann Sebastian Bach: Flute Sonata in C Major, BWV 1032: III. Allegro

Johann Sebastian Bach: Kunst der Fuge, BWV 1080: I. Contrapunctus VI

Johann Sebastian Bach: Kunst der Fuge, BWV 1080: II. Contrapunctus IX

Johann Sebastian Bach: Trio in D Minor, BWV 583