J.S. Bach: Organ Transcriptions. Orchestral Suites 2 & 3, Chaconne, Transcribed for Organ by Wolfgang Rübsam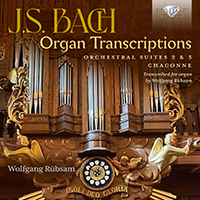 | | |
| --- | --- |
| Composer | Johann Sebastian Bach |
| Artist | Wolfgang Rübsam organ |
| Format | 1 CD |
| Cat. number | 96846 |
| EAN code | 5028421968469 |
| Release | November 2023 |
About this release
Over the course of more than half a century, Wolfgang Rübsam has consistently brought new insights to bear on the keyboard music of Bach, firstly in sets of the canonic organ music for Philips, then the same for Naxos. In the last few years, his musicianship and understanding of Bach enriched by those decades of experience, he has turned to the harpsichord/piano repertoire for Brilliant Classics. A series of critically acclaimed albums has shed new light on The Well-Tempered Clavier, the Goldberg Variations, the Partitas and Toccatas with Rübsam's performance of them on a lautenwerk – a 'lute-harpsichord' with a distinctive chime and colour which Bach himself would have been familiar with.

Rübsam now returns to the organ, with new transcriptions and recordings of two Orchestral Suites and Chaconne from the D minor Partita for solo violin. While the Chaconne has attracted transcribers and arrangers ever since the 19th century, drawn magnetically to its evolving variations on a ground bass which accumulate an emotional power unusual even for Bach, the Orchestral Suites are much less often encountered outside their original garb. Yet we can be sure that Bach himself would have embraced Rübsam's idea with enthusiasm. The Suites themselves are compilations of dances, probably not all originally designed for their eventual destination as high-class entertainment music for the concert series at Café Zimmermann in Leipzig, and Bach repurposed some of their movements as sinfonias and even choruses for his church cantatas.

As in his fairly free transcription of the Chaconne, Rübsam has made full use of the instrument at his disposal, a magnificent Casavant instrument (1998) at the Church of St. Louis, in St. Paul, Minnesota. The booklet includes a full disposition for the organ as well as an essay introducing both the works and Rübsam's uniquely imaginative approach to them. 'If the sound of the lute-harpsichord highlights Bach's debt to French lute music, especially in the First Prelude, the instrument clarifies that homage while Rübsam's interpretation transcends it.' (Fanfare, November 2018, The Well-Tempered Clavier, 96750)

- Transcription has always been a widespread musical practice, following the desire to arrange pieces originally written for an instrumental and/or vocal ensemble for an instrument like the organ or harpsichord or, later, the piano. The eighteenth century was a very fertile period for transcriptions, reaching its pinnacle among Johann Sebastian Bach's circle. The transcriptions Johann Sebastian Bach (1685-1750) made during his time in Weimar are both for organ (three concertos by Vivaldi and two by Johann Ernst IV. of Saxe-Weimar) and an astonishing 14 for harpsichord (by various Italian composers).
- Also today musicians transcribe Bach's music for their own instrument. On this new recording organist Wolfgang Rübsam transcribed two of Bach's most famous orchestral works for the organ: the Orchestral Suites Nos. 2 BWV 1067 and 3 BWV 1068, containing such famous and popular works like the Air and the Badinerie. In between we hear one of the pinnacles of classical music, the iconic Chaconne from Partita No. 2 BWV 1004, originally written for violin solo, running in its 15 minutes the complete gamut of human emotions, from the deepest despondency to utter bliss and consolation.
- Rübsam's arrangements are full of colour and imagination, based on his deep knowledge and experience as an organist, keyboard player and true musician.
- Played on the Casavant, Opus 3762 organ (1998) at the Church of St. Louis, King of France, St. Paul, Minnesota, USA.
Listening
Track list
Disk 1
Johann Sebastian Bach: Orchestral Suite No. 3 in D Major, BWV 1068: I. Ouverture

Johann Sebastian Bach: Orchestral Suite No. 3 in D Major, BWV 1068: II. Air

Johann Sebastian Bach: Orchestral Suite No. 3 in D Major, BWV 1068: III.-IV. Gavotte I+II

Johann Sebastian Bach: Orchestral Suite No. 3 in D Major, BWV 1068: V. Bourrée

Johann Sebastian Bach: Orchestral Suite No. 3 in D Major, BWV 1068: VI. Gigue

Johann Sebastian Bach: Chaconne from Violin Partita No. 2 in D Minor, BWV 1004

Johann Sebastian Bach: Orchestral Suite No. 2 in B Minor, BWV 1067: I. Ouverture

Johann Sebastian Bach: Orchestral Suite No. 2 in B Minor, BWV 1067: II. Rondeau

Johann Sebastian Bach: Orchestral Suite No. 2 in B Minor, BWV 1067: III. Sarabande

Johann Sebastian Bach: Orchestral Suite No. 2 in B Minor, BWV 1067: IV. Bourrée I+II

Johann Sebastian Bach: Orchestral Suite No. 2 in B Minor, BWV 1067: V. Polonaise - Double – Polonaise

Johann Sebastian Bach: Orchestral Suite No. 2 in B Minor, BWV 1067: VI. Menuett

Johann Sebastian Bach: Orchestral Suite No. 2 in B Minor, BWV 1067: VII. Badinerie