J.S. Bach: Sinfonias from Cantatas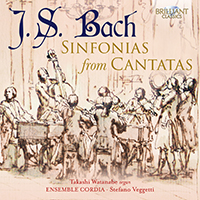 Download booklet
Composer
Johann Sebastian Bach
Artist
Takashi Watanabe organ
Ensemble Cordia
Stefano Veggetti conductor
Format
1 CD
Cat. number
96218
EAN code
5028421962184
Release
January 2021
About this release
Familiar and little-known masterpieces of concertante writing by Bach in an unfamiliar context and sparkling new performances.
By transcribing its haunting Sinfonia for two pianos, György Kurtág gave the early 'Actus Tragicus' funeral cantata by Bach a second life. He was only following good Bachian practice, which was to make the best of what was available to him. In his sinfonias, Bach often reused movements from previously composed longer instrumental works – some of them now lost in their original, others still very much with us, such as the Brandenburg Concertos. When adapting the first movement of the Third as the opening gambit of BWV174, Bach added wind and a pair of virtuoso horn parts with a flair and audacity that would make most modern transcribers quail. The album ends with a much straighter transcription of the exuberant hunt music for the horn-led first movement to Brandenburg No.1 repurposed as the Sinfonia to BWV52.

Several of his sinfonias call upon the services of an organist who takes centre stage – perhaps Bach himself, though he may have been writing for a visiting soloist. Here is the expansive opening movement, in a startling new guise as the Sinfonia to BWV146, of the magnificent D minor Harpsichord Concerto which, along with the Fifth Brandenburg, became effectively the Old Testament for the Romantic-era piano concerto. The original source for the sinfonia to BWV169 is now lost, but its material is shared with the better-known Harpsichord Concerto BWV1053.

This is the Bach concertos album you never knew you could have; the sinfonias are too rarely heard outside their original sacred context. Here they are performed on 'period' instruments by the experienced hands of Ensemble Cordia, who have assembled an impressive catalogue of Baroque favourites and rarities on Brilliant Classics, with the starring role given to their regular continuo player, Takashi Watanabe.

Following an old tradition, in the 17th century German composers used to open their sacred compositions with a short instrumental introduction, which they usually called "sonata" or "sinfonia". Johann Sebastian Bach (1685-1750) continued this tradition: his instrumental introductions were magnificent virtuosic sinfonias with concertato instruments that introduced the splendid atmosphere of the court chapel into the world of municipal church music, reminding listeners that their composer was the former kapellmeister of the Prince of Anhalt-Cöthen, a title he still used.
This new recording presents six Sinfonias for obligato organ, from the cantatas BWV188, 169, 49, 146, and 35. They are played by Takashi Watanabe, winner of the Early Music Prize of Japan, student of Bob van Asperen and continuo player in many prestigious Early Music groups.
The Ensemble Cordia, led by Stefano Veggetti, has made several highly acclaimed recordings for Brilliant Classics, featuring works by Platti, Wranitsky, Telemann.
Listening
Track list
Disk 1
Johann Sebastian Bach: Sinfonia from Cantata BWV 188 Ich habe meine Zuversicht

Johann Sebastian Bach: Sinfonia from Cantata BWV 174 Ich liebe den Höchsten von ganzem Gemüte

Johann Sebastian Bach: Sinfonia from Cantata BWV 169 Gott soll allein mein Herze haben

Johann Sebastian Bach: Sinfonia from Cantata BWV 12 Weinen, Klagen, Sorgen, Zagen – Adagio Assai

Johann Sebastian Bach: Sinfonia from Cantata BWV 49 Ich geh und suche mit Verlangen

Johann Sebastian Bach: Sinfonia from Cantata BWV 146 Wir müssen durch viel Trübsal

Johann Sebastian Bach: Concerto from Cantata BWV 35 Geist und Seele wird verwirret, Pt. 1

Johann Sebastian Bach: Sinfonia from Cantata BWV 35 Geist und Seele wird verwirret, Pt. 2, presto

Johann Sebastian Bach: Sinfonia from Cantata BWV 156 Ich steh mit einem Fuß im Grabe – Adagio

Johann Sebastian Bach: Sinfonia from Cantata BWV 52 Falsche Welt, dir trau ich nicht