J.S. Bach: Six Suites for Viola Solo BWV 1007-1012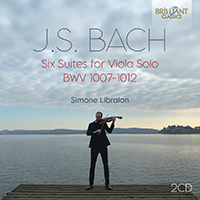 Download booklet
| | |
| --- | --- |
| Composer | Johann Sebastian Bach |
| Artist | Simone Libralon viola |
| Format | 2 CD |
| Cat. number | 96425 |
| EAN code | 5028421964256 |
| Release | September 2021 |
About this release
In the music of Bach, the Italian violist Simone Libralon has found a lifelong companion, who 'unfailingly touches that emotional chord we need in the varied and contrasting moments of human experience - a safe haven reserved for intimate spirituality.' His own approach to the suites which Bach wrote while Capellmeister at Weimar, however, is inflected not only by lived experience but also scholarship and a lively sense of performance style: 'I've always thought of the sound of Bach in keyboard-related terms: fresh and light like a harpsichord, with the depth and solemnity of the organ, but sensed throughout as a continuum that conceals great compositional and conceptual
complexity.'

His new recording of the Suites is accordingly personal and unique; he omits most of the marked repeats and brings a refreshingly flowing pulse to movements which are often interpreted as monuments of reflection such as the Sarabande of the Fifth Suite (here lasting less than a minute and a half). However, his decisions always arise from a sense of each movement's inner character, and his account of the Sixth Suite's Prelude is as spacious as Rostropovich's. In doing so, he further demonstrates the imperishable quality of music which absorbs and reflects an almost infinite multiplicity of interpretations while conveying the different character of the artists who channel Bach's inspiration.

Simone Libralon is presently a member of LaVerdi, Milan's premier symphonic ensemble, but also a solo recitalist and chamber musician who has built unique recitals around the history of his instrument and worked with artists, architects and writers to create multimedia events which place the viola front and centre.

- This new recording presents Bach's 6 Suites for unaccompanied cello BWV 1007-1012 in the arrangement for viola solo, made by the artist Simone Libralon. He comments on this: "Bach's Suites BWV 1007-1012 are, unquestionably, among the most important works composed for an unaccompanied string instrument. Their extraordinary compositional quality means they can assimilate, with remarkable adaptability, to the full range of taste and style associated with any historical and artistic period. The way they can lend themselves to differing interpretations ensure they always exercise a "contemporary" appeal. This recording is the result of a long period of study, concerts and research that led me to develop my own style hand-in-hand with establishing the character of this work."
- Simone Libralon plays with great intensity, a fluent rhetoric and rhythmic flexibility.
- A member of LaVerdi, Milan Symphonic Orchestra, Simone Libralon began his viola studies in Italy, before continuing with Andreas Willwohl at the Nüremberg University of Music. After participating in several masterclasses with major viola players, including Yuri Bashmet and Kim Kashkashian, he was inspired to pursue a career as a solo violist.