J.S. Bach: Solo Cantatas for Bass BWV56, 82 & 158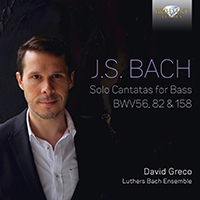 Download booklet
Composer
Johann Sebastian Bach
Artist
David Greco bass
Luthers Bach Ensemble
Tymen Jan Bronda conductor
Format
1 CD
Cat. number
95942
EAN code
5028421959429
Release
September 2019
About this release
A trio of Bach's devotional masterpieces from a vibrant young Dutch early-music ensemble and an exciting Australian baritone.

Having studied with the great Bach bass Peter Kooy – who has made his own distinguished recordings of these solo albums – David Greco has established himself as a fine interpreter of oratorio and opera throughout Australia and Europe. He has sung with Ton Koopman's Amsterdam Baroque Soloists as well as Monteverdi with Le Nuove Musiche – acclaimed for their Brilliant Classics recordings of the madrigals – and taken the role of Aeneas in Purcell's opera at the Brisbane Baroque Festival.

David Greco's partnership with Luthers Bach Ensemble stretches back to his time as a student in The Netherlands in 2009, and this album marks the culmination of over a decade of performing the works of J.S Bach together. These solo bass cantatas are often reserved for singers of more mature years due to their weighty themes of worldly fatigue, death and redemption, but the interpretations here are infused with youth and cosmopolitan openness, with the aim of finding a united expression and interpretation in order to pay tribute to the universal nature of J.S Bach's music, and to the personal, touching expression at the heart of each musical phrase.

'I've always had a deep affinity for this music,' says David Greco, who enjoyed a breakthrough moment in appearances with Dame Emma Kirkby, doyenne of early-music sopranos. 'I think it's an aesthetic thing because I find it to be super passionate and Romantic in the truest sense of the word. The boundless possibilities of expression interest me very much and I just feel so at home with it.'

These three cantatas all date from the full flower of Bach's maturity as Capellmeister to the Church of St Thomas in Leipzig. All three explore the very Lutheran longing for death as a state in which the soul is reunited with God in peace, finally relieved from earthly torments. Lamentation and consolation are thus united in arias of sublime beauty.

This new recording presents the 3 great Cantatas written for bass solo: Ich habe genung BWV82, Ich will den Kreuzstab gerne tragen BWV56, Der Friede sei mit Dir BWV158. The mellow, deep and resonant sound of the voice inspired Bach to some of his most comforting and profound music.
Australian David Greco is one of the most exciting young baritones of today. He collaborated with Ton Koopman, Ivon Bolton and Richard Egarr, he sang at important festivals like Aix-en-Provence, Glyndebourne, and at the Theatre des Champs-Elysées and the Wiener Konzerthaus.
This is the first recording of the Luthers Bach Ensemble, conducted by Tymen Jan Bonda, adhering to the Historically Informed Performance Practice.
Listening
Track list
Disk 1
Johann Sebastian Bach: Ich habe genung, BWV 82: I. Aria. Ich habe genung

Johann Sebastian Bach: Ich habe genung, BWV 82: II. Recitativo. Ich habe genung

Johann Sebastian Bach: Ich habe genung, BWV 82: III. Aria. Schlummert ein, ihr matten Augen

Johann Sebastian Bach: Ich habe genung, BWV 82: IV. Recitativo. Mein Gott, wenn kömmt das schöne. Nun!

Johann Sebastian Bach: Ich habe genung, BWV 82: V. Aria. Ich freue mich auf meinen Tod

Johann Sebastian Bach: Der Friede sei mit dir, BWV 158: I. Recitativo. Der Friede sei mit dir

Johann Sebastian Bach: Der Friede sei mit dir, BWV 158: II. Aria con Choral. Welt, ade, ich bin dein müde

Johann Sebastian Bach: Der Friede sei mit dir, BWV 158: III. Recitativo. Nun, Herr, regiere meinen Sinn

Johann Sebastian Bach: Der Friede sei mit dir, BWV 158: IV. Choral. Hier ist das rechte Osterlamm

Johann Sebastian Bach: Ich will den Kreuzstab gerne tragen, BWV 56: I. Aria. Ich will den Kreuzstab gerne tragen

Johann Sebastian Bach: Ich will den Kreuzstab gerne tragen, BWV 56: II. Recitativo. Mein Wandel auf der Welt

Johann Sebastian Bach: Ich will den Kreuzstab gerne tragen, BWV 56: III. Aria. Endlich, endlich wird mein Joch

Johann Sebastian Bach: Ich will den Kreuzstab gerne tragen, BWV 56: IV. Recitativo ed Arioso. Ich stehe fertig und bereit

Johann Sebastian Bach: Ich will den Kreuzstab gerne tragen, BWV 56: V. Choral. Komm, o Tod, du Schlafes Bruder