J.S. Bach: Sonatas for Viola da Gamba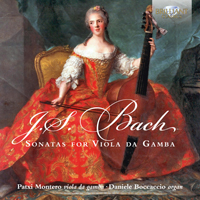 Composer
Johann Sebastian Bach
Artist
Patxi Montero viola da gamba
Daniele Boccaccio organ
Format
1 CD
Cat. number
95042
EAN code
5028421950426
Release
April 2016
About this release
Patxi Montero and Daniele Boccaccio have already recorded for Brilliant Classics the three sonatas composed by J.S. Bach around 1720, when the viola da gamba was already an archaic instrument, superseded by string bass variants such as the cello and double-bass, for their greater volume, projection and reliable tuning. However, the gamba's multiple strings and barrelled sound-box gave it a unique, speaking quality that continued to fascinate composers; long after its high noon as part of a viol consort in 17th-century chamber music, Bach wrote not only these sonatas for the instrument but obbligato parts in various cantatas and at the expressive crux-points of his John and Matthew- Passions.

The earlier recording by Montero and Boccaccio is available within the latest version of the Complete Bach Edition; for this new recording, however, the accompanying instrument is not the usual harpsichord but a church organ, in the church of S. Antonio Abate, Padova, Italy. Such an experiment in pairing the softly spoken timbre of the gamba with a sustained keyboard instrument has been undertaken before in this music, in a recording with accordion, but not with an organ.

'The result we obtained while recording these sonatas was truly amazing,' remark Montero and Boccaccio. 'We tried to merge the organ's own colours with the characteristic sound of the viola da gamba, changing the stops settings according to the styles of the movements. Dissonances came out in a more obvious way, and this greatly affected our tempo choices. The church's acoustics and the exuberance of the organ's sound led us to create a more concrete and well-supported sound.'

In this new recording of the magnificent (and still undervalued) sonatas for viola da gamba by Bach the keyboard is an organ, a german school Rückpositiv. The use of the organ instead of the harpsichord has changed the interpretation of the musician to a large extent: the sustained sound of the organ tones (contrary to the quickly decaying sound of the harpsichord) heightens the tension of the harmonics, especially the dissonances. The length of the notes is therefore often shortened, taking into account the reverberant acoustics of the church, which also affected the tempo choices. In short, this interpretation is completely different from the harpsichord version, shedding a new light on these masterpieces by Bach, who himself was never averse to using different instruments for his works.
Patxi Montero is one of the foremost viola da gamba players of this moment, he frequently collaborates with Early Music groups such as Concerto Italiano, Il Giardino Armonico, Zefiro, Europa Galante and conductors Rinaldo Alessandrini, Diego Fasolis and Fabio Biondi. Daniele Boccaccio already made a highly acclaimed recording for Brilliant Classics of his own organ arrangements of Bach's violin concertos (BC94829).
Excellent liner notes written by the musicians.
Listening
Track list
Disk 1
Johann Sebastian Bach: Sonata No. 1 in G Major, BWV 1027: I. Adagio

Johann Sebastian Bach: Sonata No. 1 in G Major, BWV 1027: II. Allegro ma non tanto

Johann Sebastian Bach: Sonata No. 1 in G Major, BWV 1027: III. Andante

Johann Sebastian Bach: Sonata No. 1 in G Major, BWV 1027: IV. Allegro moderato

Johann Sebastian Bach: Sonata No. 2 in D Major, BWV 1028: I. Adagio

Johann Sebastian Bach: Sonata No. 2 in D Major, BWV 1028: II. Allegro

Johann Sebastian Bach: Sonata No. 2 in D Major, BWV 1028: III. Andante

Johann Sebastian Bach: Sonata No. 2 in D Major, BWV 1028: IV. Allegro

Johann Sebastian Bach: Sonata No. 3 in G Minor, BWV 1029: I. Vivace

Johann Sebastian Bach: Sonata No. 3 in G Minor, BWV 1029: II. Adagio

Johann Sebastian Bach: Sonata No. 3 in G Minor, BWV 1029: III. Allegro