J.S. Bach: Toccatas BWV 910-916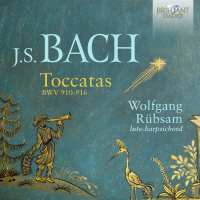 | | |
| --- | --- |
| Composer | Johann Sebastian Bach |
| Artist | Wolfgang Rübsam lute harpsichord |
| Format | 2 CD |
| Cat. number | 96437 |
| EAN code | 5028421964379 |
| Release | January 2022 |
About this release
In contrast to the Well-Tempered Clavier, which remained omnipresent in general musical and cultural consciousness after J.S. Bach's death, and the Goldberg Variations, adorned in the 20th century with an almost mystical aura, Bach's seven keyboard toccatas have been unjustly relegated to the shadows. Composed between about 1707 and 1713, the Toccatas contain stylus phantasticus elements of the North German organ baroque and are a delightful mixture of virtuoso, recitative, arioso, concertante, imitative and fugal sections, entirely in the original musical sense of the word toccare.

This recording also features Bach's Prelude and Fugue in A minor BWV894, probably written during his Weimar phase. The title Prelude is perhaps a little misleading, since it is actually a concerto-like movement, and the fugue is also more like a gigue riding out on a ceaseless par force hunt. Bach ingeniously reshaped the work into his Triple Concerto BWV1044 during his Leipzig period, interpolating a second movement taken from the Trio Sonata for Organ in D minor BWV527.

Wolfgang Rübsam came up with the original idea for this recording of transferring the middle movement of BWV1044, lifted by Bach from BWV527, to the equivalent position between the original Prelude and Fugue movements of BWV894.

Bach demonstrably owned at least two lute-harpsichords, listed in his estate catalogue of 1750. Rübsam's decision to record all these works on such an instrument has proved extremely fortuitous, especially with regard to the toccatas. The poetic tone of Keith Hill's instrument – sonorous and noble in the lower registers, brilliant in the higher registers – forms an almost perfect synthesis with Rübsam's imaginative playing.

Other information:
- Booklet in English contains notes on the music by the German organist, church musician and educator Christian von Blohn, as well as a note on the instrument by its maker and a biography of the artist
- Wolfgang Rübsam plays a lute-harpsichord (Lautenwerk) by Keith Hill
- A Toccata (from Italian toccare, to touch) is a virtuoso piece of music typically for a keyboard instrument, featuring fast-moving, lightly fingered or otherwise virtuosic passages with or without imitative or fugal interludes, generally emphasizing the dexterity of the performer's fingers. Originating in Renaissance Italy (Frescobaldi and others) the Toccata travelled North and in Bach's time it was an important form of keyboard writing. Bach's seven toccatas are highly intricate and elaborate works in free, quasi-improvisatory style, demanding a high level of virtuosity.
- Wolfgang Rübsam is internationally known as an authoritative Bach interpreter, from recordings of the organ and harpsichord on several different labels. This new recording is played on a lute-harpsichord, an instrument that Bach would have had at home for both music-making in the family and for teaching. The touch required and the sonority produced is delicate, subtly shaded and closely related in its effect to the music of Bach's French contemporaries, whose music he knew well, such as François Couperin, Jean-Philippe Rameau and Louis Marchand. The sound is warmer, as it has gut strings and no dampers.
- "these lovely performances memorably showcase Rübsam's sensitive and poetic side. Recommended. Performance: 9" wrote Jed Distler of Classicstoday.com about the earlier issue of Rübsam's recording of Bach's French Suites.
Listening
Track list
Disk 1
Johann Sebastian Bach: Toccata in F-Sharp Minor, BWV 910

Johann Sebastian Bach: Toccata in C Minor, BWV 911

Johann Sebastian Bach: Toccata in D Major, BWV 912

Johann Sebastian Bach: Toccata in D Minor, BWV 913
Disk 2
Johann Sebastian Bach: Toccata in E Minor, BWV 914

Johann Sebastian Bach: Toccata in G Minor, BWV 915

Johann Sebastian Bach: Toccata in G Major, BWV 916

Johann Sebastian Bach: Prelude, Largo & Fugue in A Minor, BWV 894

Johann Sebastian Bach: Largo in A Minor, BWV 894 arranged by Wolfgang Rübsam

Johann Sebastian Bach: Fugue in A Minor, BWV 894