Kapustin: Complete Music for Cello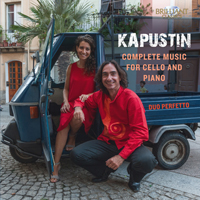 | | |
| --- | --- |
| Composer | Nikolai Kapustin |
| Artist | Duo Perfetto duo |
| Format | 1 CD |
| Cat. number | 95560 |
| EAN code | 5028421955605 |
| Release | October 2017 |
About this release
Born in the Ukraine in 1937, Nikolai Kapustin has written over 160 works, most of them involving the piano of which he is himself a skilled performer. Though his music has been associated with the 'Third Stream' that brings together jazz and classical idioms (a term first coined by the American musician and polymath Gunther Schuller), Kapustin rejects the term for himself: 'the classical part is more important. The jazz style is there to give colour – I don't like jazz 'forms'… which is why I've adopted those from classical music.'

All the same, there is an unmistakably bluesy, relaxed quality to the Second Cello Sonata from 1998. Kapustin has composed more for the cello than any other instrument, and the instrument's natural affinity with both lyricism and melancholy make a good fit for his own style. Towards the end of the finale there is a momentary sense of dislocation as the cello launches into the Prelude from Bach's First Cello Suite before the two instruments drag the movement back into the modern world. The First Sonata from seven years earlier is briefer and spikier, less expressively effusive but at the same time written more within the cello-sonata tradition from Brahms to Adès, with a central Sarabande and driving Scherzo.

The album is completed by three miniatures, all fine examples of Kapustin's good-humoured fusion of idioms: the Nearly Waltz, an Elegy and a Burlesque. They are performed here by a dynamic, recently formed duo named happily after the pianist Clorinda Perfetto. Throughout 2017 they have together been touring the major music festivals of Europe. This is their first internationally distributed album.

Nikolai Kapustin (born in 1937 in Ukraine) was trained as a classical pianist at Moscow Conservatory by Alexander Goldenweiser (one of the legendary pianists of the Russian Piano School). During the 50-ties he won fame as a Jazz pianist. As a composer he fused both styles, using Jazz idioms in classical structures, like the Sonata, (quasi baroque-) Suite and Preludes and Fugues. His music gains rapidly in popularity, and is increasingly programmed in concerts nowadays.
This new recording contains his complete works (up today..) for cello and piano: two substantial sonatas and an Elegy, Waltz and Burlesque: music of great invention, wit, vitality and charm.
Performed by the Italian Duo Perfetto, Robert Witt (cello) and Clorinda Perfetto (piano), who clearly consider this project a labour of love, rendering engaging and brilliant performances of these fascinating works.
Listening
Track list
Disk 1
Nikolai Kapustin: Sonata No. 1, Op. 63: I. Largo, allegro animato

Nikolai Kapustin: Sonata No. 1, Op. 63: II. Sarabanda

Nikolai Kapustin: Sonata No. 1, Op. 63: III. Scherzo

Nikolai Kapustin: Sonata No. 1, Op. 63: IV. Introduzione e rondo

Nikolai Kapustin: Sonata No. 2, Op. 84: I. Allegro non troppo

Nikolai Kapustin: Sonata No. 2, Op. 84: II. Intermezzo

Nikolai Kapustin: Sonata No. 2, Op. 84: III. Allegro assai

Nikolai Kapustin: Elegy, Op. 96

Nikolai Kapustin: Nearly Waltz, Op. 98

Nikolai Kapustin: Burlesque, Op. 97