Kempff: Chamber Music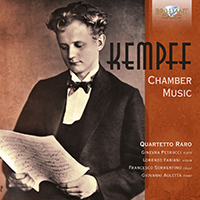 Download booklet
Composer
Wilhelm Kempff
Artist
Ginevra Petrucci flute
Lorenzo Fabiani violin
Francesco Sorrentino cello
Giovanni Auletta piano
Format
1 CD
Cat. number
95629
EAN code
5028421956299
Release
September 2018
About this release
The pianist Wilhelm Kempff (1895-1991) belonged to that tradition of German musicians – notably including conductors such as Furtwangler, Klemperer and Walter – for whom composition hardly less essential a component of their musical personalities than performing, even if it was an activity they largely undertook privately. Working day to day with imperishable masterworks by Bach, Beethoven and Brahms, they did not expect to meet such standards, yet their own creative voices required an outlet through more than recreation of others. Left cold by the musical innovations and developments of their own time in the work of Schoenberg and Stravinsky, they wrote in a heightened Romantic idiom, and in genres – especially song and chamber music – which lay separately from their own professional activity as performers.

Both chamber works presented here date from Kempff's youth. The Piano Trio was composed in 1911, when Kempff was 16, and bears a clear Brahmsian influence in thematic conduct and emotional landscape, through the guidance of Kempff's teacher Robert Kahn, who had himself been a student of Brahms. The Quartet is scored for the more unusual combination of flute, violin, cello and piano. It dates from 1920, and was composed on the island of Capri during a period of recuperation from a serious illness which had laid him low during a concert tour of Sweden. Thus the second movement is based on a Swedish folk theme and the finale ends with a whirlin Tarantella di Taormina, in the tradition exemplified by Mendelssohn's 'Italian' Symphony of German musicians letting Italian sunshine into their work.

The Quartet is led by the flautist Ginevra Petrucci, who also contributes a booklet essay on Kempff's career as a composer to the album. Now based in the US, Petrucci has made several well-received recordings for Brilliant Classics, among them Romantic-era concertos by Briccialdi (BC95767) and a 'winning' (MusicWeb International) album of chamber music by the Polish-US immigrant Robert Muczynski (BC95433).

Wilhelm Kempff (1895-1991) was without doubt one of the foremost and important pianists of the 20th century. However composing was, especially for the young Kempff, his main artistic vocation, and he continued composing seriously during his whole lifetime. He wrote a substantial body of works, for piano, organ, chamber music, songs, concertos, symphonies and even operas. His works met with considerable success and he was championed by the likes of Furtwängler.
The piano trio in G minor is from 1911, whens only 16, however it shows a rare maturity, clearly influenced by Brahms (Kempff's composition teacher was Robert Kahn, a pupil of Brahms). The quartet for the unusual combination of flute, violin, cello and piano was inspired by Swedish and Italian folk music, while still firmly rooted in the Late-Romantic tradition.

Excellent performances of this beautiful music by the Italian Quartetto Raro, with flutist Ginevra Petrucci and friends. Petrucci already recorded several CD's for Brilliant Classics, with works by Kuhlau, Briccialdi, Muczinsky and others.