Knaifel: The Canterville Ghost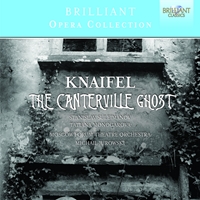 Composer
Aleksandr Aronovitsj Knaifel
Artist
Stanislav Sulejmanov bass
Tatyana Monogarova soprano
Alexandre Levental organ
Moscow Forum Theatre Orchestra
Michail Jurowski conductor
Format
1 CD
Cat. number
9295
EAN code
5029365929523
Release
December 2012
About this release
The music of Alexander Aronovich Knajfel was considered too advanced for Soviet Russia in the 1960s, and he was blacklisted from the Union of Soviet Composers in 1979 for having participated in festivals of Soviet music in the West without official permission. Despite this, Knaifel produced a large number of works, both theatrical and orchestral. Some of his later compositions are known for their extravagance: the ballet Jeanne is written for 13 separate instrumental ensembles, while the 1985 Agnus Dei is two hours in duration with each of the four musicians playing a variety of instruments throughout.

The Canterville Ghost is one of Knaifel's earliest successes and his best-known work. The libretto, by Tatiana Kramarova, is based on Oscar Wilde's story of the same name, detailing an American family's relocation to English manor Canterville Chase, which is haunted by the ghost of Sir Simon de Canterville. While some of the family ridicule the spectre, daughter Virginia befriends him and eventually orchestrates his peaceful departure from the house. Originally written to include 18 solo voices, the revised version includes only the roles of Virginia and the Ghost. Knaifel's mixed style of composition, contrasting the spiky, satirical rhythms of the first scene with the lyrical, expressive vocal parts, reflects the nature of Wilde's original work as a combination of a traditional ghost story and a modern social comedy.

The character of Virginia is sung by soprano Tatiana Mongarova, who created the role. The role of the Ghost is sung by Stanislav Soulemanov, also the singer of the first production. Having become a soloist with the Bolshoi Theatre in 1977, his concert tours have taken him all over Russia, Europe and the USA and he has since sung a variety of operatic roles such as the Bartolo in Le nozze di Figaro and Boris Timofeyevitch in Katerina Ismailova.

Other information:
- Recorded in 1990
- Alexander Knaifel (born in 1943) belongs to the group of Soviet avant-gardists, together with Schnittke, Gubaidulina, Denisov, Silvestrov and Pärt. His music was too extravagant for the Soviet authorities and it was officially banned. His huge output, both orchestral and theatrical, shows a strong dramatic instinct, both bitingly sarcastic and innocently lyrical.
- Excellent Russian performance, led by the eminent Michael Jurowski.
- Contains notes on the composer and work.
Listening
Track list
Disk 1
Aleksandr Aronovitsj Knaifel: The Canterville Ghost: I. The Ghost. Monologue I

Aleksandr Aronovitsj Knaifel: The Canterville Ghost: II. Virginia (scene without a singer)

Aleksandr Aronovitsj Knaifel: The Canterville Ghost: III. The Ghost. Monologue II

Aleksandr Aronovitsj Knaifel: The Canterville Ghost: IV. The Ghost. Passacaglia for organ

Aleksandr Aronovitsj Knaifel: The Canterville Ghost: V. The Ghost and Virginia