Kodaly: Music for Cello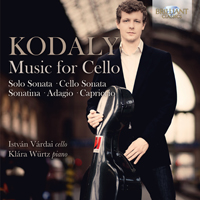 Composer
Zoltán Kodály
Artist
István Várdai cello
Klara Würtz piano
Format
1 CD
Cat. number
95574
EAN code
5028421955742
Release
November 2017
About this release
Bartok's assessment of Zoltán Kodály's music as "the most perfect embodiment of the Hungarian spirit" will strike a chord with those familiar with the suite from his opera Háry János, the Dances of Galanta or indeed the works for cello which moved the instrument on from the Romantic idiom of Brahms, and at the same time looked backwards to the dancing elegance of Bach's solo Suites.

He had taught himself to play the cello to a reasonable standard (also the violin and viola) and while, as he freely admitted, not a natural virtuoso, he had a feeling for the instrument which is obvious in his writing. The Adagio was his first published work, dating from 1905 and originally written for violin and piano: still broadly Romantic in idiom, and unaffected as yet by his work in collecting folk songs from the countries of south-eastern Europe which would decisively influence his mature idiom.

The ruminative Op.4 Sonata for cello and piano (1910) is informed by the composer's study of Debussy, and is perhaps overshadowed by the out-and-out classic which the Solo Sonata (1915) became once cellists such as Janos Starker had mastered its formidable technical challenges. Dating from the same year, the brief Capriccio is based on an ebullient Hungarian folk melody and also employs scordatura, where the strings of the cello are retuned to explore harmonies outside the conventional diatonic structures of Western-European music. The cimbalom-like flourishes which open the Sonatina (1921-2), Kodály's last work for the cello, further develop this fusion of cultures.

In István Várdai and Klára Würtz, Kodály has modern-day, native advocates who are fully conversant in and comfortable with his speech-inflected language. This is Várdai's third album for Brilliant Classics, following the Solo Suites of Bach (BC95392) and a recording of the original version of Tchaikovsky's Rococo Variations that won a glowing recommendation from Gramophone: 'excitingly assured and agreeably spontaneous music-making… a superb performance triumphantly vindicates Tchaikovsky's first thoughts… Várdai's outstandingly fine contribution marries a gratifyingly sumptuous and varied tonal palette to a flawless technical address – that we shall be hearing a lot more from him I have not the slightest doubt.'

This new recording presents the most important works for cello by Hungarian composer Zoltán Kodály: the magnificent, gigantic and moving Solo Sonata, the Sonatina and Sonata for cello and piano, the beautiful Adagio for cello and piano and the insanely virtuosic Capriccio for cello solo: music of sweeping passion, tenderness and beauty, in which the rich Hungarian folk music is never far absent.
Played by two Hungarians: István Várdai and Klára Würtz. Both put their entire soul into this music, helped by their innate feeling for the Hungarian melodies and general atmosphere.
István Várdai is one of the most promising young cellists of today. A First Prize winner of the ARD Competition he has embarked on a brilliant international solo career. Klára Würtz, First Prize winner of the Pozzoli Competition, played with a.o. Bernard Haitink and Jiri Belohlavek, in venues such as the Concertgebouw, Carnegie Hall and Salzburg Mozarteum.
Track list
Disk 1
Sonata for Cello in B Minor, Op. 8: I. Allegro maestoso ma appassionato

Sonata for Cello in B Minor, Op. 8: II. Adagio con gran espressione

Sonata for Cello in B Minor, Op. 8: III. Allegro molto vivace

Sonatina for Cello and Piano

Capriccio for Cello Solo

Adagio for Cello and Piano

Sonata, Op. 4: I. Fantasia

Sonata, Op. 4: II. Allegro con spirit