Kozeluch: Complete Keyboard Sonatas Vol. 4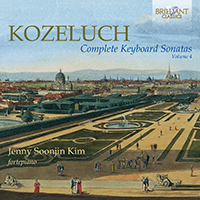 | | |
| --- | --- |
| Composer | Leopold Kozeluch |
| Artist | Jenny Soonjin Kim piano |
| Format | 4 CD |
| Cat. number | 95980 |
| EAN code | 5028421959801 |
| Release | September 2020 |
About this release
The final volume of a pioneering cycle on record, presenting a major collection of Classical-era sonatas complete and in historically informed, superbly articulated and engineered performances .

Especially in his late sonatas, Leopold Kozeluch's keyboard music belongs no less to the quickly evolving cultural landscape of late 18th- and early 19th-century Vienna than the works of Mozart, Beethoven and Schubert. It can even at times be hard to tell which composer influenced whom; Kozeluch is his own man, not gifted in the final analysis with Beethoven's feeling for dramatic expression, Mozart's subtlety of formal innovation or Schubert's melodic inspiration, but sharing a portion of these qualities while bringing to the table something of his own, not least a mood of deceptive simplicity which belongs to the world of his native Bohemia.

Kozeluch (1747-1818) seems to have worked with uncommon ease and fluidity, in command of all the technical possibilities of his instrument, writing in the popular galant style and testing both performer and instrument with moto perpetuo passagework, double trills, sudden contrasts and, in the minor-key sonatas, a brooding chromaticism that belongs to the most powerful expressions of Sturm und Drang. In the hands of Kozeluch, as in those of all fine composers, they produce a musical whole that seems far greater than the sum of its parts; and, as in the creations of all geniuses, there is a profundity that cannot be explained merely by description of the processes at work.

Jenny Soonjin Kim is a specialist in performances of Classical-era repertoire on
instruments of the period. For this recording she performs on a modern copy of an Anton Walter fortepiano from Vienna in 1795. Previous volumes in this groundbreaking Kozeluch survey on Brilliant Classics have attracted much critical praise:

Volume 1: 'Kim's performance is commanding and authoritative. The sonics are superb… This is an inspired and inspiring collection.' All about Jazz

Volume 2: 'Kim plays well on a nicely recorded fortepiano. I don't come away from these two discs thinking Kozeluch is a giant, but he is no one to sneer at.' Fanfare

'Kim's playing is crystalline and lyrical, with exquisitely sensitive phrasing. She is an assured virtuoso who interprets Kozeluch's music beautifully.' Early Music America

This fourth and last installment of the Complete Keyboard Sonatas by Kozeluch contains the last batch: Sonatas nos. 34 till 50.
Leopold Kozeluch (1747-1818) was in his time a highly regarded, even famous composer, on a par with C.P.E. Bach and even Mozart. His keyboard sonatas, although relatively modest in length, share the same qualities with those of his illustrious contemporaries: strong focus on melody and melodious figuration, vivid and brilliant accompaniments and a genuine expression of feeling, both happy and dramatic. His 50 keyboard sonatas are a true treasure trove of hidden "pianistic" gems!
The sonatas in this new set clearly show an evolving, advanced style in terms of dramatic expression and complexity, as well as certain melodic and harmonic characteristics also found in the keyboard works of Mozart, Beethoven and even Schubert.
An international artist who regularly performs music ranging from Bach to Schoenberg in major venues across Europe, Asia and North America, Jenny Soonjin Kim is also a faculty member at Claremont Graduate University in California (the venue for this recording), where she teaches piano and fortepiano. It is her keen interest in scholarship – particularly historical performance practice – that led to her discovery of Kozeluch.
Listening
Track list
Disk 1
Leopold Kozeluch: Piano Sonata No. 34 in E-Flat Major, Op. 38 No. 1: I. Allegro

Leopold Kozeluch: Piano Sonata No. 34 in E-Flat Major, Op. 38 No. 1: II. Adagio

Leopold Kozeluch: Piano Sonata No. 34 in E-Flat Major, Op. 38 No. 1: III. Rondeau

Leopold Kozeluch: Piano Sonata No. 35 in C Major, Op. 38 No. 2: I. Allegro

Leopold Kozeluch: Piano Sonata No. 35 in C Major, Op. 38 No. 2: II. Adagio

Leopold Kozeluch: Piano Sonata No. 35 in C Major, Op. 38 No. 2: III. Rondeau. Allegretto

Leopold Kozeluch: Piano Sonata No. 36 in F Minor, Op. 38 No. 3: I. Largo-Allegro

Leopold Kozeluch: Piano Sonata No. 36 in F Minor, Op. 38 No. 3: II. Allegretto

Leopold Kozeluch: Piano Sonata No. 37 in G Major: I. Moderato

Leopold Kozeluch: Piano Sonata No. 37 in G Major: II. Menuetto

Leopold Kozeluch: Piano Sonata No. 37 in G Major: III. Allegro

Leopold Kozeluch: Piano Sonata No. 38 in E-Flat Major, Op. 51 No. 1: I. Allegro

Leopold Kozeluch: Piano Sonata No. 38 in E-Flat Major, Op. 51 No. 1: II. Adagio

Leopold Kozeluch: Piano Sonata No. 38 in E-Flat Major, Op. 51 No. 1: III. Rondeau. Vivace
Disk 2
Leopold Kozeluch: Piano Sonata No. 39 in C Minor/Major, Op. 51 No. 2: I. Largo

Leopold Kozeluch: Piano Sonata No. 39 in C Minor/Major, Op. 51 No. 2: II. Allegro molto

Leopold Kozeluch: Piano Sonata No. 39 in C Minor/Major, Op. 51 No. 2: III. Rondeau. Allegro

Leopold Kozeluch: Piano Sonata No. 40 in D Minor, Op. 51 No. 3: I. Largo-Allegro molto e agitato

Leopold Kozeluch: Piano Sonata No. 40 in D Minor, Op. 51 No. 3: II. Rondeau. Allegretto

Leopold Kozeluch: Piano Sonata No. 41 in G Major, Op. 53 No. 1: I. Allegro

Leopold Kozeluch: Piano Sonata No. 41 in G Major, Op. 53 No. 1: II. Andante espressivo

Leopold Kozeluch: Piano Sonata No. 41 in G Major, Op. 53 No. 1: III. Rondo. Allegretto

Leopold Kozeluch: Piana Sonata No. 42 in F Major, Op. 53 No. 2: I. Poco adagio. Allegro molto

Leopold Kozeluch: Piana Sonata No. 42 in F Major, Op. 53 No. 2: II. Rondeau. Allegretto

Leopold Kozeluch: Piano Sonata No. 43 in E-Flat Major, Op. 53 No. 3: I. Allegro

Leopold Kozeluch: Piano Sonata No. 43 in E-Flat Major, Op. 53 No. 3: II. Rondeau. Allegretto
Disk 3
Leopold Kozeluch: Piano Sonata No. 44 in F Major: I. Allegro

Leopold Kozeluch: Piano Sonata No. 44 in F Major: II. Andante espressivo

Leopold Kozeluch: Piano Sonata No. 44 in F Major: III. Finale. Presto

Leopold Kozeluch: Piano Sonata No. 45 in A Major: I. Arietta con variazioni. Andante

Leopold Kozeluch: Piano Sonata No. 45 in A Major: II. Menuetto. Vivace

Leopold Kozeluch: Piano Sonata No. 45 in A Major: III. Rondeau. Allegretto

Leopold Kozeluch: Piano Sonata No. 46 in C Major: I. Arietta con variazioni. Andantino

Leopold Kozeluch: Piano Sonata No. 46 in C Major: II. Allegro ma non tanto

Leopold Kozeluch: Piano Sonata No. 47 in E-Flat Major: I. Adagio

Leopold Kozeluch: Piano Sonata No. 47 in E-Flat Major: II. Allegro
Disk 4
Leopold Kozeluch: Piano Sonata No. 48 in B-Flat Major: I. Adagio maestoso

Leopold Kozeluch: Piano Sonata No. 48 in B-Flat Major: II. Allegro molto

Leopold Kozeluch: Piano Sonata No. 48 in B-Flat Major: III. Rondeau. Allegretto

Leopold Kozeluch: Piano Sonata No. 49 in A Major: I. Allegro

Leopold Kozeluch: Piano Sonata No. 49 in A Major: II. Andante sostenuto

Leopold Kozeluch: Piano Sonata No. 49 in A Major: III. Rondeau. Allegretto

Leopold Kozeluch: Piano Sonata No. 50 in E Minor: I. Adagio

Leopold Kozeluch: Piano Sonata No. 50 in E Minor: II. Allegro molto con fuoco

Leopold Kozeluch: Piano Sonata No. 50 in E Minor: III. Larghetto-Rondo. Presto