Kozeluch: Complete Music for Piano 4-Hands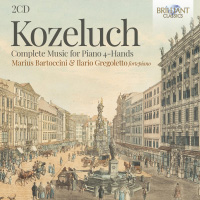 Composer
Leopold Kozeluch
Artist
Marius Bartoccini fortepiano
Ilario Gregoletto fortepiano
Format
2 CD
Cat. number
96025
EAN code
5028421960258
Release
February 2022
About this release
The recent Kozeluch revival, featuring recordings of his solo, chamber and orchestral music, has demonstrated his status as one of the most important figures in the whole of Viennese Classicism. This double album dedicated to Kozeluch's works for fortepiano four-hands provides further confirmation of his compositional mastery, on a level bearing comparison with his contemporaries.

Leopold Antoniìn Kozeluch was born on 26 June 1747 in Velvary, to the north-west of Prague. He began his musical career in 1771 as a composer of ballet music and in 1778 decided to abandon the study of the law and to move to Vienna, where in a short time he was able to establish himself as a composer and performer thanks to his indisputable musical qualities and his ability to cultivate good relations to sustain and expand his activities. In 1792, after the death of Mozart, Emperor Franz II invited to him to take up the post of Kammer Kapellmeister and Hofmusik Compositor (it would appear at double the salary Mozart had received); Kozeluch remained in this post until his death in 1818.

Building upon stylistic influences inherited from his teacher František Xaver Dušek (the first Czech composer to approach the four-hands piano genre in a manner neither frivolous nor didactic), Kozeluch committed himself to composing for keyboard duo, raising its aesthetic and technical level and contributing to the evolution of a concert hall repertoire worthy of the same attention as solo sonatas.

The large-scale works were recorded on an original fortepiano constructed in Vienna by Johann Schantz in the early years of the 19th century and therefore contemporary with Kozeluch. The Duo Op.19 and Trio Sonatas Op.12 Nos. 1 and 2, with their domestic character, were recorded on the Longman & Broderip square piano, a type of instrument extremely popular in the households of the day and therefore appropriate for Hausmusik.

Other information:
- Recorded in October 2020 in Vittorio Veneto (Treviso), Italy
- Bartoccini and Gregoletto recorded on a fortepiano by Johann Schantz (c.1805) and a square piano by Longman & Broderip (1789)
- Booklet in English contains notes on the composer and his works by performer Marius Bartoccini, and biographies of the two artists

- Leopold Kozeluch was in his time a famous composer, on a par with C.P.E. Bach and even Mozart. His keyboard sonatas, although relatively modest in length, share the same qualities with those of his illustrious contemporaries: strong focus on melody and melodious figuration, vivid and brilliant accompaniments and a genuine expression of feeling, both lyrical and dramatic.
- This new recordings presents the complete works for pianoforte 4-hands, ranging from sonatas of substantial proportions and virtuosity (Op.9 and Op.29) to the lighter sonatas Op.12, accessible also to Liebhaber, to borrow Carl Philipp Emanuel Bach's term.
- Played on two period instruments, a fortepiano by Johann Schantz, ca. 1805, and a square piano Longman & Broderip, 1789.
- Performed by Marius Bartoccini and Ilario Gregoletto, both specialists of historic instruments and avid researchers of forgotten repertoire.
Listening
Track list
Disk 1
Leopold Kozeluch: Keyboard Sonata in F Major, P.XI:1, Op. 4: I. Allegro molto

Leopold Kozeluch: Keyboard Sonata in F Major, P.XI:1, Op. 4: II. Adagio

Leopold Kozeluch: Keyboard Sonata in F Major, P.XI:1, Op. 4: III. Menuetto

Leopold Kozeluch: Keyboard Sonata in F Major, P.XI:1, Op. 4: IV. Rondó

Leopold Kozeluch: Keyboard Sonata No. 3 in B-Flat Major, P.XI:2, Op. 8: I. Adagio

Leopold Kozeluch: Keyboard Sonata No. 3 in B-Flat Major, P.XI:2, Op. 8: II. Allegro

Leopold Kozeluch: Keyboard Sonata No. 3 in B-Flat Major, P.XI:2, Op. 8: III. Adagio

Leopold Kozeluch: Keyboard Sonata No. 3 in B-Flat Major, P.XI:2, Op. 8: IV. Rondeau. Allegro
Disk 2
Leopold Kozeluch: Duo in F Major for Fortepiano 4-Hands, P. XI:3, Op. 19: I. Adagio

Leopold Kozeluch: Duo in F Major for Fortepiano 4-Hands, P. XI:3, Op. 19: II. Allegro

Leopold Kozeluch: Duo in F Major for Fortepiano 4-Hands, P. XI:3, Op. 19: III. Rondo. Allegro

Leopold Kozeluch: Sonata in B-Flat Major for Fortepiano 4-Hands, P.XI:4 , Op. 29: I. Adagio

Leopold Kozeluch: Sonata in B-Flat Major for Fortepiano 4-Hands, P.XI:4 , Op. 29: II. Allegro

Leopold Kozeluch: Sonata in B-Flat Major for Fortepiano 4-Hands, P.XI:4 , Op. 29: III. Rondeau. Allegro

Leopold Kozeluch: Sonata for Fortepiano 4-Hands in C Major, P.XI:5, Op. 12: I. Allegro

Leopold Kozeluch: Sonata for Fortepiano 4-Hands in C Major, P.XI:5, Op. 12: II. Andante

Leopold Kozeluch: Sonata for Fortepiano 4-Hands in C Major, P.XI:5, Op. 12: III. Presto

Leopold Kozeluch: Sonata P.XI:6 in F Major: I. Allegro vivace

Leopold Kozeluch: Sonata P.XI:6 in F Major: II. Siciliano. Non troppo lento

Leopold Kozeluch: Sonata P.XI:6 in F Major: III. Rondo

Leopold Kozeluch: Sonata P.XI:7 in D Major: I. Marcia Maestoso - II. Allegro