Kühnel: Viola da Gamba Sonatas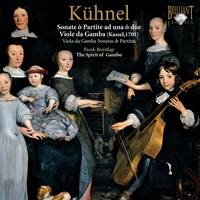 Composer
August Kühnel
Artist
Freek Borstlap viola da gamba
The Spirit of Gambo
and
Richard Egarr cembalo
Jan van Outryve lute
Karel Smagge organ
Format
1 CD
Cat. number
93878
EAN code
5028421938783
Release
October 2008
About this release
August Kuhnel (1645 - death unknown, c.1700) was the foremost gamba player in germany before J.S. Bach. Born in the town of Delmenhorst, Meckenburg, he travelled to France for his studies, and also visited London in 1685. Although the French style influenced his playing, he remained true to his protestant German roots, and he composed a famous set of ten variations on the chorale 'Herr Jesu Christ,du hoechstes Gut' (the Sonata No 10 on this CD), which inspired the great J.S. Bach some twenty years later to write is Cantata BWV 113.

Kuhnel spent all his working life in Germany, and suffered greatly during the Hundred Years War, as the country was left bankrupt. He also found employment difficult in the Catholic areas of Germany. At the end of his life he was court Kapellmeister at Kassel. They can lay claim to being among the finest of their type.

Other information:
- Recorded in 1997.
- The Spirit of GAMBO is an ensemble devoted to music from the 16th and 17th centuries. It was established by Freek Borstlap, who has made several recordings, including music by Haydn for baryton. They are joined by distuinguished continuo players Richard Egarr, Karol Smagge and Jan van Outryve.
Track list
Disk 1
Sonate 1 â due viola da gamba: [prelude]

Sonate 1 â due viola da gamba: [aria]

Sonate 1 â due viola da gamba: aria

Sonate 11: viola da gamba solo: prelude

Sonata 7: viola da gamba solo: [prelude]

Sonata 7: viola da gamba solo: aria

Sonata 7: viola da gamba solo: aria

Sonate 10: viola da gamba solo: aria [variatio1-9]

Sonate: viola da gamba solo: prelude

Sonate 8: viola da gamba solo: [prelude]

Sonate 8: viola da gamba solo: aria

Sonate 12: viola da gamba solo: prelude

Sonate 2 â due viola da gamba: [prelude]

Sonate 2 â due viola da gamba: aria

Sonate 2 â due viola da gamba: aria: allegro

"Sonate 5 â due viola da gamba: Serenata": Sonatina

"Sonate 5 â due viola da gamba: Serenata": entrata

"Sonate 5 â due viola da gamba: Serenata": aria

"Sonate 5 â due viola da gamba: Serenata": gavotta

"Sonate 5 â due viola da gamba: Serenata": sarabande

"Sonate 5 â due viola da gamba: Serenata": giga

"Sonate 5 â due viola da gamba: Serenata": retirata