Kuhlau: 7 Flute Trios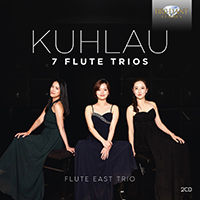 | | |
| --- | --- |
| Composer | Friedrich Kuhlau |
| Artist | Flute East Trio |
| Format | 2 CD |
| Cat. number | 96087 |
| EAN code | 5028421960876 |
| Release | December 2020 |
About this release
Lively charm in abundance from 'the Beethoven of the flute': chamber music from the 'Danish Golden Age' of the early 19th century in accomplished new recordings by a German-based trio of fine young musicians making their debut on Brilliant Classics.

Born in Hamburg in 1786, the son of a military bandsman, Friedrich Kuhlau showed early musical promise and took lessons with a student of CPE Bach. When Napoleon's troops invaded Hamburg in 1810, the 24-year-old Kuhlau fled with his family to Copenhagen, and there he made his name as a pianist and composer to the royal court. Taking Danish citizenship in 1813, he worked in the vanguard of the country's fast-moving cultural scene, enjoying huge success as a composer of operas and incidental music.

However, his financial position remained precarious, and his prodigious output of chamber music was written not least to exploit and satisfy the market for congenial music-making among the growing Danish bourgeoisie. Kuhlau was himself a flautist of modest accomplishment, but the popularity of salon culture in Denmark increased the demand for flute and piano music - which were both fashionable at the time - to such an extent that Kuhlau complained, in a letter to his publisher in 1829, about having too many commissions. While a flautist of modest accomplishment himself, Kuhlau wrote with unfailing craft, sympathy and imagination for the instrument – his works are standard repertoire even today for countless students – and before their publication he submitted his new works for approval from the principal flautist of the Court Chapel's orchestra.

The seven trios recorded here display a surprising variety of texture and mood. Even the trio of Op.13 works from 1815 ranges from the Baroque manners of No.3's Adagio to a much grander scale of expression in the slow introduction which opens the curtain on No.1 and on the set as a whole. There is a dashing, Mendelssohnian quality to both the melodies and the sunny disposition of the Op.86 set from 1827 which itself is set aside for a more intense, Beethovenian argument in the grand trio Op.90.

In 2015 three Asian flautists founded the Flute East Trio at the Hanns Eisler Academy of Music in Berlin. Their mission in both concert and studio performances is to bring together Asian and Western musical styles, exciting audiences and challenging the prejudice that three flutes have only limited power and expressiveness at their disposal.

Friedrich Kuhlau was the foremost pioneer of the Danish Golden Age in the early 19th century. He is often referred to as the "Beethoven of the flute". His flute compositions enjoyed great popularity during his lifetime and were praised by the important musical luminaries Brahms and Tchaikovsky. Kuhlau, moreover, is still known for his impressive contribution to the flute repertoire.
This new recording contains 7 Flute Trios (for three flutes). While his trios each have a clear structure, they also display interesting key relationships and virtuosity. His deep understanding, both technical as well as musical, of the instrument enabled him to write spectacular virtuosic works.
Performed with great virtuosity, clarity and "Spielfreude"by the Flute East Trio, which was founded in 2015 by three Asian flautists of the Hochschule für Musik Hanns Eisler in Berlin. The trio enthuses the audience with their passion, mellow sounds and their distinct personalities that combine to form one musical unity.
Track list
Disk 1
Friedrich Kuhlau: Trio in D Major, Op. 13 No. 1: I. Adagio – Allegro

Friedrich Kuhlau: Trio in D Major, Op. 13 No. 1: II. Andante quasi adagio

Friedrich Kuhlau: Trio in D Major, Op. 13 No. 1: III. Rondo allegro

Friedrich Kuhlau: Trio in G Minor, Op. 13 No. 2: I. Allegro non tanto

Friedrich Kuhlau: Trio in G Minor, Op. 13 No. 2: II. Allegro con moto

Friedrich Kuhlau: Trio in F Major, Op. 13 No. 3: I. Allegro

Friedrich Kuhlau: Trio in F Major, Op. 13 No. 3: II. Adagio con dolcezza

Friedrich Kuhlau: Trio in F Major, Op. 13 No. 3: III. Menuetto. Allegro assai – Trio

Friedrich Kuhlau: Trio in B Minor, Op. 90: I. Allegro non tanto

Friedrich Kuhlau: Trio in B Minor, Op. 90: II. Scherzo. Allegro molto – Trio

Friedrich Kuhlau: Trio in B Minor, Op. 90: III. Adagio

Friedrich Kuhlau: Trio in B Minor, Op. 90: IV. Finale. Allegro poco agitato
Disk 2
Friedrich Kuhlau: Trio in E Minor, Op. 86 No. 1: I. Allegro

Friedrich Kuhlau: Trio in E Minor, Op. 86 No. 1: II. Scherzo. Allegro assai – Trio

Friedrich Kuhlau: Trio in E Minor, Op. 86 No. 1: III. Larghetto

Friedrich Kuhlau: Trio in E Minor, Op. 86 No. 1: IV. Rondo. Allegro

Friedrich Kuhlau: Trio in D Major, Op. 86 No. 2: I. Allegro assai

Friedrich Kuhlau: Trio in D Major, Op. 86 No. 2: II. Ancien air suédois. Allegretto - Variation 1 - Variation 2 -Variation 3. Più moto - Variation 4

Friedrich Kuhlau: Trio in D Major, Op. 86 No. 2: III. Rondo. Allegro molto

Friedrich Kuhlau: Trio in E-Flat Major, Op. 86 No. 3: I. Allegro non troppo

Friedrich Kuhlau: Trio in E-Flat Major, Op. 86 No. 3: II. Adagio

Friedrich Kuhlau: Trio in E-Flat Major, Op. 86 No. 3: III. Allegro non tanto