Kuhlau: Complete Sonatas for Flute & Piano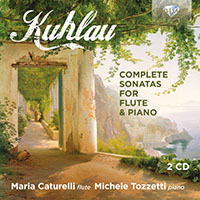 Composer
Friedrich Kuhlau
Artist
Maria Caturelli flute
Michele Tozzetti piano
Format
2 CD
Cat. number
96329
EAN code
5028421963297
Release
August 2021
About this release
Friedrich Kuhlau (1786 - 1832) lived and worked during a transitional period of classical music. A contemporary of Beethoven and Schubert, his works remain almost unknown to this day, except for some compositions for the flute.

The compositional style of the sonatas featured in this recording perfectly identifies with that of his contemporaries, while showing some differences in content; the structure of the sonatas is that of the classical period, but the use of melodic themes and harmony looks to the romantic period.


These interpretations of the sonatas for flute and piano highlight the constant dialogue between the two instruments; in fact there is a continuous thematic exchange, which the artists found interesting to discover and highlight. The synergy is perceived above all in choppy tempos, while in every Adagio or Andante the flute assumes the role of the solo instrument, and the piano accompanies and responds. The themes in the slow movements are sweet and moving, and the composer manages to evoke emotions that are always different from each other, thus bringing out his predisposition for this type of tempo, present even in the most brilliant movements: in fact in every allegro, even in the one characterized by the greatest energy, there is a moment of tranquility in which the composer takes the time to make performers and listeners ponder.

· Friedrich Kuhlau was born in Hannover, but as a student he went to Denmark, where he stayed the rest of his life, becoming an important national composer.
· Kuhlau was a near contemporary of Beethoven, and his style shares elements of that genius. Rooted in the 18th century classicism it foreshadows the Romantic movement in a true expression of affect, daring dissonances and sudden harmonic changes, and a general expression of romantic moods as favored in the fashionable salons.
· Most of Kuhlau's chamber music features the flute, a commercially astute selection given the popularity of the instrument among amateur musicians at the time. This new recording presents the complete seven Sonatas for Flute and Piano, music of considerable drama, brilliance and virtuosity, but also of gentle lyricism and charm.
· Played by two young, highly gifted musicians from Italy: flautist Maria Caturelli and pianist Michele Tozzetti.
Track list
Disk 1
Friedrich Kuhlau: Flute Sonata No. 3 in G Minor, Op. 83: I. Allegro non troppo ma con energia

Friedrich Kuhlau: Flute Sonata No. 3 in G Minor, Op. 83: II. Adagio sostenuto

Friedrich Kuhlau: Flute Sonata No. 3 in G Minor, Op. 83: III. Rondo alla polacca

Friedrich Kuhlau: Flute Sonata No. 2 in C Major, Op. 83: I. Adagio-Allegro

Friedrich Kuhlau: Flute Sonata No. 2 in C Major, Op. 83: II. Larghetto

Friedrich Kuhlau: Flute Sonata No. 2 in C Major, Op. 83: III. Rondo allegro vivace

Friedrich Kuhlau: Flute Sonata in G Major, Op. 69: I. Allegro con gusto

Friedrich Kuhlau: Flute Sonata in G Major, Op. 69: II. Andante sostenuto

Friedrich Kuhlau: Flute Sonata in G Major, Op. 69: III. Rondo allegro vivace

Friedrich Kuhlau: Flute Sonata No. 1 in G Major, Op. 83: I. Allegro con fuoco

Friedrich Kuhlau: Flute Sonata No. 1 in G Major, Op. 83: II. Introduzione ancien air suedois andantino quasi allegretto

Friedrich Kuhlau: Flute Sonata No. 1 in G Major, Op. 83: III. Allegro-Andante sostenuto-Allegro
Disk 2
Friedrich Kuhlau: Flute Sonata in E Minor, Op. 71: I. Allegro molto con energia

Friedrich Kuhlau: Flute Sonata in E Minor, Op. 71: II. Scherzo presto

Friedrich Kuhlau: Flute Sonata in E Minor, Op. 71: III. Andante sostenuto

Friedrich Kuhlau: Flute Sonata in E Minor, Op. 71: IV. Rondo allegro

Friedrich Kuhlau: Flute Sonata in E-Flat major, Op. 64: I. Allegro non troppo ma con energia

Friedrich Kuhlau: Flute Sonata in E-Flat major, Op. 64: II. Introduzione ancient air danois andante

Friedrich Kuhlau: Flute Sonata in E-Flat major, Op. 64: III. Allegro vivace

Friedrich Kuhlau: Grande sonate concertante in A Minor, Op. 85: I. Allegro con passione

Friedrich Kuhlau: Grande sonate concertante in A Minor, Op. 85: II. Scherzo allegro assai

Friedrich Kuhlau: Grande sonate concertante in A Minor, Op. 85: III. Adagio

Friedrich Kuhlau: Grande sonate concertante in A Minor, Op. 85: IV. Rondo allegro poco agitato