La Monarcha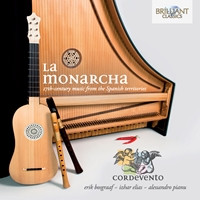 Composer
Antonio de Cabezón, Andrea Falconieri, Bartolomé de Selma y Salaverde, Bernardo Storace, Francesco Corbetta, Gaspar Sanz, Girolamo Montesardo, Santiago de Murcia
Artist
Cordevento
Erik Bosgraaf recorders
Izhar Elias baroque guitars
Alessandro Pianu harpsichord & organ
Format
1 CD
Cat. number
94352
EAN code
5028421943527
Release
September 2012
About this release
This collection draws directly from the works of Italian and Spanish guitarists Girolamo Montesardo, Carlo Calvi, Gaspar Sanz, Santiago de Murcia and Francesco Corbetta, keyboard players Antonio de Cabezón, Bernardo Storace, Jan Pieterszoon Sweelinck and Pieter de Vois, and authors of solo and chamber music for a variety of other instruments, Andrea Falconieri, Bartolomé de Selma y Salaverde and Jacob van Eyck.

Emblem and ambassador of Spanish culture, it is the guitar that threads the story together, intrinsically intertwined with the Spanish fondness for variation sets on harmonic grounds. Spain's imperial history explains the wide geographical variety of composers, though even the Dutch Sweelinck seeks to bring local colour to his sober Low Countries aesthetic in his Pavana Hispanica. Elsewhere there are variations on the perennially popular 'La Follia', jolly Correntes and tarantellas, and more sinuous diferencias and intabulations of love-songs. They are all performed by a trio of young and talented musicians who bring great rhythmic vitality and a freshly imaginative approach to this inventive act of reconstruction.

Other information:
- A new and innovative concept by Erik Bosgraaf and his friends: dance music from the Spanish territories in the 17th century, by famous and anonymous composers, constantly crossing the borders between the serious and the playful, between "art" music and "light" music.
Listening to this wonderful program, played with such obvious fun, zest and drive, one feels that music has this eternal quality of uplifting one's soul, spirit and body, whether written 400 years ago or right at this moment.
- Erik Bosgraaf, Izhar Elias and Alessandro Pianu play on original instruments or copies thereof. Their earlier releases on Brilliant Classics have gained international praise for their originality and dedication, resulting in important prizes such as the Prize from the Borletti Buitoni Trust.
- Rare repertoire.
- Booklet included, offering historical and musicological context.
Track list
Disk 1
Corriente dicha la Cuella

La Suave Melodia, y su corrente

Il Rosso, brando

Sinfonia a due

Tarantelas

Canzon terza

Pavane de Spanje

Pavana hispanica

Corrente dicha l'Avellina

Il Spiritillo, brando

Alemana dicha Villega

Follie in G.sol.re.ut

La Monarcha

Follia

Corrente

Repicavan

Canzon seconda

Diferencias sobre la pavana italiana

La Esfachata de Nápoles

La Cavalleria de Nápoles, con dos clarines

La Benedetta

La Prudenza, corrente

Corriente dicha la Mota, echa para D. Pedro dela Mota

Brando dicho el Melo

Pavaniglia