Laboccetta: A Tenor Cellist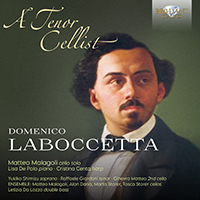 Composer
Domenico Laboccetta
Artist
Matteo Malagoli cello solo
Lisa De Polo piano
Cristina Centa harp
Yukiko Shimizu soprano
Raffaele Giordani tenor
Ginevra Matteo 2nd cello
Matteo Malagoli, Alan Dario, Marta Storer, Tosca Storer cellos
Letizia Da Lozz double bass
Format
1 CD
Cat. number
96952
EAN code
5028421969527
Release
September 2023
About this release
Romantic miniatures by a forgotten Italian cellist and composer: the first album ever dedicated to the music of Domenico Laboccetta.

Born to a poor family in the Sicilian town of Messina, Domenico Laboccetta (1823-1896) was entrusted to the care of an orphanage where his musical talents rapidly revealed themselves as a child. At the age of seven he made an appearance in concert at the Teatro Nuovo in Messina, and soon won a scholarship to study gratis at the conservatoire in Naples. At just 18, he became principal cellist of the Teatro San Carlo, at a time when the opera house was known across Europe for staging and advancing the works of bel canto composers such as Donizetti and Bellini.

Through this experience, Laboccetta developed a superb tenor voice alongside his cello playing, and soon began taking lead roles in those bel canto masterpieces such
as Bellini's La Sonnambula. He went on to tour Europe and America in the 1850s, but eventually settled back in his adopted home of Naples, where he became professor of cello at the conservatoire in 1877, and passed on his mastery of the instrument to students for almost the next 20 years until his death.

In Laboccetta, the cellist and indefatigable researcher Matteo Malagoli has turned up another remarkable figure down the byways of cello history. His booklet essay introduces Laboccetta's eventful life, providing invaluable context to these miniatures written for salon performances among friends and patrons in Neapolitan musical life in the later decades of the 19th century – music written above all to charm and entertain.

'Deserves the attention of listeners intrigued by history and appreciative of fine playing. It's an album that will make a genuine contribution to any collector's album hoard. Album leaves, romanzas and instrumental songs are scored for cello and piano or cello and harp, but there is also a 'Notturnino' for two cellos and piano. More substantial is a cycle of four songs for soprano, tenor, cello and piano: all beautifully evocative pieces with an affectingly folk-like simplicity of expression. Laboccetta was also a pioneer in the genre of cello quartets, and the album closes with several such works, ingeniously scored to exploit the full register and richness of the instrument.

Malagoli's previous albums for Brilliant Classics include a disc of music by Greco and Francone (96345), welcomed in glowing terms by Fanfare magazine: 'Early Neapolitan Cello Music… deserves the attention of listeners intrigued by history and appreciative of fine playing. It's an album that will make a genuine contribution to any collector's album hoard.'

- Domenico Laboccetta [Messina (Sicily) (1823-1896] was born into a poor family. His parents, still at an early age, entrusted him to the orphanage of Reggio Calabria where he soon revealed his musical talent. In 1830, at the age of just seven, he played cello at the Teatro Nuovo in Messina. Later he studied at the Conservatory of music in Naples where, from 1835, he studied cello with the famous Gaetano Ciandelli, pupil and friend of Nicolò Paganini. Like his teacher, who recommended practicing singing and making the instrument sing, according to a practice that Ciandelli himself had learned from Paganini, Laboccetta discovered to have a pleasant and perfect tenor voice. In 1841 he was appointed principal cellist at the Teatro San Carlo in Naples where he met the then famous tenor Giovanni Basadonna who, having appreciated him as a cellist, helped him to perfect the practice of opera singing.
- Laboccetta enjoyed a highly successful international career both as cellist and tenor. This new recording presents works for cello in various ensembles, as well as songs for voice and piano (and sometimes cello). His musical style is a perfect example of the Neapolitan tradition: highly melodious, charming and filled with emotion and nostalgia.
- Played by Matteo Malagoli (cello) and a fine selection of excellent Italian vocal and instrumental soloists.
Listening
Track list
Disk 1
Domenico Laboccetta: Il Marinaro Little Duet, Op. 50 (Dedicated to Nunziatina Lombardi)

Domenico Laboccetta: Ninna nanna in G Major (Dedicated to Angioletta Truffi)

Domenico Laboccetta: Barcarola in A Minor (dedicated to Father Mauro Liberatore)

Domenico Laboccetta: Notturnino in G Minor

Domenico Laboccetta: Melodia in D Minor (Dedicated to Luigi Filiasi)

Domenico Laboccetta: Romanza in C Major (Dedicated to Enrico Scognamillo)

Domenico Laboccetta: Al chiaro di luna (Dedicated to Adolfo Zingaropoli)

Domenico Laboccetta: Tristezza melodia in D Minor (Dedicated to Gaspare Giacomo Bischoff)

Domenico Laboccetta: Cosetta in C Major (Dedicated to Federico Raffaele)

Domenico Laboccetta: Quatre morceaux: I. La speranza [The Hope]

Domenico Laboccetta: Quatre morceaux: II. L'abbandonata [The abandoned One]

Domenico Laboccetta: Quatre morceaux: III. L'invito [The Invite]

Domenico Laboccetta: Quatre morceaux: IV. Il pescatore [The Fisherman]

Domenico Laboccetta: Andante sostenuto (Dedicated to H. E. D. Pedro Alvarez de Toledo Marquis de Casafuerte)

Domenico Laboccetta: Il poveretto [The Poor Fellow] (dedicated to Federico Raffaele)

Domenico Laboccetta: Il rimprovero [The Reproach]

Domenico Laboccetta: La zingara [The Gipsy]