L'Art du Théorbiste Music for Theorbo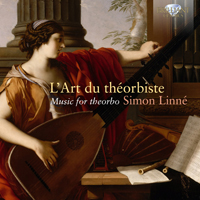 | | |
| --- | --- |
| Composer | Angelo Michele Bartolotti, Estienne le Moyne, Robert de Visée |
| Artist | Simmon Linné theorbo |
| Format | 1 CD |
| Cat. number | 95426 |
| EAN code | 5028421954264 |
| Release | January 2017 |
About this release
Inspired by his travels across Europe in the sole company of his faithful theorbo, Simon Linné has taken the composer Angelo Michele Bartolotti – an equally well-travelled composer and performer of the early Baroque period – as his starting point for this release. Born in Italy, Bartolotti (also known as Michelangelo) is known to have worked at the Swedish court of Queen Christina, and played in Jean-Baptiste Lully's orchestra in Paris. Another member of that orchestra was French composer Robert de Visée, whose devotion to LIully led him to transcribe some of his shorter operas for solo theorbo, some of which are included on this release. Estienne le Moyne is almost as anonymous as 'Anonymous' – nothing is known about the composer, but the few pieces he has left behind for solo theorbo are exceptionally idiomatic.

The theorbo was closely linked to the Renaissance lute, a different creature from the Baroque one, which enjoyed its own style and repertoire in the 17th century. Rather, the solo music for the theorbo was closer to the then standard genres of opera and chamber music. This is, therefore, much more unusual fare compared to Baroque lute music of the same period. Swedish performer Simon Linné is a lutenist as well as theorbo player, and revels in exploring lesser-known works for the two instruments. He teaches at the University of the Arts, Bremen.

The theorbo is a plucked instrument of the lute family, with an extended neck and a second peg-board. Due to extended bass range it was used in the early Italian operas and in the basso continuo, the accompanying instrumental ensemble.
Swedish théorbist Simon Linné chose an adventurous programme for his first Brilliant Classics CD: the complete surviving works for theorbo by Michelango Bartolotti, alongside with works by Robert de Visée (the best known composer in this genre) and Le Moyne, of whom hardly anything is known, except that he must have been a virtuoso on his instrument.
Simon Linné is a much sought-after théorbist who appears both as soloist as in ensemble, and has collaborated in recordings for Hyperion, Sony and Ricercar.

Recorded in January 2010.
Contains liner notes written by the artist in English, French and German.
Contains a biography of the artist in English, French and German.
Listening
Track list
Disk 1
Angelo Michele Bartolotti: Preludio

Angelo Michele Bartolotti: Allemanda

Angelo Michele Bartolotti: Corrente

Angelo Michele Bartolotti: Sarabanda

Angelo Michele Bartolotti: Giga

Angelo Michele Bartolotti: Ciaccona

Estienne le Moyne: Prelude

Estienne le Moyne: Allemande

Estienne le Moyne: Courante

Estienne le Moyne: Sarabande

Estienne le Moyne: Marche

Angelo Michele Bartolotti: Prelude

Angelo Michele Bartolotti: Allemanda

Angelo Michele Bartolotti: Corrente

Angelo Michele Bartolotti: Sarabanda

Angelo Michele Bartolotti: Fuga

Robert de Visée: Contredanse & Double

Robert de Visée: Les echos d'atis

Robert de Visée: Canaries

Angelo Michele Bartolotti: Allemanda

Angelo Michele Bartolotti: Passa corde

Angelo Michele Bartolotti: Corrente

Angelo Michele Bartolotti: Sarabanda

Robert de Visée: Prelude

Robert de Visée: Ouverture de la grotte de Versailles

Robert de Visée: Air du grand ballet du Roy

Robert de Visée: Air

Robert de Visée: Dieux d'amour

Anonymous: La villanelle