Las Huelgas Codex, Vol. 1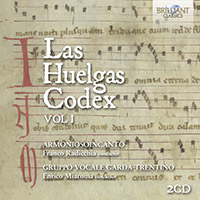 Composer
Anonymous
Artist
Armoniosoincanto
Franco Radicchia conductor
Gruppo Vocale Garda Trentino
Enrico Miaroma conductor
Format
2 CD
Cat. number
96619
EAN code
5028421966199
Release
November 2023
About this release
One of the most important sources to be copied in the 14th century, the Codex of Las Huelgas is an anthology of chants from the 13th century that are prime examples of the Ars Antiqua. It includes many original pieces, as well as some that can be found elsewhere in various Spanish sources, and others that originally came from the Notre-Dame school.

Two specialist Italian vocal groups share in the epic project of recording the entire Codex, with these two discs constituting the first instalment. The performing styles of Armoniosoincanto and the Gruppo Vocale Garda Trentino are tonally different but share similarities in their approach to interpreting the various pieces. The young voices of the Gruppo Vocale Garda Trentino offer a luminosity and a rhythmic effect that creates a brilliant, precise vocal quality, always expressive and communicative.

Armoniosoincanto presents interpretative impulses that are more reflective and controlled – partly in response to the texts, and partly due to the group's vocal timbre, which is more mature in certain respects. That is not to say that this timbre is any less brilliant where required, nor any less mellow in the psalmodic formulations.

These performances are based on the transcriptions published by the Codex's first editor, Higinio Anglès, in El CoÌdex Musical de Las Huelgas (Muìsica a veus dels segles XIII–XIV) (1931) and on Juan Carlos Asensio's work El Códice Polifonico de Las Huelgas: aspectos codicológicos y notacionales – La Música en el Monasterio de Las Huelgas en tiempos de su Códice Polifònico (Editorial Apuerto, 2001).

Other information:
- Recorded January and May 2023 in in Perugia and Trentino, Italy
- Bilingual booklet in English and Italian contains liner notes by the conductor of Armoniosoincanto, Franco Radicchia, and profiles of the ensembles and directors.

- This album is the first volume of an ambitious project: the recording of the complete codex of Las Huelgas, one of the most important sources of music of the High Middle Ages, an anthology of songs from the 13th century representative of the Ars Antiqua. The manuscript was written in the Cistercian monastery of Santa María la Real de Las Huelgas in Burgos, with the authorisation of Alfonso VIII King of Castile. The manuscript contains 45 monophonic pieces (20 sequences, 5 conductus, 10 Benedicamus tropes) and 141 polyphonic compositions. Most of the music dates from the late 13th century, with some music from the first half of the 13th century (Notre Dame repertory), and a few later additions from the first quarter of the 14th century. Many of the pieces are not found in any other manuscripts.
- This first volume contains two CDs with performances by the Gruppo Vocale Armoniosoincanto and the Gruppo Vocale Garda Trentino. We find two tonally different types of performance: the young voices of Garda Trentino offer a luminosity and rhythmic precision, always expressive and communicative. Armoniosoincanto presents a more reflective and controlled interpretation, strongly linked to the texts.
Listening
Track list
Disk 1
Anonymous: Kyrie, rex virginum, ff. 1-1v

Anonymous: Conditor kyrie, ff. 1v-2v

Anonymous: Kyrie, fons bonitatis, ff. 2v-3v

Anonymous: Kyrie eleison, f.3v

Anonymous: Kyrie eleison, f.4

Anonymous: Gloria in excelsis, spiritus et alme, ff. 4-5v

Anonymous: Benedicta et venerabilis, virgo dei genitrix, ff. 5v-6

Anonymous: Iam nubes dissolvitur/Iam novum sydus oritur/Solem, ff. 120-121

Anonymous: Ave verum corpus/Ave, vera caro Christi, ff. 122v-123

Anonymous: Ave gloriosa/Salve, virgo regia mater, ff. 100v-101

Anonymous: Celi solem imitantes, f.58v

Anonymous: Confessorum agonia modulata symphonia, ff. 65-65v

Anonymous: Virgines egregie, virgines sacrate, ff. 67v-68

Anonymous: Iocundare plebs fidelis, f.60

Anonymous: Salve porta regem gloriae/Salve salus gencium/Salve sancta parens, f.119
Disk 2
Anonymous: Verbum bonum et suave personemus illud ave ff. 36v–38

Anonymous: Flavit auster flatu f.45

Anonymous: Angelorum laude digna, virgo ff. 48–51

Anonymous: Eterni numinis f.38v

Anonymous: Salve, sancta Christi parens, salve, virgo/Salve, virgo singularis, salvatorem ff. 35v–36v

Anonymous: Eya mater fidelium/Ave regina gloriae f.46v

Anonymous: In virgulto gratie arbor pudiciti/circumsepta surculus exornatur flosculus ff. 33v–34v

Anonymous: Stabat juxta Christi crucem f.51

Anonymous: Promereris summe laudis tu que Deum/Nam, ut Gabrielem audis te salvantem ff. 33–33v

Anonymous: Nobis cedunt vetera f.40

Anonymous: Maria, virgo virginum, ora pro nobis/Fundamentum ecclesiae, fons ipsa sapientie ff. 34v–35