Latin-American Classics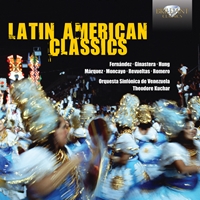 Composer
Alberto Evaristo Ginastera, Arturo Márquez, Aldemaro Romero, José Pablo Moncayo, Oscar Lorenzo Fernández, Silvestre Revueltas (1), Yuri Hung
Artist
Orquestra Sinfonica di Venezuela
Theodore Kuchar conductor
Format
1 CD
Cat. number
9262
EAN code
5029365926225
Release
September 2012
About this release
Stretching from Mexico to Argentina and covering miles of lush, idyllic landscape, Latin America has long been a source of inspiration for all manner of artists. This engaging release details a wonderful collection of music by composers native to the continent, all of whom have sought to capture its identity in their work.

Beginning with Moncayo's famous Huapango, a vibrant showpiece written in 1941 and which incorporates three of Mexico's popular dances, the compilation traverses an array of distinctive, regional rhythms that have been integrated into traditional and formal structures. From Hung's Kanaima – a Venezuelan evocation of the rainforest's majesty – to Fernández's Afro-Brazilian dance 'Batuque', taken from
his nationalistic opera Malazarte, the collection also highlights the importance of Western influence in Latin American music: not only was Romero's Tocatta Bachiana inspired by the famous D minor Toccata and Fugue BWV565 by J.S. Bach, but Revueltas' work demonstrates a clear affinity for the harmonic language of European modernists such as Stravinsky.

Spanning over 50 years of composition, this release reveals Latin America's great cultural diversity and is the perfect starting-point for anyone wishing to explore the continent's rich artistic landscape. With the Venezuelan Symphony Orchestra delivering awe-inspiring performances under their esteemed director Theodore Kuchar, it's a must-buy.

Other information:
- New recording, recorded in September 2010: More than one hour musical festival of blazing sun, sea, landscapes, rhythm and colour!
- Includes comprehensive booklet notes on each composer and their works.
- The Venezuela Symphony Orchestra is the oldest musical ensemble in Latin America, founded in 1930 by maestro Vicente Emilio Sojo. It has given countless local premieres of the classics, they have toured throughout Latin America and Europe.
Track list
Disk 1
Huapango

Danzón No. 2

Tocatta Bachiana y Pajarillo Aldemaroso

Janitzio

Four Dances from Estancia: Los trabajadores agrícolas

Four Dances from Estancia: Danza del trigo

Four Dances from Estancia: Los peones de hacienda

Four Dances from Estancia: Danza final (malambo)

Kanaima

Batuque