Latin Latitudes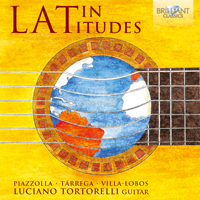 | | |
| --- | --- |
| Composer | Astor Piazzolla, Francisco Tárrega, Heitor Villa-Lobos |
| Artist | Luciano Tortorelli guitar |
| Format | 1 CD |
| Cat. number | 95285 |
| EAN code | 5028421952857 |
| Release | March 2016 |
About this release
Concert performer and professor of classical guitar, Luciano Tortorelli is one of Italy's most prominent guitarists. This release is a labour of love that sees him crossing continents between Europe and Latin America, choosing the very best solo guitar music from the 19th century right up to the present day. The release begins with Astor Piazzolla, an Argentinian of Italian descent, whose music is infused with both European and South American overtones. It crosses the ocean back to Spain, to Julián Arcas and his pupil Francisco Tárrega, with the splendid Fantasía sobre motivos de La Traviata, usually attributed to Tárrega but actually written by his teacher. Back in South America we find Paraguayan composer Barrios Mangoré, whose Gran Vals, composed in Buenos Aires in 1919, is coloured by the permeating European culture of the city at that time. Brazilian composer Heitor Villa-Lobos also features, with his Suite populaire brésilienne, which fuses popular Brazilian music with higher levels of elegance and evocative lyricism. Finally, Tortorelli concludes his selection with his own composition: Dobrú Noc Brno, or 'Goodnight Brno', inspired by Czech lullabies, and uniting European and Latin American influences in a lyrical atmosphere that beautifully expresses the contrasts and affinities between the two cultures.

This is a highly personal project for Tortorelli, who has not only carefully selected each piece to reflect the crossover between Spain, Italy and Latin America, but has also examined each manuscript to ensure he is performing the most authentic edition possible. A highly experienced performer, he has previously played at St-Martin-in-the-Fields in London, the Tchaikovsky Conservatoire in Moscow, and on Rai national television in Italy. In 2016 Tortorelli will be holding a masterclass at the prestigious Juilliard School in New York, as well as giving a lecture and recital at the Conservatorio 'A. Piazzolla' in Buenos Aires.

"Latin Latitudes" is a musical journey between two latitudes, connected by latin musical roots. The composers originate from Spain and Italy, Latin and South America.
Astor Piazzolla, Argentina's most famous composer, was the grandson of Italian immigrants, and in his music the melancholy for an abandoned and lost country lends a sweetly poignant atmosphere.

The Waltz by Tárrega brings us back to 19-th century Vienna. Crossing the ocean again we meet Augustin Barrios, who brought European charm to Latin America. Leo Brouwer is Cuba's most famous guitar composer as is Heitor Villa-Lobos for Brazil.

Guitarist Luciano Tortorelli plays also a composition of his own: Dobrú noc Brno. Inspired by a traditional Czech Berceuse it is an homage to the famous Brno Guitar Festival.

Other information:
Recorded in Italy in 2014.
Contains extensive notes on the music by the performer.
Listening
Track list
Disk 1
Astor Piazzolla: Ausencias

Astor Piazzolla: Chiquilín de bachín

Astor Piazzolla: Oblivion

Leo Brouwer: Danza del altiplano

Julián Arcas: Fantasía sobre motivos de la traviata

Francisco Tárrega: Gran vals in A Major

Augustín Barrios Mangoré: Waltzes, Op. 8 No. 3 in D Minor

Heitor Villa-Lobos: Suite populaire brésilienne, W020: I. Mazurka-choro

Heitor Villa-Lobos: Suite populaire brésilienne, W020: II. Schottisch-choro

Heitor Villa-Lobos: Suite populaire brésilienne, W020: III. Valsa-choro

Heitor Villa-Lobos: Suite populaire brésilienne, W020: IV. Gavota-choro

Heitor Villa-Lobos: Suite populaire brésilienne, W020: V. Chorinho

Luciano Tortorelli: Dobrú noc Brno