Legnani: Complete Music for Flute and Guitar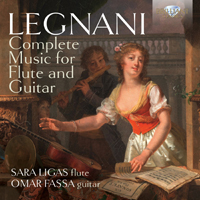 Composer
Luigi Legnani
Artist
Sara Ligas flute
Omar Fassa guitar
Format
1 CD
Cat. number
95141
EAN code
5028421951416
Release
July 2016
About this release
Renowned in his lifetime throughout Europe as a performer and instrument maker, virtuoso guitarist and opera singer Luigi Legnani's compositions are tragically under-represented in recordings and concert programmes. This is despite his body of over 250 works published by many of the major publishing houses of the time. Fresh, new ensemble AriusDuo have therefore presented themselves as the newest champions of his work, with a recording of his entire extant works for flute and guitar. Well established in their native Italy, and passionate exponents of unfamiliar repertoire both old and new for the pairing, the duo seek to find new enthusiasts for this much over-looked composer.

Thoroughly operatic in nature, and with equal amounts of showmanship from both instruments, the Duetto Concertante Op.23 and Gran Duetto Op.87 are two resplendent works, offering all the energy and expression of the opera seria and opera buffa so central to 19th-century Italian music. Cavatina d'Ernani and Cavatina d'Elvira, on the other hand, are explicit arrangements of songs from Verdi's Ernani, an opera portraying the amorous exploits of an outlawed nobleman. The pieces realise the sumptuousness and elegance of the original songs' passionate confessions of love, whilst exploiting the technical brilliance of each performer.

Luigi Legnani (1790-1877) was an Italian singer, guitarist and composer. Famous for both his voice and his guitar playing he gave many concerts in several European countries, inspired by his friend Niccolo Paganini, with whom he performed together.
As a composer he continued the tradition of Mauro Giuliani in composing serious music for the guitar. This new recording contains original works and fantasies on popular opera melodies for flute and guitar, a beloved combination: music of great charm, brilliance and virtuosity, the two instruments perfectly matched to each other, the guitar by no means a simple accompaniment. Played with gusto and technical refinement by Sara Ligas (already recorded flute music by Karg-Elert, BC94976) and Omar Fassa.

Contains notes on the composer and works.
Contains biographies of the artists.
Recorded in Italy in February 2015.
Track list
Disk 1
Duetto concertante, Op. 23: I. Allegro maestoso

Duetto concertante, Op. 23: II. Moderato

Duetto concertante, Op. 23: III. Allegro scherzoso

Cavatina d'Ernani: I. Andante

Cavatina d'Ernani: II. Allegro

Gran duetto, Op. 87: I. Maestoso

Gran duetto, Op. 87: II. Largo cantabile

Gran duetto, Op. 87: III. Recitativo

Gran duetto, Op. 87: IV. Polacca

Cavatina D'Elvira: I. Andante

Cavatina D'Elvira: II. Allegretto

Cavatina D'Elvira: III. Allegro con brio