Lekeu: Chamber Music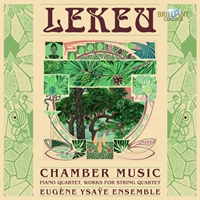 | | |
| --- | --- |
| Composer | Guillaume Lekeu |
| Artist | Ysaÿe Ensemble |
| Format | 1 CD |
| Cat. number | 93851 |
| EAN code | 5028421938516 |
| Release | September 2008 |
About this release
Guillaume Lekeu is one of music's mighthave-beens: a prolific composer from the age of 15, who died of typhoid just nine years later and left a small, highly charged output of mostly chamber music influenced, via the hothouse harmonies of César Franck,
more by Beethoven and Wagner than thecontemporary French fashions for lightness and delicacy above all. These, then, are works suffused with a kind of feverish, almost preternatural intensity, most notably the Piano Quartet which was unfinished at his premature death.

Other information:
- Premiere recordings that have been out of the catalogue for some years.
Track list
Disk 1
Molto adagio sempre cantante doloroso (1887) 'Mon âme est triste' à la mort' Matthew 38 for string qMolto adagio sempre cantante doloroso (1887): 'Mon âme est triste jusqu'à la mort' Matthew XXVI 38 for string quartet

Andante più tosto adagio (1888) 'Vouloir' for Violin and piano

Mèditiation: Adagio molto religioso cantante traquillo (1887) for string quartet

Piano Quartet (unfinished) (1894): I. Dans un emportement douloureux (très animè)

Piano Quartet (unfinished) (1894): II. Lent et passionè