Leonardo: Cello Concertos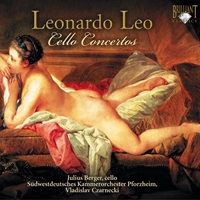 Composer
Leonardo Leo
Artist
Julius Berger cello
Südwestdeutches Kammerorchester Pforzheim
Vladislav Czarnecki conductor
Format
2 CD
Cat. number
93681
EAN code
5028421936819
Release
April 2006
About this release
A leading composer at the time Italian Leonardo Leo (1694 - 1744) is now relatively unknown. In his extensive output mainly consisting of dozens of operas and sacred works his instrumental music has had a somewhat hidden existence.

Although he was trained as a cellist himself his six concertos are the only solo pieces he wrote for the cello. Until 1700 writing solo for this accompaniment instrument par excellence had been unusual anyway. Living in the then Kingdom of Naples showing itself in various guises the characteristics of the Neapolitan style apply to Leo's work. In his cello concertos at the time new chords and treatment of dissonants occur.

The soloist in these recordings, Julius Berger, unearthed the manuscripts of Leo's concertos himself in the library of S. Pietro a Maiella di Napoli. These expressive and interesting pieces are technically unusually demanding. But above anything else these concertos are most enjoyable to listen to. A nice addition to any library, a must-have for any cello aficionado.
Track list
Disk 1
Concerto in D Major, L. 10: Andantino grazioso

Concerto in D Major, L. 10: Con bravura

Concerto in D Major, L. 10: Larghetto con poco moto

Concerto in D Major, L. 10: Fuga

Concerto in D Major, L. 10: Allegro molto

Concerto in A Major, L. 20: Andantino grazioso

Concerto in A Major, L. 20: Allegro

Concerto in A Major, L. 20: Larghetto

Concerto in A Major, L. 20: Allegro

Sinfonie concertante in C Minor, L. 30: Andante grazioso

Sinfonie concertante in C Minor, L. 30: Fugato

Sinfonie concertante in C Minor, L. 30: Larghetto

Sinfonie concertante in C Minor, L. 30: Allegro
Disk 2
Concerto in F Minor, L. 40: Andante grazioso

Concerto in F Minor, L. 40: Allegro

Concerto in F Minor, L. 40: Largo e grazioso

Concerto in F Minor, L. 40: Allegro

Concerto in F Minor, L. 40: Andante piacevole

Concerto in A Major, L. 50: Allegro

Concerto in A Major, L. 50: Larghetto e grazioso

Concerto in A Major, L. 50: Allegro

Concerto in D Minor, L 60: Andante grazioso

Concerto in D Minor, L 60: Con spirito

Concerto in D Minor, L 60: Amoroso

Concerto in D Minor, L 60: Allegro