Les Galanteries: Mandolin Music from 18th-Century Paris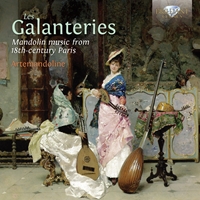 | | |
| --- | --- |
| Composer | Abbé Joseph Carpentier, Aleixo Botelho de Ferreira, Cristoforo Signorelli, Giuseppe Zaneboni, Giovanni Cifolelli, Paolo Altieri, Pietro Denis, Salvador Castro de Gistau, Wilhelm Cramer |
| Artist | Artemandoline |
| Format | 1 CD |
| Cat. number | 94636 |
| EAN code | 5028421946368 |
| Release | November 2013 |
About this release
'Galant pleasures' seems an apt description for this release, which presents a charming selection of works written for the mandolin in 18th-century Paris. Indeed, it was around this time that a number of plucked instruments came into vogue, and the mandolin in particular found great success among the nobility and middle classes, taking part in an atmosphere of intellect and refinement that prompted a new artistic direction in music of the period, revolutionising audiences' tastes and sensibilities along the way.

Zaneboni, Altieri, Cifolelli, de Gistau, de Ferreira: many of the composers included hailed from different parts of Europe, eventually settling in Paris where music for the mandolin was reaching its zenith. The vast majority, if not all, will be unfamiliar with listeners, but this should not discourage them from tapping into a gem-packed compendium built around a number of sonatas as well as arias – works which highlight the instrument's divertissement role in salons of the time. Acclaimed period-performance group Artemandoline is the featured ensemble, all of its members having undertaken painstaking research in order to recapture the standards of mandolin playing once enjoyed among the upper echelons of society, and which has set new standards in the interpretation and perception of 17th- and 18th-century works. Joined by soprano Nathalie Pearson, this release marks their second recording for Brilliant Classics, the first dedicated to the complete mandolin sonatas of Domenico Scarlatti (94477).

Other information:
- New recording recorded August 2012.
- Contains detailed notes on the composers and artist biographies.
- The mandolin, originally a folk music instrument, came into vogue in 18th century Paris, where the nobility and middle class became fond of the charming, modest but melodious qualities of this plucked instrument. With some moderate skill it was even possible for amateur players to reach a satisfactory result.
- This CD presents an exquisite bouquet of works written for the mandolin: genre pieces, sonatas and arias written by composers mostly forgotten nowadays, but highly fashionable in their time.
- The ensemble Artemandoline did extensive research into this genre, taking painstaking efforts to recreate this perfumed era of the Stile Galante, playing period instruments.
- Excellent liner notes written by the artists.
Track list
Disk 1
Sonata per Mandolino e Basso: I. Allegro

Sonata per Mandolino e Basso: II. Andante

Sonata per Mandolino e Basso: III. Menuet

Minuetto afandangado (Andante con variazioni)

Ariette

Air de Julie

Tre sonate per due Mandolini: I. Allegretto

Tre sonate per due Mandolini: II. Andantino

Tre sonate per due Mandolini: III. Allegretto

Petit air

Ariette

Sonata in G Minor: I. Allegro

Sonata in G Minor: II. Andante

Sonata in G Minor: III. Presto

Air de serrurier

Air de déserteur

Sonata per Mandolino solo e Basso: I. Allegro moderato

Sonata per Mandolino solo e Basso: II. Andante

Sonata per Mandolino solo e Basso: III. Rondo allegro

Sonata per Mandolino e Basso: I. Allegro

Sonata per Mandolino e Basso: II. Allegro giga

Sonata per Mandolino e Basso: III. Allegro ma non tanto

Sonata per Mandolino e Basso: IV. Andante

Sonata per Mandolino e Basso: V. Minuetto