Liszt: A Liszt Recital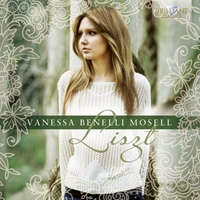 | | |
| --- | --- |
| Composer | Franz Liszt |
| Artist | Vanessa Benelli-Mosell piano |
| Format | 1 CD |
| Cat. number | 94357 |
| EAN code | 5028421943572 |
| Release | November 2012 |
About this release
A second album from the brilliant young Italian pianist brings a focus on the 19th century lion of piano music whose anniversary was celebrated last year. The first Brilliant Classics disc from Vanessa Benelli Mosell included music by Prokofiev and Scriabin: a test for even the most engulfing virtuoso. "Sparkling technique in demanding music", "She leaves no doubt of her enviable facility through out this, her ultra-demanding debut album", "Dextrous and cool-headed, she launches into Prokofiev's Seventh Sonata at a cracking pace...she is off like a rocket in the drum-beat 7/8 Precipitato finale, remarkably maintaining her impetus in the ever-widening leaps of the closing pages." Gramophone, November 2011.

This new Liszt disc is structured after the fashion of a recital such as the composer himself might have given; with shorter and lighter items sprinkled among unabashed showpieces, and in the centre, an exploration of the composer's complex relationship with his homeland expressed through native melodies and dances transmuted into new forms through the fantasymedium of the Hungarian Rhaposody. To finish, the fireworks of the Grand galop chromatique, beloved of Cziffra, Bolet and others in whose pianistic footsteps Vanessa Benelli Mosell dances with abandon.

Other information:
- New recording, made in 2012.
- Includes newly written liner notes and biography.
- The second album of Vanessa Benelli Mosell, one of the most exciting pianists of the younger generation, contains a selection of works which Liszt regularly performed himself during his piano recitals (the piano recital itself, being a showcase for one artist only, was invented by Liszt). The works share a quality to impress the audience, whether through hair-raising pyrotechnics (Hungarian Rhapsodies, Grand Galop Chromatique), or heartfelt sentiment (Liebestraum).
Track list
Disk 1
Valse Impromptu, S. 213 (1842–c.1850)

Capriccio alla Turca S. 388 on themes from Beethoven's Die Ruinen von Athen (1846)

La Leggierezza, etude de concert in F Minor, S. 144 No. 2 (c.1848)

Hungarian Rhapsodies, S. 244 (1847): No. 6 in D-Flat

Hungarian Rhapsodies, S. 244 (1847): No. 10 in E

Hungarian Rhapsodies, S. 244 (1847): No. 11 in A Minor

Hungarian Rhapsodies, S. 244 (1847): No. 12 in C-Sharp Minor

Liebestraum in A-Flat, S. 541 No. 3 (1847–1850)

Galop Russe, S. 478i after Bulhakov (1843)

La Danze, S. 424 No. 9 from Rossini's Soirées musicales (1837)

Grand Galop Chromatique, S. 219 (1838)