Liszt: Angelus Sacred Piano Music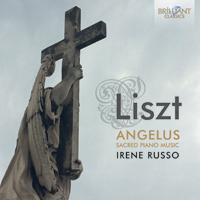 | | |
| --- | --- |
| Composer | Franz Liszt |
| Artist | Irene Russo piano |
| Format | 2 CD |
| Cat. number | 95196 |
| EAN code | 5028421951966 |
| Release | June 2016 |
About this release
Best selling recording artist and prolific recitalist Irene Russo showcases a rare selection of recordings displaying the deeply spiritual dimension to Liszt's music. Featuring Liszt's masterful transcriptions of his own orchestral and choral works plus original works for piano, Russo brings her formidable interpretative skills to these powerful and varied works.

Often written during times of spiritual and emotional upheaval for the composer, collections such as Harmonies poétiques et religieuses and Deux Légendes encapsulate Liszt's uniquely turbulent brand of romanticism, spliced with the sincere religiosity that inspired the works. The austere lyricism of Miserere alongside the glistening arpeggio chatter of La Prédication aux oiseaux capture perfectly the romantic ideals ascribed to Liszt's work: of transcending the material world through musical expression whilst venerating the places of worship and displays of nature which so inspired him. Other works such as Totentanz ('Dance of the Dead') are fraught with the composer's obsessions with realising the divine and the diabolical in his music, a theme so pertinent to his experience as an artist and as a man. Full of daring stylistic innovations and macabre variations on the original Gregorian theme, Totentanz also belies Liszt's personal ambiguities: dazzling, internationally renowned showman (and somewhat of a ladies' man) and devout Catholic, these characteristics are beautifully summarised in his own words: 'Mournful and yet grand is the destiny of the artist…'

A beautiful concept: the "Religious Liszt", or piano music with a sacred inspiration.
Franz Liszt, one of the most famous artists of the 19th century, with the status of a modern pop star, was a deeply religious man, in his later years he was even ordained as a priest (the lower orders). Apart from his extravert, sometimes even a bit showy, virtuoso works (the studies, opera transcriptions and paraphrases, Hungarian rhapsodies etc) he wrote a substantial amount of "religious" piano music: Ave Maria, Angelus, Miserere, Légendes, Benediction de Dieu dans la solitude and many others, music of an often serene and contemplative character, smelling of incense. But also the dark side is presented: in the Totentanz we hear an infernal dance of the dead, on the melody of the Dies Irae.
Played with a natural feeling for the Lisztian rhetoric, a fine sense of drama and a beautiful tone by Italian pianist Irene Russo, who makes her Brilliant Classics debut with this wonderful 2CD set.
Contains extensive liner notes and biography of the artist in English.
Recorded in Venice, Italy in 2015.
Listening
Track list
Disk 1
Franz Liszt: O Roma nobilis, S. 546a

Franz Liszt: 2 Transcriptionen über Themen aus Mozarts Requiem, S. 550: I. Confutatis maledictis

Franz Liszt: 2 Transcriptionen über Themen aus Mozarts Requiem, S. 550: II. Lacrymosa

Franz Liszt: Via crucis, S. 504a

Franz Liszt: Totentanz: Paraphrase on Dies Irae, S. 525
Disk 2
Franz Liszt: Angelus! Prière aux anges gardiens, S. 163

Franz Liszt: Miserere, d'après Palestrina, S. 173

Franz Liszt: Ave Maria, die Glocken von Rom in E Major, S. 182

Franz Liszt: Ave Maria II, aus den neun Kirchenchorgesängen, S. 504

Franz Liszt: Bénédiction de dieu dans la solitude, S. 173

Franz Liszt: 2 Légendes, S. 175: I. St François d'Assise. La prédication aux oiseaux

Franz Liszt: 2 Légendes, S. 175: II. St François de Paule marchant sur les flots

Franz Liszt: Pater noster, d'après la psalmodie de l'église in C Major, S. 173