Liszt: Complete Organ Music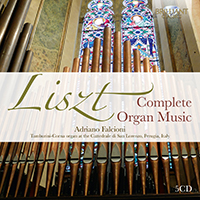 Download booklet
| | |
| --- | --- |
| Composer | Franz Liszt |
| Artist | Adriano Falcioni organ |
| Format | 5 CD |
| Cat. number | 95035 |
| EAN code | 5028421950358 |
| Release | December 2020 |
About this release
The most complete set ever recorded of Liszt's output for the organ: new recordings, made on the superb, recently restored instrument of Perugia Cathedral by a musician with a catalogue of critically acclaimed recordings on Brilliant Classics.

Liszt the piano virtuoso, the inventor of the orchestral symphonic poem, the apostle of 'the music of the future', is a familiar figure. Liszt the organ enthusiast is not so well known. His fondness for the instrument is shown by frequent references in his correspondence, by his transcriptions for it, and, most of all, by a handful of original masterpieces.

Liszt's first and largest work for the organ was the Fantasy and Fugue on Ad nos, ad salutarem undam, based on the chorale sung in the first act of Meyerbeer's opera Le Prophète. 'A kind of curiosity', he wrote to his publisher, but then later to a friend accounted for it as 'one of my least bad productions'. As well he might, for it is highly dramatic, full of fire and energy: the fugue is almost a symphonic poem in its own right, whose cumulative impact is succeeded only in his organ writing by the Prelude and Fugue on
B-A-C-H.

Liszt's veneration for Bach also expressed itself in his other major original masterpiece for the instrument, the set of variations on the lamenting 'Weinen, Klagen, Sorgen, Zagen' cantata melody. His profound faith and fascination with the tonal rainbow afforded by the organ also inspired a great deal of lesser-known music, however, both original and transcribed. Allegri's Miserere receives a dramatic transcription, while the pellucid simplicity of Mozart's Ave verum is treated respectfully, like the Agnus dei from Verdi's Requiem. Indeed nearly all of Liszt's output for the organ shares a devotional quality quite foreign to its common use among 19th-century composers as a vehicle for volume and virtuosity.

Adriano Falcioni's recordings for Brilliant encompass many of the Romantic era's most celebrated organ composers. Praise in Fanfare for his previous albums: 'Falcioni clearly has the right feel for this repertoire, in tempos and registrations and ability to bind together phrases and sections into coherent larger wholes' (Reger, 95075). 'A top contender… Everything is idiomatically played by Adriano Falcioni on a fine instrument… Strongly recommended' (Brahms, 94460). Further praise for the Reger album, recorded on the same organ as the present set of Liszt, came from the Italian Organ Compendium: 'Highly recommended to our readers, who will find an excellent repertoire, a very good interpreter and an instrument of great interest.'

Many still think of Franz Liszt as that pianist with long hair who wrote and played effective and brilliant piano works, and who was apparently a great lover and, strangely, a monk as well. In reality, Liszt was a many‐faceted man of great cultivation and sensitivity whose enormous musical output was more or less ignored for decades, but nowadays more and more works are getting long‐needed examination and consideration.
Among these neglected works is the large corpus of Liszt organ music. Liszt played the organ himself, and his improvisations on the instrument made a shattering impact. Like in his piano music Liszt brought organ composition to a next level.
This new recording present the complete works for organ by Liszt. Apart from the famous and mighty B.A.C.H. Variations, the "Weinen, Klagen, Sorgen, Zagen" Fantasy and the "Ad nos, ad salutarem undam" Fantasy there is a wealth of unknown works, transcriptions, original works , liturgical works, and a complete Mass and Requiem.
Played by one of Italy's foremost organists, Adriano Falcioni, on the Tamburini-Corna organ of the San Lorenzo cathedral in Perugia, a magnificent instrument which does full justice to the enormous scope of this music. The complete specifications of the instrument are included in the booklet.
Adriano Falcioni made already successful recording for Brilliant Classics of organ works by Franck, Brahms, Reger, Bruhns, Muffat and Daquin.
Listening
Track list
Disk 1
Franz Liszt: Fantasie und Fuge über den Choral ad nos, ad salutarem undam, S.259: I. Moderato

Franz Liszt: Fantasie und Fuge über den Choral ad nos, ad salutarem undam, S.259: II. Adagio

Franz Liszt: Fantasie und Fuge über den Choral ad nos, ad salutarem undam, S.259: III. Allegro deciso – Fuge

Franz Liszt: Präludium und Fuge über B-A-C-H, S.260: I. Präludium

Franz Liszt: Präludium und Fuge über B-A-C-H, S.260: II. Fuge

Franz Liszt: Weinen, Klagen, Sorgen, Zagen, S.179: I. Variationen
Disk 2
Franz Liszt: Évocation à la chapelle sixtine, S.658

Franz Liszt: Der Papst-Hymnus, S.766

Franz Liszt: Weimars Volkslied, S.672

Franz Liszt: Einleitung zur Legende der heiligen Elisabeth, S.663a

Franz Liszt: Hosannah, S.677

Franz Liszt: Ave Maria, S.667b

Franz Liszt: Nun danket alle gott, S.674b

Franz Liszt: Missa pro organo lectarum celebrationi missarum adjumento inserviens, S.264: I. Kyrie – Andante moderato

Franz Liszt: Missa pro organo lectarum celebrationi missarum adjumento inserviens, S.264: II. Gloria – Allegro

Franz Liszt: Missa pro organo lectarum celebrationi missarum adjumento inserviens, S.264: III. Graduale (ad libitum) – Andante pietoso

Franz Liszt: Missa pro organo lectarum celebrationi missarum adjumento inserviens, S.264: IV. Credo – Andante maestoso

Franz Liszt: Missa pro organo lectarum celebrationi missarum adjumento inserviens, S.264: V. Offertorium – Ave Maria(ad libitum) – Andante

Franz Liszt: Missa pro organo lectarum celebrationi missarum adjumento inserviens, S.264: VI. Sanctus – Maestoso

Franz Liszt: Missa pro organo lectarum celebrationi missarum adjumento inserviens, S.264: VII. Benedictus – Molto lento

Franz Liszt: Missa pro organo lectarum celebrationi missarum adjumento inserviens, S.264: VIII. Agnus dei – Lento assai

Franz Liszt: Missa pro organo lectarum celebrationi missarum adjumento inserviens, S.264: IX. Preludium Zum Haus des Hernn

Franz Liszt: Offertorium aus der Ungarischen Krönungemesse, S.667
Disk 3
Franz Liszt: Orpheus, S.672a - Symphonic Poem No. 4

Franz Liszt: Einleitung, Fuge und Magnificat aus der Symphonie zu Dantes Divina commedia, S.672b: I. Einleitung – Adagio, andante, un poco meno mosso

Franz Liszt: Einleitung, Fuge und Magnificat aus der Symphonie zu Dantes Divina commedia, S.672b: II. Fuga – Lamentoso

Franz Liszt: Einleitung, Fuge und Magnificat aus der Symphonie zu Dantes Divina commedia, S.672b: III. Magnificat – Più mosso ma non troppo, un poco lento, alla breve, più mosso

Franz Liszt: Tu es Petrus aus dem Oratorium Christus, S.664ii

Franz Liszt: Zur Trauung – Sposalizio, S.671

Franz Liszt: Ave Maris Stella, S.34i

Franz Liszt: Salve regina, S.669/1

Franz Liszt: Rosario, S.670: I Mysteria gaudiosa- Andante, un poco mosso, II Mysteria dolorosa – Andante, un poco lento, III Mysteria gloriosa – Andante, un poco animato

Franz Liszt: Weihnachtsbaum, S.186: I. Psallite – Allegro non troppo

Franz Liszt: Weihnachtsbaum, S.186: II. O heilige Nacht – Lento

Franz Liszt: Weihnachtsbaum, S.186: III. Die Hirten an der Krippe – Allegretto pastorale

Franz Liszt: Weihnachtsbaum, S.186: IV. Adeste Fideles – Tempo di marcia moderato
Disk 4
Franz Liszt: Introitus, S.268/1

Franz Liszt: Les morts – Oraison, S.268/2

Franz Liszt: Kreuzandachten: I. Einleitung – O Crux ave, spes unica – Andante maestoso

Franz Liszt: Kreuzandachten: II. Jesus meets his Holy Mother –Lento

Franz Liszt: Kreuzandachten: III. Simon of Cyrene helps Jesus bear the cross – Andante

Franz Liszt: Kreuzandachten: IV. Jesus is stripped of his garments – Lento

Franz Liszt: Kreuzandachten: V. Jesus is taken down from the cross – Andante moderato

Franz Liszt: Consolation D-Flat Major

Franz Liszt: Consolation E Major

Franz Liszt: Resignazione, S187a/I

Franz Liszt: Requiem für die Orgel, S.266: I. Requiem – Adagio sostenuto

Franz Liszt: Requiem für die Orgel, S.266: II. Dies irae – Alla breve, molto mosso

Franz Liszt: Requiem für die Orgel, S.266: III. Recordare pie Jesu – Lento assai

Franz Liszt: Requiem für die Orgel, S.266: IV. Sanctus – Maestoso assai

Franz Liszt: Requiem für die Orgel, S.266: V. Benedictus – Lento

Franz Liszt: Requiem für die Orgel, S.266: VI. Agnus dei – Lento

Franz Liszt: Requiem für die Orgel, S.266: VII. Postludium – Lento

Franz Liszt: Gebet, S.667b/ii

Franz Liszt: Am Grabe Richard Wagners, S.267

Franz Liszt: San Francesco. S.665

Franz Liszt: Ora pro nobis – Litanei, S.262

Franz Liszt: Ungarns Gott, S.674

Franz Liszt: Andante religioso, S.261a

Franz Liszt: Excelsior! – Preludio, S.666
Disk 5
Franz Liszt: Kirchliche Fest-Ouvertüre arr. of "Ein feste Burg ist unser Gott" by O. Nicolai

Franz Liszt: Adagio vom Bach arr. of Violin Sonata No. 4, BWV1017

Franz Liszt: Einleitung und Fuge from the Cantata "Ich hatte viel Bekümmernis", BWV21 by J.S. Bach

Franz Liszt: Andante from "Aus tiefer Not schrei ich zu dir", BWV38 by J.S. Bach

Franz Liszt: Ave Maria based on Pierre-Louis Dietsch's Adaptation of a Madrigal by J. Arcadelt

Franz Liszt: 2 Preludes by F. Chopin: I. Prélude, Op. 28 No. 4

Franz Liszt: 2 Preludes by F. Chopin: II. Prélude, Op. 28 No. 9

Franz Liszt: Regina coeli laetare arr. of the Motet by O. De Lassus

Franz Liszt: Ave verum corpus de Mozart arr. of "ave verum corpus", K618 by W.A. Mozart

Franz Liszt: Agnus dei della messa da requiem di Giuseppe Verdi Based on No. 5 of the Requiem by G. Verdi

Franz Liszt: Chor der jüngeren Pilger Based on the Chorus "Heil! Heil! Der Gnade Wunder Heil!" from Act III of "Tannhäuser", WV.70 by R. Wagner