Liszt: Late Masterpieces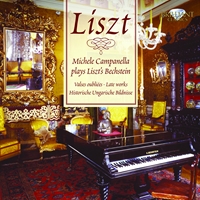 | | |
| --- | --- |
| Composer | Franz Liszt |
| Artist | Michele Campanella piano (Bechstein 247) |
| Format | 1 CD |
| Cat. number | 94148 |
| EAN code | 5028421941486 |
| Release | June 2011 |
About this release
Franz Liszt's own Bechstein piano was donated to the Accademia Musicale Chigiana in Siena as a result of a warm friendship that struck up in 1938 between the owner of the piano, Roberto Almagia, and the founder of the Accademia, Count Guido Chigi Saracini. Almagia had bought it for his wife, but she had since died, and he was so impressed with the Count, he felt instinctively that the Accademia was the right place for the piano. In addition,Almagia knew that Liszt had links with Siena, as he had stayed there with Wagner and his family.

This is a remarkable recording of the Italian pianist Michele Campanella performing a selection of Liszt's late works on this historic instrument, in the grand and sumptuous Liszt salon within the 14th century Palazzo Chigi Saracini, the home of the Accademia Musicale Chigiana. This collection of Liszt's late works reflects the composer's feelings about old age, the virtuoso brilliance of his earlier works replaced by sparser textures and experimental harmonies, including the dark and glittering Valses Oubliées, the impressionistic Nuages Gris and En rève, and the series of musical memorials to Hungarian artists and statesmen, Historiche Ungarische Bildnisse.

Michele Campanella is professor of piano at the Accademia. He is internationally known as one of the major interpreters of the Liszt repertoire, and was awarded the Grand Prix du Disque three years in a row by the FranzLiszt Academy in Bucharest. In 1986, the year of the 100th anniversary of Liszt's death, Campanella was awarded a medal for his performances and recordings of Liszt by the Ministry for Hungarian Culture. During 2011, the bicentenary of Franz Liszt's birth, Campanella is dedicating his entire musical activity, both as pianist and conductor, to the Hungarian composer he has studied and loved from an early age.

Other Information:
• This fantastic Bechstein 247 is restored in 2010 in its original condition and now for the first time used for this first-class recording by Michele Campanella.
• The repertoire maestro Campanella has chosen here fits perfectly with the sound of the piano, late works influenced by thoughts on death and the old age.
• This piano was sent to Rome in 1860 were Liszt played it till he died in 1886.
• The piano was passed on to Liszt most famous pupil, Sgambati.
Track list
Disk 1
Historische Ungarische Bildnisse, S. 205: Stephan Széchenyi

Historische Ungarische Bildnisse, S. 205: Franz Deák

Historische Ungarische Bildnisse, S. 205: Ladislaus Teleki

Historische Ungarische Bildnisse, S. 205: Joseph Eo´´tvo´´s

Historische Ungarische Bildnisse, S. 205: Michael Vo´´ro´´smarty

Historische Ungarische Bildnisse, S. 205: Alexander Peto´´fi

Historische Ungarische Bildnisse, S. 205: Michael Mosonyi

Sancta Dorothea, S. 187

Carrousel de Mme P[elet]-N[arbonne], S. 214a

Resignazione, S. 263/187a

Romance oubliée, S. 527

Toccata, S. 197a

Schlaflos! Frage und Antwort, S. 203

En rêve, nocturne, S. 207

In festo transfigurationis, Domini nostri Jesu Christi, S. 188

Recueillement, S. 204

Am Grabe, Richard Wagners, S. 202

Nuages gris, S. 199

Valses oubliées, S. 215: No. 1

Valses oubliées, S. 215: No. 2

Valses oubliées, S. 215: No. 3

Valses oubliées, S. 215: No. 4