Liszt: Piano Concertos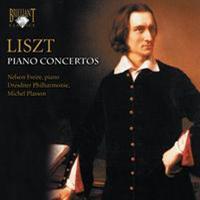 Composer
Franz Liszt
Artist
Nelson Freire piano
Dresdner Philharmonie
Michel Plasson conductor
Format
1 CD
Cat. number
93846
EAN code
5028421938462
Release
September 2008
About this release
Brazilian pianist Nelson Freire was born in 1944, made his debut at the age of 5 and won many prizes as a child prodigy. The culmination of these awards came with him winning the Dinu Lipatti medal in 1964. A hectic schedule of concerts and recitals around the world beckoned, but Freire made the decision early on to take control of his career, and cut back on the concerts, giving himself more time to refine his powers without the stresses of a jet set life style. An elusive figure, he is what is called 'a pianists pianist'. Freire on record is a rarity, and his recital recordings are highly prized whenever a tape becomes available.

This CD showcases his artistry perfectly. The two Liszt concertos have moments of high romantic bombast requiring a fearsome technique as well tender poetry – both are complicated structures consisting of linked multiple movements. Bartok called the 1st concerto 'the first perfect realisation of the cyclic
sonata form'.

Other information:
- A must for piano fans.
- Freire has a considerable following among aficionados of the piano.
Track list
Disk 1
Piano Concerto No. 1 in E flat Major: Allegro

Piano Concerto No. 1 in E flat Major: Quasi adagio

Piano Concerto No. 1 in E flat Major: Allegretto vivace

Piano Concerto No. 1 in E flat Major: Allegro animato

Piano Concerto No. 1 in E flat Major: Allegro marziale animato

Piano Concerto No. 2 in A Major: Adagio sostenuto assai

Piano Concerto No. 2 in A Major: Allegro agitato assai

Piano Concerto No. 2 in A Major: Allegro moderato

Piano Concerto No. 2 in A Major: Allegro deciso-sempre allegro

Piano Concerto No. 2 in A Major: Marziale, un poco meno allegro

Piano Concerto No. 2 in A Major: Allegro animato

Totentanz, Paraphrase on "Dies Irae"