Liszt & Reger & Franck & Saint-Saëns Organ Works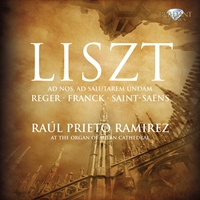 | | |
| --- | --- |
| Composer | César Auguste Franck, Camille Saint-Saëns, Franz Liszt, Max Reger |
| Artist | Raúl Prieto Ramirez at the organ of Milan cathedral |
| Format | 1 CD |
| Cat. number | 94174 |
| EAN code | 5028421941745 |
| Release | January 2011 |
About this release
Four organ showpieces performed of the Great organ of Milan Cathedral

Franz Liszt was a master at taking well-known tunes from popular operas and turning them into highly effective concert paraphrases for piano and orchestra. He had already produced 3 based on Meyerbeer's 1849 hit opera Le Prophet. The fourth work was to be a vast fantasie and fugue for organ taking the tune sung in Act I by the three Anabaptists urging people to see the error of their ways.

Max Reger's fantasies for organ are, like Liszt's works, virtually symphonic poems for solo organ. The op40/2 work is divided into 6 movements, and each mirrors the text of the Protestant chorale on which the work is based – anger, sin and love - all are depicted here.

Cesar Franck's Piece Heroique is the last of his Three Pieces for organ composed in 1878 for the inaugural concerts of the new Cavaille-Coll organ in the Salle des Fetes in the Palais du Trocadero. The Franco-Prussian war had just ended, and the French had been defeated. The troops marched through Paris in 1871. It must have been a sombre procession. Franck's work is rather more funereal than jingoistic – its emotions are ambivalent.

Just as Liszt was a piano virtuoso, Edwin Lemare was the foremost organ virtuoso of his time. Taking a work by another piano virtuoso – Camille Saint- Saens' orchestral symphonic poem Danse Macabre (already Liszt had transcribed the original for piano) and transcribing it for organ Lemare created one of the most famous of organ showpieces.

Other information:
- Recorded in 2008.
- Booklet note by the artist, with full organ specification of the Milan Cathedral organ.
Track list
Disk 1
Franz Liszt: Liszt, Fantasie & Fugue, S 259, on the chorale 'Ad nos, ad salutarem undam' from Meyerbeer's Le Prophète: Fantasie (Moderato – Allegro – Vivace )

Franz Liszt: Liszt, Fantasie & Fugue, S 259, on the chorale 'Ad nos, ad salutarem undam' from Meyerbeer's Le Prophète: Fantasie (Recitativo – Adagio)

Franz Liszt: Liszt, Fantasie & Fugue, S 259, on the chorale 'Ad nos, ad salutarem undam' from Meyerbeer's Le Prophète: Introduction & Fugue

Max Reger: Max Reger, Fantasia on 'Straf mich nicht in deinem Zorn', Op. 40, No. 2

César Auguste Franck: César Franck, Pièce héroïque

Camille Saint-Saëns: Camille Saint-Saëns, Danse macabre (arr. Lemare)