Liszt: Songs and Sonnets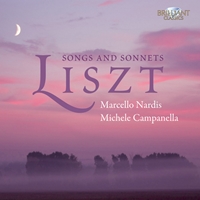 Composer
Franz Liszt
Artist
Marcello Nardis tenor
Michele Campanella piano
Format
1 CD
Cat. number
94149
EAN code
5028421941493
Release
September 2011
About this release
Liszt's songs are among his least performed works. With the bicentenary of his birth upon us,much of his output will be performed and recorded, and no doubt re-assessed. The composer himself was aware that he was difficult to categorise, and that the public face he had was as a flashy virtuoso pianist composer – a reputation that survives to this day, as the Rick Wakeman's 1975s rock-opera 'Lisztomania' (filmed by Ken Russell, and starring The Who's Roger Daltry as Liszt) testifies.

'Everyone is against me: the Catholics because they find my music profane, the protestants because my music is Catholic, the Masons because they find my music too clerical. For the conservatives I am a revolutionary, for the futurists I am a phony Jacobin. For the Italians, in spite of Sgambati (his pupil and fellow composer), if they are Garibaldini they hate me because the think me a bigot, if they are on the Vatican's side, they accuse me of turning the Tempio di Venere into a church. For Bayreuth I am an advertising agent rather than a composer. The Germans hate my music because they think it French, the French hate it because they think it German. For the Austrians I make Gypsy music, for the Hungarians I make foreign music. And the Jews hate me and my music without any reason.'

Interesting words, from a deeply frustrated Liszt. So how do we or should we find a definition for his music? The songs provide a fascinating clue. The writing for voice is clearly of Latin origin, skillfully woven into German Lied. Liszt manages to adapt the 'feel' of the music depending on the language he was setting - so a French text and the music 'sounds' of French origin and so on. Such stylistic flexibility can also be found in his orchestral, choral and solo piano works making this great composer a difficult customer in an age where we like to 'pigeon-hole things. The songs require great skill from both singer and accompanist to reveal their many treasures

OTHER INFORMATION:
- New recording made in 2011.
- Booklet note by Michele Campanella, a leading Liszt performer and scholar.
- Sungtexts included.
Track list
Disk 1
Tre Sonetti di Petrarca, S. 270 (text: Francesco Petrarca, 1304–1370): I. Pace non trovo

Tre Sonetti di Petrarca, S. 270 (text: Francesco Petrarca, 1304–1370): II. Benedetto sia 'l giorno

Tre Sonetti di Petrarca, S. 270 (text: Francesco Petrarca, 1304–1370): III. I' vidi in terra

Songs: Kling leise, mein Lied, S. 301

Songs: Im Rhein, im schönen Strome, S. 272

Songs: Schwebe, blaues Auge, schwebe, S. 305

Songs: Hohe Liebe, S. 307

Songs: Morgens steh' ich auf und frage, S. 290

Songs: Die Macht der Musik, S. 302