Liszt: Twelve Symphonic Poems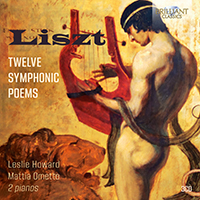 Download booklet
Composer
Franz Liszt
Artist
Mattia Ometto piano
Leslie Howard piano
Format
3 CD
Cat. number
95748
EAN code
5028421957487
Release
September 2018
About this release
The pre-eminent Lisztian of our day, Leslie Howard recorded every bar of the composer's music for solo piano during the 1990s and 2000s, including many items new to the catalogue. This new album forms a significant appendix to that monument of gramophone history.

Liszt's pioneering series of 12 symphonic poems came to fruition during his time as Kapellmeister at the court of the Duke of Weimar in the 1850s, although the gestation of many of the pieces begins somewhat earlier. Liszt did not conceive the final order of the works until all the pieces were ready for publication, but it is clear that he thought of all 12 works as a gigantic cycle. He issued them in versions for orchestra, for two pianos, and for piano duet.

Thus, although works such as Les Préludes are familiar in their orchestral guise, they were conceived from the outset no less for the keyboard. The two-piano versions of these pieces are no mere transcriptions: Liszt allows quite considerable variance from the orchestral scores in order to make real duos, occasionally even adding some bars (as in Hungaria), omitting bars – especially of untuned percussion (as in Ce qu'on entend), or transforming the material with new harmonies instead of untuned percussion (as in Heroïde funèbre). As with his monumental versions of the Beethoven symphonies, he often makes an informed trade of the letter of the score for the spirit of it, and happily gets all the closer to the musical substance.

Leslie Howard contributes a detailed booklet essay on the cycle of 12 poems, making this new studio recording all the more essential for Lisztians. He is joined in performance by the Italian pianist Mattia Ometto, who was praised by Aldo Ciccolini as a pianist 'with a marvellous sensitivity, one of those artists whose responsibility is to make audiences perceive what real talent is.'

With his Symphonic Poems Franz Liszt created a new genre of program music, in which a certain extra-musical work of art, event or general feeling received a musical form and expression as a one-movement work for full symphony orchestra. In this he paved the way for many composers after him, notably Wagner, Franck and Richard Strauss.
Liszt wrote his Symphonic Poems in several versions: for orchestra, for 2 pianos and piano duet. This new set presents the first complete recording of the 2 piano version, which are no mere transcriptions but expertly written (what else to expect from a master pianist/composer..?) substantial and challenging concert pieces.
Played with true insight, feeling for colour and lots of virtuosity by pianists Mattia Ometto and Leslie Howard, the Liszt expert and champion, who recorded the complete piano works for Hyperion.
Listening
Track list
Disk 1
Franz Liszt: Ce qu'on entend sur la montagne, S. 635

Franz Liszt: Tasso – Lamento e trionfo, S. 636

Franz Liszt: Les préludes, S. 637

Franz Liszt: Orpheus, S. 638
Disk 2
Franz Liszt: Prometheus, S. 639

Franz Liszt: Mazeppa, S. 640

Franz Liszt: Festklänge, S. 641

Franz Liszt: Héroïde-funèbre, S. 642
Disk 3
Franz Liszt: Hungaria, S. 643

Franz Liszt: Hamlet, S. 644

Franz Liszt: Hunnenschlacht, S. 645

Franz Liszt: Die Ideale, S. 646