Liszt: Wagner & Verdi Transcriptions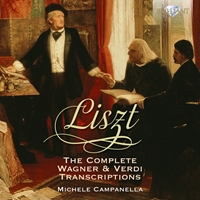 | | |
| --- | --- |
| Composer | Franz Liszt |
| Artist | Michele Campanella piano |
| Format | 3 CD |
| Cat. number | 94610 |
| EAN code | 5028421946108 |
| Release | February 2013 |
About this release
An original contribution to the Verdi and Wagner celebrations of 2013: the complete Verdi and Wagner transcriptions by Liszt!

'Incredible One' is only one of dozens of adulatory salutations to be found in Liszt's letters to Wagner, and Liszt's devotion to Wagner and his music caused him to devote his purse and his art to Wagner's cause. The Wagner transcriptions are the largest group of Liszt's piano works on operatic themes. Most of them are straightforward transcriptions, but it is the very essence of Liszt's homage that we see in the introductions and codas, where he is able to offer a most personal reflection.

The 'transcriptions' and then 'reminiscences' of Verdi's music are (by and large) much more free both with their originals and with his own reputation, dating as they do from a maturity when he no longer felt the need to gratify any expectations of virtuoso brilliance. This is certainly the case of the Danza sacra e Duetto finale from Aida, which Michele Campenella considers 'even more remarkable than the original'.

It's not easy to come by this music except either in vast intégrales or as part of more mixed recitals, which makes Campanella's collection all the more welcome. He is a player of vast experience in this music, whose recordings of the composer in time for his anniversary in 2011 were critically acclaimed, including the distinct rarity of a recital on Liszt's own Bechstein (94148): 'Campanella generally opts for spacious tempos, giving the music room to speak, and excels in capturing its sequence of moods and sounds.' BBC Music Magazine

Other information:
- Recordings made between 2000 and 2012.
- Extensive liner notes and biography in English and Italian.
- Features performances on an 1892 Steinway & Sons piano.
- In a time when there was no recorded sound it was customary to promote the works of a composer by playing transcriptions for solo piano of well known works or excerpts. Super virtuoso Franz Liszt was a champion in this genre, his transcriptions are an art form in themselves, his complex and highly virtuosic piano writing enhanced rather than diminished the impact of the original work.
Track list
Disk 1
Ernani: Paraphrase de concert, S. 431a (or S. 432)

Jérusalem: Salve Maria, S. 431

Il trovatore: Miserere, S. 433

Rigoletto: Paraphrase de concert, S. 434

Don Carlo: Coro di festa e Marcia funebre, S. 435

Messa di Requiem: Agnus Dei, S. 437

Réminiscences de Boccanegra, S. 438

Aida: Danza sacra e duetto finale, S. 436
Disk 2
Phantasiestück on themes from Rienzi, S. 439

Der fliegende Holländer: Ballade, S. 441

Der fliegende Holländer: Spinnerlied, S. 440

Tannhäuser: O, du mein holder Abendstern(Act I), S. 444

Tannhäuser: Act III: Entry of the Guests, S. 445 n.1

Tannhäuser: Ouverture, S. 442
Disk 3
Lohengrin: Elsas Brautzug zum Münster, S. 445 No. 2

Lohengrin: Elsas Traum, S. 446 No.2

Lohengrin: Lohengrin Verweis an Elsa, S. 446 No. 3

Lohengrin: Festspiel und Brautlied, S. 446 No. 1

Lohengrin: Walhall on themes from Der Ring des Nibelungen, S. 449

Lieder aus der Musik von Eduard Lassen zu Hebbels Nibelungen, S. 496: Hagen und Kriemhild - Bechlarn

Isolde Liebestod S 447

Die Meistersinger von Nürnberg: Am stillen Herd, S. 448

Parsifal: Feierlicher Marsch zum heiligen Graal, S. 450